Heading into the 2016-17 season, the Detroit Red Wings lineup appears crowded, especially up front. Ken Holland made several moves over the summer to bolster the team's group of forwards, signing Frans Nielsen, Tomas Vanek and Steve Ott.
However, that doesn't mean players lower on the depth chart won't get their chance to impress management during training camp. In addition to the seven Red Wings heading to the World Cup, a rash of injuries over the summer has created some questions marks regarding the opening night lineup. Both Teemu Pulkkinen and Tomas Jurco are doubtful to start the season, and Henrik Zetterberg and Niklas Kronwall dropped out of the World Cup recently. While the latter two decided to pull out for precautionary reasons, Jeff Blashill could shelter their minutes to start the season.
Tony Wolak: Anthony Mantha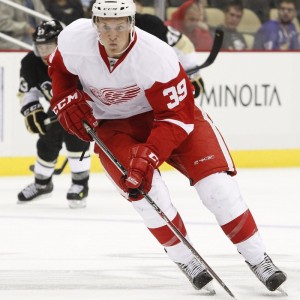 When the Detroit Red Wings head up north to Traverse City for training camp later this month, a few players will have the opportunity to step up in the absence of others. One such player is 21-year old Anthony Mantha.
With Zetterberg, Jurco, and Pulkkinen likely to miss most of training camp and the preseason, plus Dylan Larkin, Tomas Tatar, Vanek, Nielsen, and Justin Abdelkader taking part in the World Cup of Hockey tournament, Mantha has the opportunity to play top-six minutes in their absence. In this time, the young winger can develop the defensive side of his game playing against top competition— a criticism he faced last season.
If Mantha has a noteworthy preseason, he could earn playing time heading into the season. Jurco and Pulkkinen are likely to begin the season on injured reserve, opening up at least one roster spot. Mantha could push Darren Helm and Andreas Athanasiou to the fourth line and skate alongside Riley Sheahan and Gustav Nyquist until someone returns from injury. If Zetterberg misses any time, the likelihood of Mantha staying in Detroit goes up exponentially.
Brandon Peleshok: Martin Frk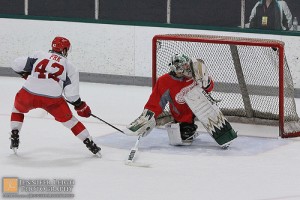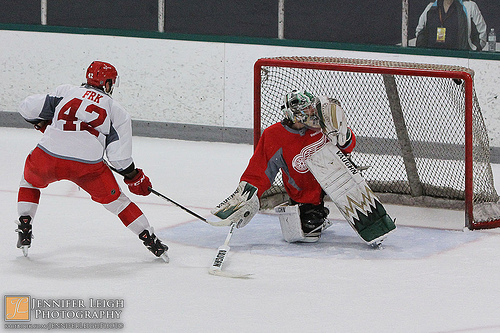 Zetterberg and Kronwall's opting out of the World Cup could provide some players with opportunities during training camp (and potentially the start of the season). However, the injuries to Jurco and Pulkkinen could land a few budding Red Wings some extended looks in Detroit at the start of the season.
While players like Mantha and Athanasiou have a higher ceiling than Martin Frk, the 22-year-old's waiver-eligible status could actually help his cause. A comparable situation occurred two seasons ago when Andrej Nestrasil put together a strong preseason and unexpectedly made the Red Wings' roster.
With Holland bringing in three new forwards this summer, it's likely that both Jurco and Pulkkinen will serve as depth forwards when the team is at full health. If Zetterberg is ready to go for the season opener, Mantha and Athanasiou are better off playing big minutes in Grand Rapids, as opposed to sitting in the press box in Detroit.
It appears as if Pulkkinen will be out of action the longest out of all injured skaters, and Frk compares favourably to the Finnish forward. Each player possesses a booming shot and has displayed the ability to score goals in the AHL. Whether that translates over to the NHL remains uncertain, but either forward could carve out a niche in Detroit as a power-play specialist.
Jacob Messing: Dylan Sadowy
This summer, Ken Holland has shown he can still make savvy moves to help his team. The general manager's moves have divided Red Wings fans in recent years with his shaky signings, bold trades and questionable cap use.
One of those savvy moves was giving up a third-round pick to bring in Dylan Sadowy from San Jose. The 20-year-old Sadowy was a third-round in 2014 but never came to terms with the Sharks.
A lack of a contract put him in the position to re-enter the draft, where he looked poised to become a first-round pick this time around before Holland brought him in and quickly signed him to a contract. Sadowy plays to his 6-foot-1 frame and is a heavy 195-pounds, which he uses to drive the net and stand up for himself and teammates.
The recent rash of injuries spells good news for players like Athanasiou, Mantha, Tyler Bertuzzi, Frk and Sadowy. With eight roster spots to fill during the pre-season, the kids will be given lots of ice time to show they deserve a spot out of training camp.
Sadowy has his work cut out for him, as he will have to jump the aforementioned players on the depth chart in order to crack the lineup.
In his short time with Detroit, he has however already shown his knack for goal scoring at the Red Wings development camp.
If he continues to show offensive flair he won't be ignored for long, especially if Detroit struggles to score like they did for much of last season.
I am a writer from Windsor, Ontario who has covered the Detroit Red Wings for The Hockey Writers. I have had the pleasure of doing so since February of 2015. Previously, I have written about Red Wings prospects for Hockey's Future. I am always up for chatting about the Red Wings and hockey in general, so leave me your comment and/or tweets. Follow me on Twitter at @BrandonPeleshok.