When the Winnipeg Jets opened training camp this season, their blue line hosted some of the most interesting storylines this team had. One of those stories was that of 19-year-old Logan Stanley. Stanley was one of two Winnipeg Jets first round picks in 2016, the other being Patrik Laine. While Laine was clearly more of a sure-thing type of prospect, Stanley was more of a project pick and added to the Jets list of strong prospects.
A tall, strong defencemen with great reach and an enormous amount of potential was enough for the Jets to take a chance. Coming into camp, many people around the organization were excited to see where this young prospect had progressed to.
An Offseason Trade
Interest in Logan Stanley was very high in Winnipeg with few expecting him to make the team. With the addition of Dmitry Kulikov, and Tucker Poolman ready to make the jump from the NCAA, Stanley had an uphill battle to try to make the team.
Winnipeg was more interested in Stanley's progression – the Jets wanted a sense of how many years away he may be from joining the big club. Unfortunately for both Stanley and the Jets, training camp did not go how many hoped it would. Stanley only played one preseason game and he looked slow and out-of-place for much of the night. He also struggled during practices and was an obvious place to begin when the first round of cuts came around.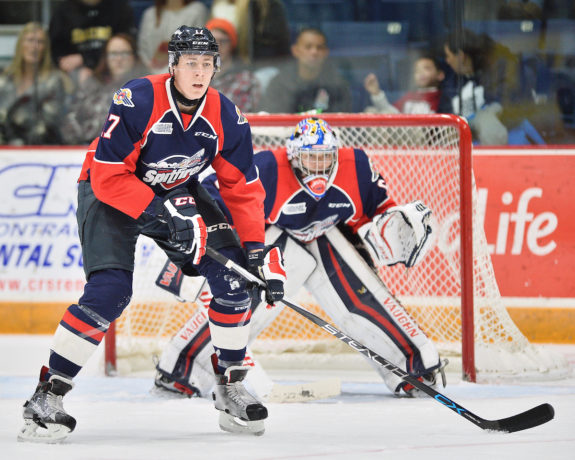 Perhaps adding to his stress, Stanley was on the way to a new home in the OHL. Following a Memorial Cup championship with Windsor last season, the Spitfires dealt the 6'7″ prospect to Kitchener as part of an offseason trade. The trade saw the Rangers send back a handful of future draft picks.
The Rangers took a chance on Stanley who spent most of 2016/17 in the press box injured. Stanley was able to suit up for only 34 regular season games before returning for the Spitfires playoff run. However, Stanley did show promise matching his career high in points despite the shortened season. Kitchener is not as skilled a team as Stanley was used to in Windsor. The Rangers will lean on their new acquisition for big minutes and to be a leader on their blue line. After splitting their first two games of the season without him, Stanley was back in the OHL and ready to join the team.
A Hot Start
Stanley began his Rangers career in style, notching a goal and an assist in the season opener against his former team. He matched that result the next night with another goal and assist in his first game on home ice. For a guy who has never scored more than five goals or 17 points in one season, the start was blistering for Stanley.
The big defencemen added a point in each of his next four games. This included another goal giving him three, and five assists during a six-game point streak to begin the season. The offensive pace Stanley has started at places him around the top of the stat page for OHL defencemen.
WATCH THIS: @NHLJets prospect @loganstanley_17 goes shelf 🚨 in his 1st game of the season for the @OHLRangers against his former team pic.twitter.com/ianSHVmtvN

— OntarioHockeyLeague (@OHLHockey) September 29, 2017
Logan Stanley is definitely still a few years away from an NHL job. However, the start the Stanley has put together is a positive. If the young man can continue to grow and improve, there is no limiting the potential that he has. Stanley earned an invitation to Canada's World Junior Championship camp, which could be another huge step for his development.
Canada is poised to have a strong defensive core, but Stanley can push for a spot. If he can make the team, Stanley will face a huge test against the best players in the world. Either way, Jets fans have a player to keep their eyes on this year.
Born and raised Winnipeg sports fan and contributor with The Hockey Writers.