The Winnipeg Jets have one of the league's top point producers, the top goal scorer, and the biggest defenceman. Josh Morrissey is proving that he belongs in the league and Joel Armia is really making the Buffalo Sabres miss him. And Connor Hellebuyck is taking over the No. 1 role in net.
The team is hovering around .500 this season, but there's plenty to be excited about. But one of the most exciting pieces of this team is not talked about nearly as much as he should. In fact, Nikolaj Ehlers quietly sits near the top of the league in assists while playing on the top line with Mark Scheifele and Patrik Laine.
Ehlers is Magic
You could argue that it's pretty easy to pick up assists while playing on that line. You are absolutely right, but Paul Maurice has a few different options to fill that spot. Wheeler, Stafford and Armia are all potential candidates. While any of them would be a solid choice (OK, two would be a solid choice)…have you seen Ehlers?
Ehlers has spent the entire 2016-17 season making the game of hockey look way easier than it should. He's been working hard every shift both offensively and defensively and making smart passes (let's just forget this ever happened).
Check out the chemistry between Ehlers and Laine on this play!
Laine dishes to Ehlers who makes a great one-time pass to Little.. Only a Mrazek save kept it from being a perfect play. pic.twitter.com/ForGJo7gYU

— JetsNation (@NHLJetsNation) December 7, 2016
Where's the Ceiling
As much love as we have for Ehlers now, he's also just 20 years old. He has a long way to go before he reaches his full potential and whether he gets there or not is up to the coaching staff of Winnipeg, and Ehlers himself. But what is that ceiling?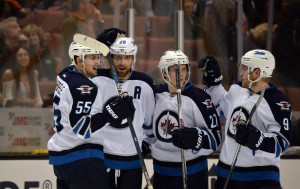 Ehlers was drafted ninth overall in the 2014 NHL Entry Draft. He was drafted after names like Aaron Ekblad, Leon Draisaitl and William Nylander. He was given high praise for his dynamic offensive ability, with the warning that he would need to bulk up to compete in the NHL. The Jets believed the same thing and sent him back to the QMJHL for another year of development. He responded by putting up just under two points a game, which turned out was just a warm up. In the playoffs, he carried the Halifax Mooseheads, scoring a whopping 31 points in just 14 games.
He started the next year in the NHL because he had nothing left to prove in the minors. He had a solid rookie season, scoring 38 points in 72 games. It was the end of the season that caught everyone's eye, as he formed a dynamic top line with Scheifele and Wheeler. That would have continued to this year, had the Jets not won the draft lottery and picked up the next Finnish Flash.
This year, Ehlers has put up close to a point a game and rotates between playing with Wheeler, Scheifele, Little and Laine (mainly Laine and Scheifele). He has carried the end of the 2015-16 season into the new one, piling up the assists and creating chances for everyone on the team, regardless of who he skates with. The moving around and the dynamic forwards he is playing with make it difficult to gauge his ceiling, because it may not be higher than when he first entered the NHL.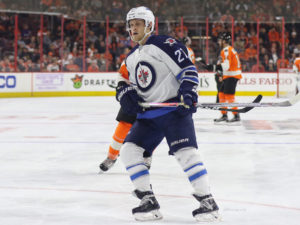 Ehlers has now scored the fourth most points of all players selected in 2014. If the Jets can keep Laine, Scheifele and Ehlers for the next 10 years, I will boldly say Ehlers will make himself one of the top two players in that draft class. I also think it's fair to say, with that trio of players, Winnipeg will take home a Stanley Cup or two in that time as well.
While there are bigger names and bigger players on the Jets, we should not forget the small Danish winger who is quietly making a name for himself.