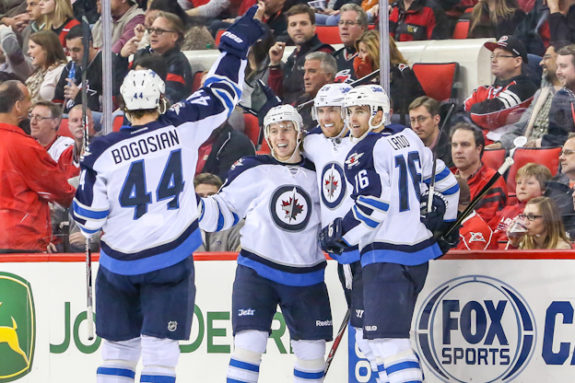 The most intense and busy month of the National Hockey League offseason is complete.
To no surprise the 30 NHL team rosters on July 1 compared to August 1 are different and the Winnipeg Jets are no exception to the player shuffle that was July 2013.
From the first new addition of forward Jerome Samson to the most recent re-addition of Zach Bogosian Winnipeg has added key depth and kept its solid core in tact. Financially, the franchise has done something many outsiders weren't so sure if the franchise would do in the smallest NHL arena and smallest NHL city.  Would owners Mark Chipman and David Thomson ever spend the type of money the franchise's former owners never did and come even with in sniffing distance of the salary cap?
The numbers seen today say yes.
The NHL regular season schedule was released on Friday. Check out our partners at TiqIQ for the best deals on Winnipeg Jets tickets for all 2013-14 games.
This is the highest the Jets franchise has been since they relocated from Atlanta where they were never higher than 26th their final three seasons as the Thrashers. The first two years in Manitoba the franchise has jumped from 29th their last season in Atlanta to 25th in 2011-2012 to 18th in 2013 and now they've vaulted to 11th overall amongst NHL franchises in terms of cap hit according to CapGeek.com They are within just over $2.3 million of this year's cap floor of $64.4 million. Despite the cap drop from $70.2 million to $64.4 million this season, the Jets will be spending just over $4 million dollars more than they did last season, the first full offseason management had to negotiate and sign players without the hassle of relocating and setting up a franchise approximately 2,550 kilometers from its previous locale.
The Jets' three biggest acquisitions came in the last week and a half of July as they re-signed two key components in first line centre Bryan Little, top right wing Blake Wheeler and the aforementioned Bogosian to multi-year contracts worth a grand total of $93 million over 18 years combined between the three of them. That's an average of $31.03 per year they'll be paying on average to three of their top core pieces. Wheeler is now Winnipeg's highest paid forward per year with a cap hit of $5.6 million over his 6-year. Little is only two spots behind his right wing line mate at a hit of $4.7 million per year over five years. Left winger Evander Kane is the second highest paid forward on the squad with a cap hit of $5.25 million per year.  Among Jets defenseman Bogosian is third behind Winnipeg's top pairing of Tobias Enstrom and Dustin Byfuglien.
Moves add depth, solidify core
The early signings of  veterans like Samson, former Nashville Predator Matt Halischuk, former Minnesota forward Devin Setoguchi, and Stanley Cup champion Michael Frolik added depth to a Jets roster that's lacked any scoring depth beyond their top five to six scorers. Last season (2013) and the first season the Jets had relocated to Winnipeg (2011-2012), there was a ten point drop off between the fifth and six top Jet point getters and the sixth and seventh point getters in those season, respectively. It hasn't been that the Jets third and fourth lines haven't been valuable in other ways, but in terms of scoring depth, there just hasn't been the type of depth you see from teams like Boston and Chicago for example.
The number of signings and resignings combined totals $23.32 million in cap hits for the 2013-2014 season which takes up 36.26% of Winnipeg's $64.3 million of salary cap space. The Jets still have slightly over $2 million left in cap space, but at 23 rostered players, they have no room unless they plan on sending Mark Schiefle and or Jacob Trouba back to juniors or another player to St. John's following training camp.
Regardless of what the Jets decide to do with their younger players like Schiefle and Trouba, one thing is apparent to any outsider looking in– the Jets want to build a successful squad on the ice and are willing to pay their big guns big gun money to keep them in the Peg.
I've been a sports fan since before I can remember and although different from many of my southern peers, hockey has always been first (at least since 1999).
I am a junior at the University of Georgia majoring in digital and broadcast journalism and political science. In addition to The Hockey Writers and Sunbelt Hockey Journal, I have written for UGA's student newspaper, The Red and Black and wrote for my high school paper, Grayson High School's the Green & Gold. I was also a stringer for the Macon Telegraph during the 2012 college football season. I am now a student assistant with Georgia Sports Communications. Outside of school and writing, I play on Georgia's club hockey team, the UGA Ice Dogs in Division III of the American Collegiate Hockey Association.