Every young athlete who has laced up their skates or stepped to the plate has thought – at least once – about what it would be like to play professionally. They dream about the crowd roaring as their name is called – the lights shining down on them as they step onto centre stage.
For young hockey players, it's the days in the back yard on the rink that Dad built. It's the hard work that goes in to being the best possible player on the ice – the long early practices working on stick handling and perfecting their shot. It's about that dream of one day seeing their face on an O-Pee-Chee trading card, with their favourite team's logo draped over their chest.
But even that dream comes to an end. There's a day when they untie their skates and hang them up for the last time as a member of the National Hockey League. So when there's a chance to play again, with that same logo on their jersey, who could say no?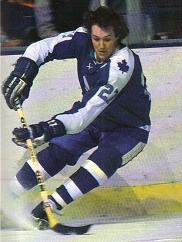 "As you get up in your years, you start to realize that you only play the game for so long," said Toronto Maple Leafs legend Darryl Sittler.
The 63-year old Sittler is one of many Toronto and Detroit alumni taking part in the two outdoor games dedicated to the former players. The games, which will be held at Comerica Park in Detroit, Michigan, are a chance for fans to watch the former greats lace them up for their former clubs. But it's more than that.
Nostalgia Setting In
For the players it's a chance to rekindle old on-ice friendships, playing alongside former mates and players that either came before or after them. It's a fun event that meshes generations, both amongst the players as well as the fans.
"I'm looking forward to getting a few shifts out there and I'm looking forward to getting back on the ice with Lanny [McDonald], Tiger [Williams], and Borje [Salming]," said Sittler. "But even some of the guys that were after us – Wendel's going to be there with Dougie Gilmour and Mats Sundin."
Notable Maple Leafs Winter Classic Alumni: Sittler, Vaive, Gilmour, Potvin, Tucker, Andreychuk, Clark, CuJo, Bower, Palmateer, Ellis

— NHL EXPERT PICKS (@NHLexpertpicks) July 17, 2012
But that nostalgic feeling doesn't just pertain to the players. In fact, the outdoor setting is the appealing part of what will arguably be the biggest event hockey has ever seen. A string of outdoor games held over a four-day span, Comerica Park and Michigan Stadium will host this year's NHL Winter Classic along with two alumni games, Ontario Hockey League games, an American Hockey League game and NCAA games.
It's a chance for hockey fans, in general, to take in a game that belongs outdoors – a game that is so often played on those rough backyard ice rinks.
"The people want it and I think fans love to be a part of something that is nostalgic, new, and exciting," said Sittler.
The Winter Classic: A Game Worth So Much
Setting aside all the fun events, the league games are far more important than just being a show for fans. Each game is a chance to earn two points in the standings. In fact, with Toronto and Detroit neck-and-neck in the NHL Eastern Wild Card standings, the Winter Classic could play a huge role in where these two teams are at the end of the year.
"Obviously the NHL game is important because it's two points in the standings," said Sittler. "But the nostalgia that comes with it, I mean Detroit's won a few Cups and we're here in southern Ontario, so there's a lot of Leaf fans and a lot of Detroit fans. It's going to be a fun few days for us."
The teams – playing nearly 370 kilometers apart – have had equalled success against one another. In 645 regular season meetings since the 1926-27 season, their records are almost identical with Detroit holding a slight edge with a record of 276-273-96 – 170 of those wins coming on home ice.
Even in nearby Canadian cities, fans are split when it comes to their loyalties. London, Ontario, the biggest city in the region is no different. While fans will be piling into Ann Arbor from all over, one Leaf alumni will have another former club play in one of the OHL's outdoor games – the London Knights.
A Step Back For Sittler
The London Knights will take on the Plymouth Whalers in the second bill of the OHL's double dip on December 29. For Sittler, it's a chance to have two of his former clubs take part in the outdoor festivities. Even if he's unable to catch the game, he knows that it's a big event for his, once, junior club.
"They're a very successful franchise now with the new building and obviously having the Memorial Cup in London is nice," said the former Knight. "They've put a lot of good players through there since I've been there – guys who have gone on and had a great National Hockey League career. I'm happy for them – the people and the fans in London and for the ownership. They do a good job."
Sittler played two seasons for the Knights from 1968 to 1970 where he put up 189 points (76g-113a) over 107 games – a sign of the offensive prowess he possessed. But it was the proximity to his family that made London a perfect place for the young Sittler to play.
"The thing that was nice about London, for me, was my family grew up in the Kitchener-Waterloo area so my mom and dad, brothers and sisters could come down and watch me play," he said. "I was treated well in London. That was my training ground and my roots to going on to play in the National Hockey League."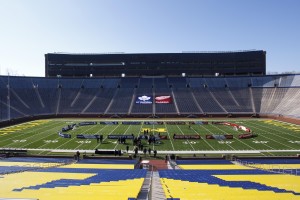 There's no doubt that the week leading up to the New Year's Day game will be a busy one in Detroit and Ann Arbor. It will be filled with excitement – both for all the players involved and the fans that will have a chance to watch them travel back to those days on the backyard rink.
While close to 110,000 fans will pack the Big House to watch what will surely be an exciting divisional game with possible implications on the standings – this Original Six matchup will be a good place to sit back and take in a game that belongs outdoors. It's a place to see the players that can't wait to step out onto that ice once again.
Questions and comments? Leave them below or follow Andrew on Twitter @AndrewGForbes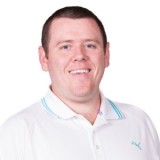 Andrew is in his 8th year reporting for The Hockey Writers covering the Toronto Maple Leafs. He began his broadcasting with CBC's Hockey Night in Canada team as well as being part of their coverage of the 2014 Winter Olympic Games in Sochi. He's the former play-by-play voice of the London Jr. Knights for Rogers TV and currently hosts the Sticks in the 6ix podcast. You can follow him on Twitter at @AndrewGForbes.