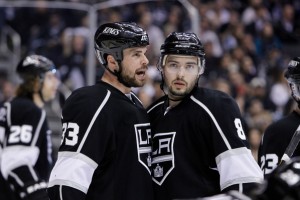 Here at
The Hockey Writers
, we do our very best to slice, dice and otherwise report anything and everything about hockey to our loyal readers. During the summer, of course, it's a bit more challenging, at least until training camps open up. Heaven only knows what old-time hockey writers did between mid-June and about mid-September to pass the time. Besides drink, that is.
Not to worry, sports fans. The advent of social media has turned things around on their metaphorical ear. We're no longer isolated from our hometown heroes, and can even engage with them if we want to. With that said, the following are five fun and interesting L.A. Kings tweets.
Beddy-bye time for Drew Doughty
Granted, this was sent by Willie Mitchell (@Willie_Mitch33), who recently left for the grayer pastures of Florida. He was stumping for Doughty to be on the cover of Electronic Arts' NHL '15, but it wasn't the message that made it noteworthy, it was the picture:
Let's put this vote to bed! #NHL15Doughty RT to put him on cover of @EASPORTSNHL #HundofromLondo pic.twitter.com/2TT3YAx6Lm

— Willie Mitchell (@Willie_Mitch33) May 23, 2014
Night night, Drew!
You gotta know when to hold 'em …
Speaking of Willie Mitchell, we now know courtesy of this recent tweet by Jonathan Quick that he was not only a great teammate, but the world's slowest card player:
https://twitter.com/JonathanQuick32/status/484233079913857024
Old people tend to do things slower. He'll fit in perfectly with the octogenarians in Florida. Zzzzzing!
Someone wants to party like it's 1994
Dustin Brown will undoubtedly be considered one of the all-time great Kings players when it's all said and done. He skates hard, hits harder and has led his team to two Cups, scoring big goals and throwing momentum-changing body checks along the way.
Despite his team's convincing victory over the Rangers, not everyone thinks the Kings are the tops. One of them who doesn't, apparently, is the Federal Express delivery guy who dropped off the following package:
To the @FedEx guy who delivered this package I love the passion but this ain't '94. @lakings #champs pic.twitter.com/kQvaXCgJFj

— dustin brown (@DustinBrown23) July 29, 2014
Dustin's tweet was retweeted 3,283 times and favorited 3,777 times. It's summer — the entire world is bored.
Jarret Stoll tweets a truly 'guy' tweet
…@chrissyteigen you making ur Sask debut?? RT @juicesea: @jarretstoll She coming? pic.twitter.com/jpO2p4p0lN

— Jarret Stoll (@jarretstoll) June 22, 2014
Need I say more?
Jim Fox tweets three simple words
Jim Fox was not only one of the all-time great Kings players, but for the past 24 years, he's been a fixture in the broadcast booth, calling games alongside Bob Miller. Like all longtime Kings fans, he certainly was filled with emotion after their first Cup, two seasons ago:
He's a good guy, passionate about his team, his sport and his city. This summer, he sent out a tweet that perfectly captured the celebratory achievement of winning the Cup again in three simple words:
We did it!!!! pic.twitter.com/ZbH147pXXw

— Jim Fox (@JimFox19) June 14, 2014
Yes we did, Jim. Yes, we did.
Walter McLaughlin is a Los Angeles Kings correspondent for The Hockey Writers. He is an avid sports fan, having followed the Kings since living in L.A. in the mid-1970's, as well as suffering through Seattle sports teams' general futility. He has a Bachelor's degree in Finance and has worked in community banking for over 25 years, specializing in SBA loans. He is married and has two daughters.