We're steadily approaching the hour when all this talk, all this speculation that surrounds and permeates the 2011 NHL Draft becomes moot. The first round is less than 40 hours away, and with that in mind, here is my final first-round mock draft. Remember: I'm joking unless I'm right.
1. Edmonton Oilers: Ryan Nugent-Hopkins, C – Red Deer (WHL)
After several months of arguments, I've finally given in and concurred with the general opinion that Nugent-Hopkins is the guy for Edmonton. It's not that I don't see him as risky (I certainly do), it's just that he's so obviously the class of this draft in terms of talent. The sick playmaker with elite ice vision and hockey I.Q. will very likely be the #1 center the Petrol Patrol needs. Oiler fans are already having naughty dreams of the Nuge setting up Hall over and over again. Far be it from me to rain on their parade.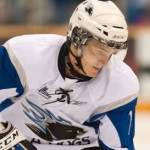 2. Colorado Avalanche: Jonathan Huberdeau, C/W – St. John (QMJHL)
Huberdeau is another young man who has taken a while to grow on me. I'd obviously like to see him get to the dirty areas of the ice a bit more, but he's probably the best offensive talent in the draft after RNH. If the Avs were selecting for best player available, I could see them grabbing Larsson, but having just acquired another  young, right-handed future #1 defenseman in Eric Johnson, I don't see them doubling up. Putting Huberdeau on a future line with Matt Duchene will make for a very potent combination.
3. Florida Panthers: Adam Larsson, D – Skelleftea AIK (SEL)
When you haven't made the postseason in a decade, you don't have the luxury of selecting for need. Landeskog might be a more perfect organizational fit, but I just can't see Tallon passing over the two-way Swedish beast that is Adam Larsson. Larsson joins an already potent defensive prospect core and hopefully can set this dysfunctional franchise back on the straight-and-narrow and we'll be able to see some rats on the ice in the near future in Miami.
4. New Jersey Devils: Dougie Hamilton, D – Niagara (OHL)
Lou Lamoriello cries a bit on the inside when Larsson is snatched up at three, but he gladly thanks the hockey gods (devils?) for letting the gargantuan defender from Niagara fall to them at #4. Despite some recent questions as to his actual height (he was recently measured at both 6'6.5" and 6'4.5"), I have it on good authority that he's seven and a half feet tall if he's a foot. Of course, that authority is Eklund over at Hockey Buzz, so take it with a grain of salt… Hamilton may not be the most dynamic player in the draft but he's incredibly efficient and intelligent. With his size, mobility and hockey sense he carries virtually no risk of being a bust.
5. New York Islanders: Gabriel Landeskog, LW – Kitchener (OHL)
The weeping you hear at this moment is mine, as I lament the fact that this youngster won't fall to the Bruins at 9. With all the tools and intangibles to become a star in the NHL, you might find it odd that the Swedish captain of the OHL's Rangers would fall to five. However, questions about his ability to create offense for himself and his good, but not great skillset permeate the hockey community. He probably tops out at 30-35 goals and 65-75 points… but then you're looking at almost a Toews clone, and if you're not satisfied with that, I can do nothing for you.
6. Ottawa Senators: Mika Zibanejad, C – Djurgårdens IF (SEL)
Bursting onto the top-prospect scene in the second half of 2011, Zibanejad will undoubtedly tempt one of the top seven or eight squads with his unique blend of skating, skill, size and sense (alliteration, deal with it). Ottawa's infatuation with the Swedish persuasion inclines them to snatch up the young center. It's only concerns about his high-end skill-level which keep him from vaulting into the top five, so don't anticipate that he'll last long after five.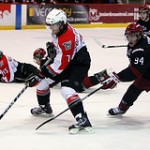 7. Winnipeg Jets: Sean Couturier, C – Drummondville (QMJHL)
Wasn't it just last year that some were considering Couturier a "Generational Talent"? While those original assertions may have been laughably off-base, he's still an excellent young player who has nearly every tool that you'd want in a youngster (save for skating). If he falls past five, he's a pick with exceedingly high value… scoring touch, intelligence, grit and hockey sense. Winnipeg would absolutely LOVE to grab a young man like Couturier to boost their moribund prospect core and sell hard to their increasingly rabid fanbase.
*8. Philadelphia Flyers: Ryan Murphy, D – Kitchener (OHL)
In spite of the poor performance he had at the Draft Combine a few weeks ago, Ryan Murphy remains a solid lock for the top-9, because of his colossal (borderline generational) offensive skill from the blueline. With over a point per game this season for Kitchener, he's displayed outstanding production from the back end.  He undoubtedly carries immense risk because of his size and injury history, but it will be hard for the prospect-poor Flyers to pass on a young man who could turn out to be the best player in the draft. With some increased mass and training, Murphy could be a dynamic and even dominant player for Philly in a few years. With their two top defensemen in the twilight of their careers, Philly definitely needs to swing for the fences with Murphy.
9. Boston Bruins: Ryan Strome, C – Niagara (OHL)
Ryan Strome dazzled us all with that amazing dangle which signaled the start of his 2011 draft campaign, in which he displayed his excellent scoring touch with 33 goals en route to 106 points. With plus on-ice vision and excellent skating ability which he uses to change the pace of the game to make space for himself and set up plays for teammates, Strome is without a doubt a talented young man. Perhaps more playmaker than sniper, Strome still possesses a dangerous shot with excellent accuracy. Despite questions about his size and game-to-game compete level; Strome is an attractive option in the second-half of the top-ten. He may be boom or bust, but expect him to be playing on Seguin's wing in a few short years to make an exceedingly potent 1-2 combo.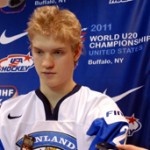 10. Minnesota Wild: Joel Armia, RW – Assat (SM-L)
Those of you who know me from LFH Radio, know I've been trumpeting Armia for weeks (and well before that, even). While the youngster's work ethic is a bit suspect, how can you go wrong with a 6'3, 195 lbs., kid who was tied for eleventh in goal scoring versus men in the Finnish Top Division? He's got solid playmaking ability, great skating and uses his size decently, sees the ice well and shows excellent patience with the puck. What makes him so coveted, however, is his plus-plus shot – in my opinion, tied for the best in the draft with Matt Puempel. The talent and athleticism is there, he just needs to get his head on straight. Going to Minnesota would be great for him (and the Wild), as the strong Finnish presence on the team will help to mold him into a dominant force.
11. Colorado Avalanche: Oscar Klefbom, D – Farjestads (SEL)
My good friend and Hamilton, Ont., broadcaster Reed Duthie was the first to turn me on to Swedish defender Klefbom's massive upside back when many prospect outlets didn't even have him in the first round, so I want to thank him. Klefbom's excellent size, skill and thunderous shot make him a great choice for Colorado at eleven. Bill Ladd of Bruins 2011 Draft Watch (B2011DW) in ranking Klefbom the #14 overall prospect, said: "He has NHL star written all over him, but even if he doesn't reach his impressive possible ceiling, we see Klefbom as a middle-pairing guy and PP specialist at the absolute worst. He's only scratching the surface of what he could become." He and Eric Johnson would prove an imposing top-pairing in a few years (Klefbom is a leftie).
12. Carolina Hurricanes: Sven Bartschi, LW – Portland (WHL)
Beaulieu might be the best player available, but its widely known that Carolina's management team doesn't like to take D-men early due to their lengthy growing periods and troublesome projectabilty. Going with Bartschi isn't too tough a pill to swallow, though, as the young Swiss winger might be one of two or three players outside the top-nine to have a slim chance of cracking that apparently solid group. Bartschi is a shifty and talented player with all-around offensive talent including a plus shot (with a great release) and solid playmaking abilities. The Hurricanes won't balk at taking a guy who seems custom-fit to play with young Jeff Skinner.
13. Calgary Flames: Nathan Beaulieu, D – St. John (OHL)
Beaulieu has seen his name fly all over the draft board this season, from brief sojourns inside the top-five, to exile beyond the first round. His hockey sense makes him a divisive prospect: Some wonder if he has the ability to process the game on a high enough level to succeed at the faster NHL-pace. However, his physical tools more than make up the difference in some minds as, Beaulieu looks tailor-made to be a physical offensive-defenseman. With solid puck-moving, a devastating point shot, and the vision and capability to see the big play or big hit, Nathan seems to operate a happy medium between the dynamic but diminutive Ryan Murphy and the big and proficient Dougie Hamilton. The Flames defensive prospect core could certainly use a boost with the loss of top man Tim Erixon, and Beaulieu certainly fits the bill.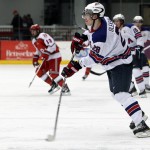 14. Dallas Stars: Jamie Oleksiak, D – Northeastern U. (NCAA)
The six-foot-seven, mobile defenseman from Northeastern will in all likelihood be the first American collegiate selected in the 2011 draft. With an impressive wingspan and good defensive instincts, the "husky Huskie" as I've all-too-appropriately dubbed him will no doubt garner interest towards the middle of the first round. With little size in their defensive corps, Dallas will grab the young man with the hopes of grooming a Chara-like shutdown D to complement their smaller blueliners.
15. New York Rangers: Tomas Jurco, RW – St. John (QMJHL)
With all of New York seemingly clamoring for some scoring and top-end talent for their beloved blueshirts, Tomas Jurco is a young man who will solve that problem. Jurco has dazzling puck skills I'm sure we've all seen on Youtube along with excellent size and finishing ability. While Jurco is still a work in-progress requiring a high degree of further coaching and training, he immediately jumps to the top of the Rangers' prospect pile.
16. Buffalo Sabres: Mark Scheifele, C – Barrie (OHL)
With excellent offensive acumen and good size, the center from Barrie will be a highly-sought commodity come draft day. Look for him to add his excellent playmaking ability to Buffalo's depleted pivot prospects. A poor man's Joe Thornton, Scheifele will be a potent offensive quarterback at the next level.
17. Montreal Canadiens: Mark McNeill, C – Prince Albert (WHL)
After going through much of the season as one of the smallest teams in the NHL, les Habitants grab the skillful and powerful McNeill from the Western Hockey League. After performing excellently at the combine sporting the body of a Titan, McNeill undoubtedly earned himself some admirers among NHL GMs.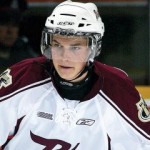 18. Chicago Blackhawks: Matt Puempel, LW – Peterborough (OHL)
Another one of my surprises, the former OHL rookie of the year was slowed by injury and hampered by a shoddy team. Puempel is one of those players with a sixth sense for finding the net. He may not be the most athletically gifted young man, but he owns a killer shot and will not be hard-put to find a niche as a 30 goal sniper at the NHL-level.
19. Edmonton Oilers: Duncan Siemens, D – Saskatoon (WHL)
Admittedly, I'm not as high on Siemens as many of my fellow prospect-watchers, but the young man has the size, grit and intelligence to perform admirably as a stay-at-home defender at the next level. Edmonton will be more than happy to snatch him up at nineteen should he be available, as he brings the size, toughness and defensive acumen their back end sorely needs.
20. Phoenix Coyotes: Alex Khokhlachev, C – Windsor (OHL)
Phoenix's system lacks much in the way of top-end offensive talent. Khokhlachev instantly becomes their top forward prospect when they take him 20th overall. The diminutive Russian from the Spitfires of the OHL will need to add strength and grit to his game, but his top-notch puck skills and plus-plus skating ability make him a very tempting option in the final third of the first round.
21. Ottawa Senators: Tyler Biggs, RW – USNTDP (USHL)
Desperately needing size and skill in their forward prospect corps, Ottawa gladly selects a player who more than lives up to his name in Tyler Biggs from the U.S. National Team Development Program. Biggs is an athletic young man who's always giving 110% and who will (with effort) develop into an effective two-way power forward with finishing ability.
22. Anaheim Ducks: Joe Morrow, D – Portland (WHL)
The strong, puck-moving defenseman from Portland will significantly help an organization whose defensive prospects border on nil. Morrow has the aptitude to eventually become both an effective distributor and an intelligent two-way player. With Lubomir Visnovsky heading toward the twilight of his career, Morrow makes a lot of sense for the Ducks. Flying V!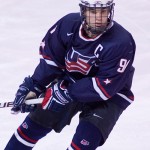 23. Pittsburgh Penguins: Rocco Grimaldi, C – USNTDP (USHL)
Grimaldi has been one of the enigmas of this draft season. Rocco is consistently rated highly by scouts who nonetheless worry about the mighty mite's ability to jump to a professional game given his minute size (5'6). Nevertheless, Grimaldi is undaunted by the challenge of having to prove himself, again – expect his doubters to have to get ready for all that crow they'll have to eat in coming years. The young man is perhaps the most skilled all-around player in the draft after Nugent-Hopkins and has intangibles out the wazoo… the Penguins gladly roll the dice on this talented young water bug.
24. Detroit Red Wings: Jonas Brodin D – Farjestad (SEL)
The Red Wings skip with glee up to the podium to announce their pick, Brodin, the talented young puck-mover from the Swedish Elite League. The Wings might want to rush Jonas to the NHL just to give him the opportunity to study at the feet of the master, his eminence, Lord Lidstrom.
25. Toronto Maple Leafs: J. T. Miller, C – USNTDP (USHL)
The strong centerman will bring size and power to the Toronto Maple Leafs system. While not the most dynamic or flashy forward, Miller does a lot of things very well and is quite adept at making the smart play. Miller has the grit and drive to be a nigh-on sure thing to make it to the NHL, but exactly how brightly his star will shine is a mystery. Some see him as a third-line two-way center at best, while others think he's got the talent to be a top-line player.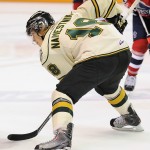 26. Washington Capitals: Vladislav Namestnikov, C – London (OHL)
Namestnikov is a young man I see as one of the more underrated prospects eligible for the 2011 draft. A superb skater in all directions, with and without the puck, Namestnikov can dart past the opposition easily. With Datsyukian puck skills and the habit of being particularly slippery in tight spaces, the young Russian will find a welcoming home in Washington. He'll need to put on some more weight and strength, but don't bet against this young man, who could easily be one of the true steals of 2011.
27. Tampa Bay Lightning: Scott Mayfield, D – Youngstown (USHL)
This big defender has a long way to go before he's NHL-ready, but he remains one of the more intriguing potential picks in the 2011 class. With outstanding size, decent all around offensive capabilities (particularly his powerful shot and solid puck-moving) and growing defensive acumen, Tampa can't turn down their best chance to improve their exceedingly weak defensive prospect corps.
28. San Jose Sharks: Ty Rattie, RW – Portland (WHL)
The small, offensively gifted winger from the stocked Portland WHL franchise, Rattie will jump to the top of a bare cupboard of Sharks prospects. A skilled puckhandler and perimeter player; Ty will have to do a better job of getting to the dirty areas for his development to continue successfully.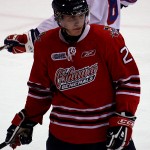 29. Vancouver Canucks Boone Jenner, C – Oshawa (OHL)
Jenner is certainly a driven young man. Not blessed with the impressive skill, Jenner will break opponents' spirits with his determination and ability to constantly win puck battles along the boards. He's the type of guy Champions need on their roster, and anticipate Vancouver calling him up within two years.
30. Toronto Maple Leafs: Brandon Saad, LW – Saginaw (OHL)
Saad's star has certainly faded in recent months after starting the year as the odds-on favorite to be the top draftee from the OHL. He possesses excellent north-south skating and is hard to knock off the puck. He could still be a top-six power forward at the next level, but it will take much improved work ethic and determination to get there.
* With the trade of Jeff Carter to Columbus, Philadelphia grabs the eighth overall pick and forces me to swap picks 8 and 9, as I previously had Strome to CBJ and Murphy to Boston.
Bob is a Boston Bruins Correspondent for The Hockey Writers. He lives in the Boston Metro Area with his wife, Amanda and their five-year-old son, Cormac.