Please "Click Here" for "Notes Up Front" and the "Legend" for various topics covered below in my "Live Updated" NHL 2011 Draft Preview article – The Next Ones.
Victor Rask
Date of Birth: March 1, 1993
Place of Birth: Leksand, Sweden
Ht: 6-2 Wt: 194
Shoots: Left
Position: Center
NHL Draft Eligibility: 2011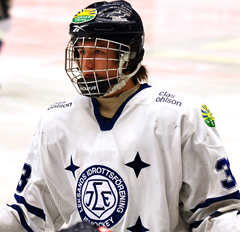 One Timer:
Victor Rask is perhaps the most enigmatic player in this year's NHL Draft. At the start of last year he was widely considered a top five pick, now he may not be a first rounder.
There is no denying the skills Rask possesses, but there is definite concerns about his compete level. He disappears for large portions of time on the ice, and doesn't seem to have his head fully in the game. If he distributes the puck better it will help his overall game.
Rask is incredibly creative, and moves very well with the puck. He has good finishing abilities to go along with a solid shot. His skating is average, but not a liability.
It will be interesting to see what team will take a chance on Victor Rask. It will likely be a team looking for the boom or bust type prospects. If a team can get by his perceived "bad" attitude, he could make for a good pick.
Top Prospects Game
Victor Rask did not participate in the top prospects game.
Statistics

Scout's Honor
"Scouts have seen plenty of Rask in the past two seasons as he participated in the four major U-18 tournaments. Once considered a top ten prospect, his stock has dropped this season. Strengths – Strong, rangy forward with powerful skating stride and elite puck skills, deft puckhandler with some finish to his game. . Weaknesses – Has a tendency to overhandle the puck and try to do too much, lacks vision to see open linemates. Inconsistent in his effort, not always willing to give or take a hit, or go to the dirty areas. NHL Upside – One of the draft's boom or bust prospects. If he figures out that he won't stickhandler through NHL teams and learns to work hard he can be a top-six NHL forward. If not, he may be a fringe NHLer."
-TSN's Grant McCagg
"What was previously a year under the radar quickly developed into a year to forget for this former 'can't-miss' prospect. Rask had issues with ice-time, attitude, and on-ice performance; factors that have certainly changed a once favourable opinion of him. While there are a lot of negatives about Rask, he does still have an intriguing skill-set which should be enough to secure him a spot in the Top 50. Rask's great shot and combination of size and vision indicate a lot of potential, but he's going to need to show more drive and passion if he ever wants to realize any of it."
-The Scouting Report
Bio/Interview(s)/Link(s):
Elite Prospects
Hockey's Future
International Tournaments:
Rask has always stepped his game up a notch during international play. Most recently Rask posted 20 points in 20 games during international junior competition.
ETA= 2/3 years
Risk-Reward Analysis:
Risk – 3/5 Reward – 4/5
NHL Potential:
A strong second line center with borderline first line offensive skills.
Strengths:
*See "One Timer" Section Above
• Good size
• Strong puck skills
• Dynamic stick skills
• Elite Vision
• Strong stride
• Accurate shot
Flaws/Aspects He Needs to Work On:
• Consistency
• Less selfish with the puck
• Mental maturation
Fantasy Hockey Potential: Offensive = 8.5/10 Defensive = 7.5/10
NHL Player(s) Comparisons:
-Nik Zherdev, Sergei Kostitsyn
Video(s):
Off The Iron (Interesting Notes):
• Drafted 89th overall in KHL draft
• His Mother reportedly called Leksand head coach to complain about his ice time
THW's The Next Ones prospect profile template design architect: Chris Ralph
Patrick Kearns covers prospects for The Hockey Writers, and his local Rangers and Devils for The Fourth Period.
You can follow him on twitter @PatrickKearns to talk anything hockey related.