How Did the Washington Capitals Defensemen and Goaltenders Perform in 2013-2014?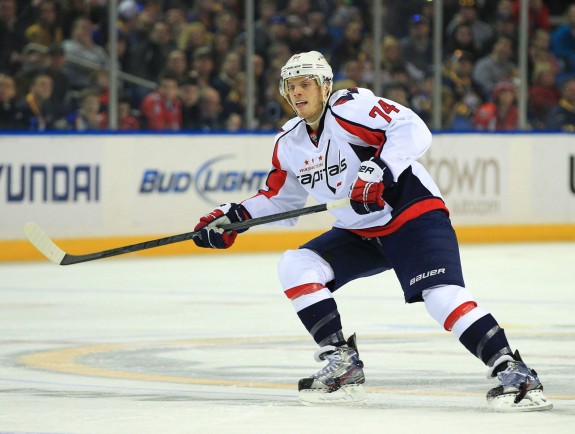 Welcome to Part Two of the Capitals Report Card!  In this article, this writer will evaluate the performances of the Capitals defensemen and goaltenders.
In Part One, this writer took a look at the Capitals Forwards.  Coming in the near future, this writer will conclude the three-part series and will evaluate the Capitals coaching staff and management.
The same rules apply as in Part One.  To qualify for an evaluation, any defenseman or goaltender must meet the 15-game minimum requirement.  Just like in grade school, each defenseman or goaltender will receive a letter grade of A-F.  This writer refrains from using the plus/minus statistic in grade evaluations because it can be a flawed statistic and may reflect players incorrectly.
Reminder Warning: This writer will try and be as fair as possible to all parties involved.  This writer will give praise and negativity and can be a harsh grader at times.  Why is the writer a harsh grader?  This writer has high standards and holds everyone accountable for their performances.  This writer expects that the Capitals organization is held to high standards and should have some of the best people a part of it.
Defensemen:
Mike Green: 70 GP: 9 G, 29 A, 38 P, 64 PIM
Grade: C+
Analysis: Mike has been deemed the latest enigma player for the Washington Capitals.  He has been the biggest victim to the poor defensive personnel on the Capitals roster and to the injury bug.  This writer will defend Mike Green and his lack of confidence in his game.  He was restrained by Adam Oates and his defensive breakout system which did NOT allow Green to play aggressive enough and he could push the puck up the ice.  Another reason for Green's poor play is that he DOES NOT have a defensive partner that he trusts.  Green has suffered with no defensive partner who can play defense and who can cover his back.  What if Mike Green had a Dan Hamhuis or Brent Seabrook or Dennis Seidenberg as his defensive partner?  This writer guarantees that the old confident Mike Green would revive himself and he would become the offensive threat that everyone wants him to be.  Green's season was sub-par by his standards, but he still led all Capitals defensemen with 38 points.  He has been frustrating to watch and gets unfairly criticized, but if the Capitals do decide to trade him, what do they get in return?  Mike Green's offensive talent is not easily replaceable from the blueline.
Karl Alzner: 82 GP: 2 G, 16 A, 18 P, 26 PIM
Grade: B
Analysis: Karl plays a half of "Carlzner," which is the primary shutdown pairing of the Capitals alongside John Carlson.  Karl set a career high with his 18 points.  The Burnaby, B.C. native is the Capitals number one defensive defenseman and plays against the toughest competition.  He is a value for the Capitals considering he only has a cap hit of $2.8m dollars.  Karl is only 25 years old and there is still room for him to improve his game.  He could shoot the puck a little bit more and could improve his skating, but there are not many major flaws in his game.
John Carlson: 82 GP: 10 G, 27 A, 37 P, 22 PIM
Grade: A-
Analysis: John has come a long way and has developed into the Capitals best all-around defenseman.  Look at what he has done during the regular season.  He led all Capitals blueliners in with 24:30 time on ice.  He led all Capitals blueliners in even-strength time on ice, short-handed time on ice, and powerplay time on ice.  John also led all Capitals defenseman with 177 blocked shots.  He really elevated his game and took part in the Sochi Olympics as he played for Team USA.
Here is one of John's prettier plays of the season as he makes a great keep-in and scores a goal:

John Erskine: 37 GP: 1 G, 3 A, 4 P, 56 PIM
Grade: D
Analysis: John is the elder statesman on the Capitals blueline.  Coming into the season, he was recovering from an offseason knee injury.  He missed a bulk of the season with injury, and later in the season he sat close to twenty games as a healthy scratch.  His mobility is very limited and he does not win a lot of footraces.  John is still a blue collar defenseman who can play physical and drop the gloves when needed.  He provides the Capitals with the most sandpaper from the blueline.  His role heading into next season with the Capitals should be as a 6/7/8 defenseman.  His lack of foot speed kills him and he is not best suited to play lots of minutes.
Dmitry Orlov: 54 GP: 3 G, 8 A, 11 P, 19 PIM
Grade: C
Analysis: After spending the first couple of months early in the season as call-up from the Hershey Bears, he finally made his anticipated return to the Capitals lineup in late November.  The 2009 second round pick of the Capitals bounced from the bottom pairing to the top four rotation.  He has showed lots of promise and has a cannon for a shot.  He is not afraid to get physical and lay the boom as he led all Capitals defensemen with 75 hits.  Unfortunately, some of his physicality got him into some trouble in the NHL.  He was suspended two games for this hit on Brayden Schenn in early March.

Connor Carrick: 34 GP: 1 G, 5 A, 6 P, 23 PIM
Grade: C-
Analysis: Connor was mishandled by the Capitals management this season.  He made the Capitals' opening night roster, but he should have started the season in Hershey.  He looked a bit overwhelmed at times on the Capitals third pairing, and he did not have much help as he went through lots of different defensive partners.  His development would be best suited for the AHL right now.  He showed lots of promise with his good skating and good passing of the puck, but he is not strong and gets overpowered by bigger skaters.
Steve Oleksy: 33 GP: 2 G, 8 A, 10 P, 53 PIM
Grade: C-
Analysis: Steve battled his way up to get a crack at the NHL level, but eventually worked his way back down to the minors.  He was well liked for his physical play and for his willingness to drop the gloves.  Adam Oates also was fond of Oleksy because he was a right-handed shot.  Steve was waived and sent back to Hershey in January.  His mobility is not very good and could not play top minutes for the Capitals defensive core.
Nate Schmidt: 29 GP: 2 G, 4 A, 6 P, 6 PIM
Grade: C
Analysis: Nate was another young defensive call-up for the Capitals in the regular season.  The 22-year old St. Cloud, Minnesota native played for the Capitals a couple of months early in the season and then was later reassigned to Hershey.  He is a good skater and was one of the better defensive partners that Mike Green had.  His flaw was in the defensive zone as he would get overpowered in the corners and in front of the net.
Alexander Urbom: 20 GP: 1 G, 1 A, 2 P, 19 PIM
Grade: D
Analysis: Alex, we hardly knew you.  The Capitals claimed Urbom off of waivers in early October before the start of the season.  He only played in twenty games for the Capitals.  He was claimed back by New Jersey on waivers in January after the Capitals tried to send him down to Hershey.  Alex is a sizable defenseman that does not have much foot speed.  He spent part of the season as a healthy scratch for the Capitals.
Tyson Strachan: 18 GP: 0 G, 2 A, 2 P, 28 PIM
Grade: D
Analysis: Tyson spent most of his time in Hershey, but got some call-ups to the Capitals throughout the season.  He spent a majority of the season on Hershey's top defensive pairing and provided them with some good veteran leadership.  There is not much upside to Strachan's game.  He is a big slow defenseman and is a good mentor for the younger prospects coming up.
Did Not Qualify For Report Card:
Jack Hillen, Julien Brouillette, Patrick Wey, Cameron Schilling
Goaltenders:
Braden Holtby: 48 GP: 23-15-4, 2.85 GAA, .915 SV%, 4 Shutouts
Grade: C
Analysis: Braden had an off year by his standards.  Under the direction of new goaltending coach Olaf Kolzig, the goaltenders were taught to play deeper in their net and make more post-to-post plays.  Holtby's aggressive goaltending style did not mesh well with what the Capitals new ideology was.  Holtby's confidence was shattered in the months of December and January as Michal Neuvirth and Philipp Grubauer each shared the net during the time.  Holtby really picked up his play after the NHL Trade Deadline in March and battled with newly acquired Jaroslav Halak for control of the pipes.  Holtby was very good in the month of April as he only let in eight goals in five games.  Holtby is still young so there is plenty of time for his game to recover, but he needs someone to push him along.  A motivated Braden Holtby who is being pushed is a better Braden Holtby.
Here is one of Braden's best saves of the year as he robs the Wild's Justin Fontaine in front of the net:

Philipp Grubauer: 17 GP: 6-5-5, 2.38 GAA, .925 SV%, 0 Shutouts
Grade: B-
Analysis: Philipp spent a majority of the season in Hershey, but he got the call-up in late November and ended up starting a bunch of games between early December to mid-January.  This was during the time that Braden Holtby was in the confidence skids and Michal Neuvirth was going through some injuries.  Grubauer stepped in and did a fantastic job for the Capitals in relief.  He is not a very big goaltender, but he takes up a lot of the net.  His style of play is reminiscent of legendary Capitals goaltender Olaf Kolzig.  He reads the play well and does not give up many cheap goals.  It is possible he could be on the Capitals opening night roster next season, but it may not be a bad idea if he gets another AHL season under his belt to gain more experience.
Did Not Qualify For Report Card:
Jaroslav Halak, Michal Neuvirth
Thanks for tuning in!  Hope you have enjoyed the first two parts of the Capitals Report Card!  Coming later this week will be Part Three which will cover the coaches and management!