How Did the Washington Capitals Forwards Perform in 2013-2014?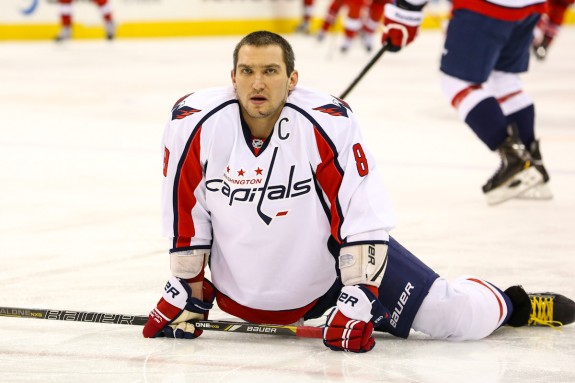 The NHL Playoffs are kicking in full gear today and the Washington Capitals are not taking part in the fun.  The Washington Capitals were three points out of the final Eastern Conference Playoff spot in 2013-2014 in a season that was full of blown opportunities.
Now that the season is over for the Capitals, it is time to look back and reflect.  It is time to think about the whole organization from top to bottom.  Welcome to the Capitals Report Card!
In the upcoming week, this writer will take you on a three part journey of the Washington Capitals organization.  This writer will look at the players, coaches, and management and will give a letter grade to each of them.  Just like in grade school, each person will receive an A to F.
Part One will cover the Washington Capitals Forwards.  Part Two will cover the Washington Capitals defensemen and goaltending.  Part Three will cover the Washington Capitals coaches and management.
When grading the players, this writer will exempt any player who has played less than 15 games.  To make things fair, any player who played less than 15 games has too small of a sample size to receive a proper grade.  This writer refrains from using the plus/minus statistic in grade evaluations because it can be a flawed statistic and may reflect players incorrectly.
Warning: This writer will try and be as fair as possible to all parties involved.  This writer will give praise and negativity and can be a harsh grader at times.  Why is the writer a harsh grader?  This writer has high standards and holds everyone accountable for their performances.  This writer expects that the Capitals organization is held to high standards and should have some of the best people a part of it.
The forwards will be separated into two groups: Top-Six Forwards and Bottom-Six Forwards.
Top-Six Forwards:
Alex Ovechkin:  78 GP: 51 G, 28 A, 79 P, 48 PIM
Grade: B+
Analysis: Alex had a sub-par season by his standards, but he still hit the 50+ goal plateau for the fifth time in his career.  If it was not for his 51 goals, the Capitals might be fighting for the top of the NHL Draft Lottery.  It is hard to blame all of the Capitals failures on him considering he is doing what he is paid to do, which is score goals.  His defensive play could improve, but the Capitals management has not found a quality third linemate for him and Nicklas Backstrom on the top line.
Nicklas Backstrom: 82 GP: 18 G, 61 A, 79 P, 54 PIM
Grade: A-
Analysis: Nicklas fell into the same boat with Alex Ovechkin of being on a line that got scored on a lot.  "Nicky" continues to improve every season and led the entire NHL with 44 powerplay points.  The 26 year old centre from Gavle, Sweden is one of the most underrated players in the NHL.  He plays in all situations including the powerplay and penalty kill and was 50.5% effective in the faceoff dot in 2013-2014.  The main weakness in his game is that he does not shoot the puck enough.  He has a good shot, but he lets Alex Ovechkin take a majority of the shots on his line.  If Backstrom shot the puck just a little bit more, he could push the 30-goal mark.
Here is one of Nicklas' prettier passing plays this past season:
Marcus Johansson: 80 GP: 8 G, 36 A, 44 P, 4 PIM
Grade: B-
Analysis: Marcus is a bit of an enigma for the Capitals.  He has the size and shape of his fellow teammate Nicklas Backstrom, but he does not have the same drive and attitude Backstrom has.  Marcus spent a majority of the season up and down in the top six group.  He played some wing on the top line with Alex Ovechkin and Nicklas Backstrom, and he also played centre on the second line.  His 107 shots on goal total is incredibly low for someone playing in the top six forward ranks.  A plus side of his game is that he rarely takes any penalties.  Marcus was ranked fourth on the Capitals in points and he could improve his game a bit by shooting the puck a little bit more.
Troy Brouwer: 82 GP: 25 G, 18 A, 43 P, 92 PIM
Grade: B-
Analysis: Troy had a career season with his 43 points and 92 penalty minutes.  He made his presence known the most on the Capitals top ranked powerplay as he sniped a few goals from the top circle or slot area.  Brouwer was ranked third on the Capitals with 18:50 time on ice behind Alex Ovechkin and Nicklas Backstrom.  Brouwer had two eleven game goal-less droughts throughout the season in November and January.  Despite his two long goal-less droughts, his 25 goals were second best on the team.
Mikhail Grabovski: 58 GP: 13 G, 22 A, 35 P, 26 PIM
Grade: C+
Analysis: Mikhail was brought in to the Capitals organization to help fill a big hole in the second line centre slot.  Unfortunately for "Grabo," his season was cut a bit short due to some ankle injuries.  He led all Capitals centremen in the faceoff dot with 54% faceoff effectiveness.  Mikhail will be an unrestricted free agent during the summer.  He would be a nice resigning for the Capitals if the price is right.
Evgeny Kuznetsov: 17 GP: 3 G, 6 A, 9 P, 6 PIM
Grade: C
Analysis: Evgeny is a guy that the Capitals organization has high hopes for.  While he spent most of his season in the KHL, he is now in North America full time.  The 2010 Capitals first rounder has had lots of hype surrounding his name for the past several years.  He scored his first career NHL goal in his eighth career game against the Los Angeles Kings.  There is plenty of upside to his game as it seems he has great vision with the puck.  He was utilized on the Capitals powerplay unit and showed some real creativity with the puck.  His main downfall was his puck possession at times.  He did not look comfortable on the North American sized ice in his first few games (which is expected).  There will be better interpretation of him when he plays his first full NHL season next year.
Here is his first career goal against the Los Angeles Kings:

Brooks Laich: 51 GP: 8 G, 7 A, 15 P, 16 PIM
Grade: D
Analysis: Brooks has not had a healthy season in the NHL for the past several years.  In Mid-March, he underwent a procedure to release a tight adductor, which is part of the groin.  When he played, he bounced up and down between the second and third lines and played the centre position most of the time.  Brooks never really got going as this groin injury nagged him while he was playing.  It is safe to say that Brooks might become trade bait or a compliance buyout victim for the Capitals.  He has hit the midway point of his six year contract he signed back in 2011.  When next season begins, he will have three years remaining on his contract which carries a cap hit of $4.5m dollars.
Bottom-Six Forwards:
Jason Chimera: 82 GP: 15 G, 27 A, 42 P, 36 PIM
Grade: B+
Analysis: Jason had a career season in points with 42.  The 34 year old Edmonton native still has some of the fastest wheels in the NHL.  He was a mainstay on the dominant Capitals third line with Joel Ward and Eric Fehr.  He signed a two-year contract extension back in early November that is worth $4m dollars.  There is no doubt that the trio of Chimera-Fehr-Ward will return next season as they all showed tremendous chemistry together.  For Chimera, if he keeps his production consistent, there is no doubt he will become a major bargain for the Capitals for the next couple of years.
Eric Fehr: 73 GP: 13 G, 18 A, 31 P, 32 PIM
Grade: B+
Analysis: Eric make significant strides in his game during the regular season.  He made the transition from winger to centre and was very successful at it.  While it took him a few games to get comfortable, he instantly formed chemistry with Jason Chimera and Joel Ward on the third line.  Eric was second among Capitals forwards with 50 takeaways.  Moving forward, he will continue to have to work on his faceoffs since the centre position is still fairly new to him.  There is a lot to like about his game, especially since he shows lots of hustle and determination on a nightly basis.
Joel Ward: 82 GP: 24 G, 25 A, 49 P, 32 PIM
Grade: B+
Analysis: Joel set a career high in goals and point during the regular season.  He elevated his game to a new level and was one of the most consistent Capitals players.  If Ovechkin was not scoring the big goals in games, it was most likely Joel Ward taking the honors.  The 33-year old North York, Ontario native gave 110% effort on a nightly basis and had a major impact for the Capitals in all phases of the game.  While playing a majority of the season on the third line with Jason Chimera and Eric Fehr, Ward received some powerplay and penalty killing time to boot.  He was a good utility player and has shown great value for his price.
Jay Beagle: 62 GP: 4 G, 5 A, 9 P, 28 PIM
Grade: C-
Analysis: Jay is your typical fourth line grinding centre.  His claim to fame during the season was being paired with Alex Ovechkin down the stretch.  This combination did not work and did not last very long.  Jay is one of these guys that does not particularly get noticed in most games.  He is good for his bottom-six role, but has no more upside than that.
Dustin Penner: 18 GP: 1 G, 2 A, 3 P, 2 PIM (Caps Stats); 67 GP: 14 G, 21 A, 35 P, 30 PIM
Grade: C
Analysis: Dustin, we hardly knew you.  It is unfortunate that such a player of his caliber was misplaced in the lineup.  Dustin was poorly managed by Adam Oates in the lineup as he played a majority of the time on the fourth line.  After he was traded from Anaheim to Washington near the Trade deadline, he was expected by the fans to enter the top-six mix.  While in Anaheim, he found great chemistry with Ryan Getzlaf and Corey Perry.  This writer wonders what could have been if Dustin was placed on the top line with Nicklas Backstrom and Alex Ovechkin.  He will be an unrestricted free agent in the summer and there is a good chance he will not re-sign in Washington.
Tom Wilson: 82 GP: 3 G, 7 A, 10 P, 151 PIM
Grade: B
Analysis: Tom became an instant fan favorite in his first NHL season with the Capitals.  The Capitals 2012 first round pick led the Capitals in penalty minutes and showed tremendous promise.  He has size, wheels, and some skill and has all the makings to become an elite power forward in the NHL.  As the regular season progressed, his skating became noticeably better.  It is disappointing that he spent a majority of the season on the Capitals fourth line, but that is where the coaching staff saw the best fit.  This writer would have liked to see him play more in the top-six, especially on the top line.  Tom plays like a wrecking ball and hits anything that moves.  His willingness to stand up for his teammates makes his talent a hot commodity.
Here is one of his best scraps of the season with Nashville Predators tough customer Rich Clune:

Aaron Volpatti: 41 GP: 2 G, 0 A, 2 P, 49 PIM
Grade: C-
Analysis: Aaron is limited in what he can bring to the table.  His skill, speed, and puck possession are not the best in the NHL.  He saw limited action and was facing a shoulder injury during the regular season.  He is a good fourth liner who can play physical and drop the gloves when necessary.  That is pretty much all the upside he has to his game.
Michael Latta: 17 GP: 1 G, 3 A, 4 P, 12 PIM
Grade: C-
Analysis: Michael spent a majority of the season in the AHL with the Hershey Bears.  In his call-ups with the Capitals, he provided some good agitation to his opponents and some decent centre play on the Capitals fourth line.  There is room to improve in his game with his skating and puck possession.  Latta was a part of the Filip Forsberg deal that also sent Martin Erat to Washington.  It has essentially turned into a Forsberg for Latta swap straight up.
Did Not Qualify For Report Card:
Casey Wellman, Chris Brown, Ryan Stoa, Nicolas Deschamps, Peter LeBlanc
Thanks for tuning in! Stay tuned for Part Two and Part Three coming in the next few days!