Welcome to this week's Oilers Panel.
On this weeks Oilers Panel, The Hockey Writers contributors will voice their opinions on the future of struggling former-1st overall selection Nail Yakupov, if it is finally time to trade Sam Gagner and if Craig MacTavish has solved the Oilers goaltending woes long-term with a combination of Ben Scrivens and Viktor Fasth.
Nail Yakupov for all intents and purpose had a terrible year and like his Russian counterpart Alex Ovechkin were two of the leaders of the +/- catagory. Yakupov was pegged to be a future 40-goal scorer and the next great Russian sniper and even whispered in the same sentences with the names of Pavel Bure and Ilya Kovalchuk. Yakupov had a tremendous junior career with the Sarnia Sting playing alongside the eventual 3rd overall selection of that same 2012 draft Alex Galchenyuk. Both had down years this season but Yakupov's battles with head coach Dallas Eakins, numberous stays in the press box and poor play got more attention in the media.
So it begs the question, can Nail Yakupov bounce back next season?
Another player the Oilers will look at this off-season will be former 6th overall selection in 2007 Sam Gagner.
Gagner was pegged to be one of the Oilers pieces to grow around in his rookie 49-point season alongside other members of the "Kid Line" in Andrew Cogliano and Robert Nilsson. Cogliano was eventually traded to Anaheim where he has rejuvenated his career. Nilsson eventually fell out of favour and is now playing overseas.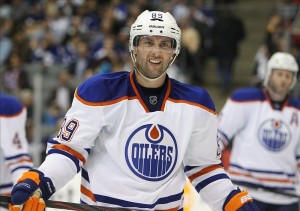 Gagner has never reached the 50-point plateau many expected would be a sure bet. He's also struggled in the face-off circle and along with Ryan Nugent-Hopkins posed one of the worst 1-2 center combinations in terms of FO% wins in 2011-12 and 2012-13. The combination showed some improvement this year but Gagner has proven to be a case of "what you see is what you get".
With the emergence of Brandon Dubinsky in Columbus as a solid shut-down defensive center to compliment the more skilled and finesse of Ryan Johansen, should the Oilers take a page out of the Blue Jackets book?
Finally have Ben Scrivens and Viktor Fasth solved the Oilers goaltending woes?
Without further adieu, this weeks Oilers Panel.
Q: Is it time to trade Sam Gagner?
Shane Sander: I have been a long-time Sam Gagner fan since he was drafted 6th in 2007. That being said, the time has come to move Sam as he hasn't scored more than the 49 points in his rookie season in 2007-08 and it's obvious what the Oilers have in the soon-to-be 25-year-old. The best plan would be to wait for the draft, if Aaron Ekblad is off the board, draft whoever is left over between Sam Reinhart and Sam Bennett moving Gagner on draft day.
Marcy Dimichele: (see article) Yes. He has been a good soldier, but one of the most mishandled prospects in recent memory. His stock was very high at the end of last season, and the Oilers made a mistake not dealing him them. Gagner won't garner a huge return, but he needs a change of scenery, and he simply isn't going to be a key piece going forward with this team.
Carl Maloney:  (see article) The Oilers have been shopping Gagner for some time and haven't found a deal to their liking. This offseason is the one I believe they do trade him. Gagner has struggled to meet expectations since he was drafted, but it doesn't mean he isn't a valuable offensive player with the ability to flourish somewhere else. He is unfortunately in a situation where there are too many similarly smaller offensive forwards on the roster ahead of him and does not look to be the No.2 centre for the future of the Edmonton Oilers.
#Oilers potential trade of Sam Gagner could net Kyle Clifford from #LAKings, says McKenzie http://t.co/GEKQo2EtaY

— David Staples (@dstaples) February 6, 2014
Katherine Hill: Yes. Gagner has been a great asset to the Oilers, but I think it is time for him to move on and try to have success with another team. I think the Oilers should have dealt him last year, when he could bring back a bigger return.  
Q: Can Nail Yakupov rebound?
  Shane Sander: How can he not? Yakupov was a -33 and had only 11 goals this season before he was shut down with an ankle injury. It can't get any worse. Realistically it might take a trip to the AHL to work with Todd Nelson (if he's still there) to get his confidence back up. It's still too early to give up on a 20-year-old entering the third year of his ELC. Sure you might say in a few years Yakupov was the Oilers version of Patrik Stefan, but you might be saying how could we have given up on a 35-40 goal scorer! Trade value can't get any lower either so you wouldn't be doing the organization any favours moving him for next to nothing.
TSN's Dreger rips Nail Yakupov, says it's unlikely he'll be with #Oilers next season, but no one wants Yak. http://t.co/nem5YpOvQI #ejlive

— David Staples (@dstaples) March 14, 2014
Marcy Dimichele: (see article) Hopefully. Yakupov might end up becoming a superstar, but the Oilers still should have gone with Ryan Murray instead. Yakupov is a highly skilled player, but has a lot of lumps that need to be ironed out. He will continue to get better if he's surrounded with the right people, not only linemates, but coaches and mentors as well. He's the kind of player that needed to be handled more carefully. But for the Oilers sake, let's hope he blossoms into the kind of star he has the talent to be.
Carl Maloney: There is no reason to suggest he won't or can't. He may not be a 40-50 goal scorer in the NHL or the next coming of Alex Ovechkin. Yakupov is more in the Alex Semin mould. The ability to put up 30+ goals each season, but will drive you nuts with other areas of his game. Whether that makes him a good fit in Edmonton is a different story. He is also a supremely talented and dynamic player with the ability to put the puck in the net. Two things need to go Yakupov's way next season, a good start to the year to build his confidence early, and to stay healthy. If both of those happen he should improve on his numbers considerably.
Katherine Hill: (see article) I hope so. After a great rookie season, albeit shortened by the lockout, he just seemed lost this year. The Oilers need to figure out who to play him with to help him improve his game. I think they need to try to develop him more next year, even if their ultimate plan is to trade him.
Q: Are Ben Scrivens and Viktor Fasth be the long-term solution in goal?
Shane Sander: (see article) Well they've solved the goaltending carousel so far so why not? Scrivens has surprised everyone this season going from a third-string to a starter in all of two years. Fasth has the ability to be a dominant goalie for stretches but is a bit of a hot and cold goalie. Eventually Laurent Brossoit will push Fasth for the back-up job if Fasth sticks around for another 3-4 years. But for once goaltending is NOT the problem in Edmonton, especially considering the Oilers have been 14-15-4 since Scrivens arrived and 8-10-2, way better than the 15-32-6 run in the first 59 games with Ilya Bryzgalov, Devan Dubnyk and Jason Labarbara.
Carl Maloney: (see article) It is definitely an improvement, and for the first time in years, the Oilers go into a season knowing their goaltending will not lose them games. Both Scrivens and Fasth have the potential to be starting goaltenders, and will get the chance to prove it. Scrivens has more potential and will likely get first crack at being the starter and has more than impressed with his play this year. However next season will be the first time he has started a campaign as the go to guy and all of the pressure that goes with it.
Marcy Dimichele: (see article) They could be. They're certainly better than the tandem of Dubnyk and Labarbara.
My @VaughnHockey WC pads. '72 throwback design. pic.twitter.com/MptIH9HNYr

— Ben Scrivens (@scrivens_30) April 25, 2014
Katherine Hill: If Ben Scrivens continues to develop as well as he has, I think he could be a great goalie for the Oilers. With Fasth and Scrivens as a 1a/1b, I think the Oilers have a strong duo for next year.
Next week the Oilers Panel will discuss all things Darnell Nurse. For previous editions:
Oilers Panel: April 21st edition – Future of Kevin Lowe, coaching staff and who is Leon Draisaitl?
Follow your favourite THW Oilers writers on Twitter.