With the Los Angeles Kings, what you see is what you get from a fantasy perspective.
Year in and year out, their proven contributors tend to produce similar stat-lines. It is a consistent group, but not an overly dominant group.
Like the Boston Bruins in the East, many of L.A.'s best players are better in real life than in fantasy. They are more valuable to the Kings' chances of winning another Stanley Cup than to your team's chances of claiming a fantasy title.
That's not to say there is no value in picking L.A. players — certainly, you can build a winner around steady performers, just don't draft them expecting more than usual.
Tyler Toffoli was still trending upward last season, but he's likely to level off now, so anticipate more of the same from him too going forward.
Top Performer: Anze Kopitar, C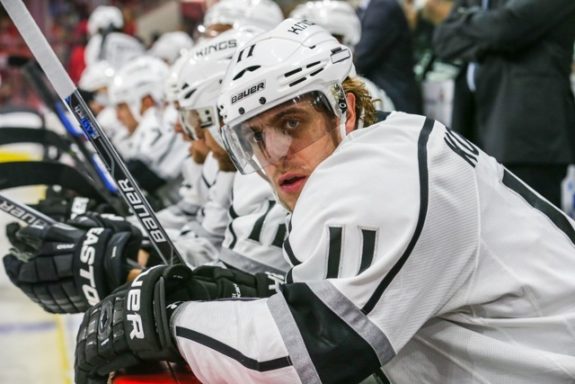 L.A.'s new captain has been the model of consistency, leading the Kings in scoring for nine straight seasons over his decade-long career — topping the team in points in all but his rookie year, when he still managed 61 points.
Omitting that debut season, Kopitar has averaged 73 points — ranging from 64 to 81. He hasn't been over 75 points since the lockout but came close last season at 74. That was a bounce back for Kopitar — and the Kings in general, rebounding from missing the playoffs the previous campaign as then-defending Cup champs.
Kopitar, who just turned 29, showed he wasn't slowing down — unlike old captain Dustin Brown — in rebounding from an "off" year by his standards, having posted his worst point total (64) since being freshman, including a career-low 16 goals in 2014-15.
There has been more fluctuation in Kopitar's goal totals — ranging from 16 to 34 — but he averages 26 and was back to normal with 25 last season.
The captaincy shouldn't affect Kopitar's fantasy impact for better or worse. Expect 20 to 25 goals and 70 to 75 points.
Underrated Performer: Jake Muzzin, D
He's quietly become a 40-point defenceman, of which there aren't many around the league — there were 26 spread over 30 teams last season.
Muzzin will continue to be overshadowed by Drew Doughty, the reigning Norris Trophy winner, but Muzzin might actually have the better offensive instincts between the two and could surpass Doughty in point totals sooner than later.
https://twitter.com/SteveBurtch/status/720814376576499713
Jake Muzzin is absurdly underrated pic.twitter.com/LgJmLr5b3R

— Todd Cordell (@ToddCordell) January 30, 2015
Muzzin should no longer be an afterthought in fantasy and shouldn't be considered a "depth" defender either. He may not be elite, but he should be good for about 10 goals and 40-plus points again. He's 27 and right in the midst of his prime, so don't overlook him.
Overrated Performer: Drew Doughty, D
Doughty is going to go higher than he should in most fantasy drafts this season. That Norris distinction will get him picked among the top-five, possibly even the top-three defenders. Realistically, he probably isn't a top-10 fantasy option.
Doughty is a great defenceman — no debate there — but he's not necessarily a great point producer or a great power-play guy. He's coming off the second-best season of his career and by far the best since the lockout with 14 goals and 51 points — his career-highs came as a sophomore back in 2009-10, with 16 goals and 59 points.
However, over his eight-year career but discarding his 27-point rookie season, Doughty has averaged 11 goals and 44 points. That point total would have been tied for 19th among defence scoring leaders last season with Andrei Markov, Torey Krug and Kevin Shattenkirk, who missed 10 games to injury.
Drew Doughty is the most overrated fantasy player in any sport.

— Hockey Pool Guru (@HockeyPoolGuru) February 17, 2013
Drew Doughty is good but probably most overrated player in #nhl #NHLAwards

— Justin Budgell (@jbudgell88) June 23, 2016
The nice thing about Doughty is he stays healthy . . . knock on wood. He's played four full seasons, including two 82-game campaigns in a row right now and all 48 games in the lockout-shortened year. He's only missed 16 total regular-season games in his career — he's played 606 of a possible 622 — so he's been reliable in that sense.
Doughty's also still only 26 years old, with a lot of good hockey left in him. It's possible his best years are yet to come, but it's more likely that he'll fall back to his career averages as early as this season.
So if you have Doughty ranked right behind Erik Karlsson and Brent Burns for your upcoming fantasy draft, you should probably adjust that list. Doughty needs to be dropped down a half-dozen spots, at least.
Fantasy Sleeper: Teddy Purcell, LW/RW
This is a weak sleeper, but Purcell does fit the bill as a good value guy in the later rounds. He'll likely play on one of L.A.'s top two lines, flanking either Kopitar or Jeff Carter, and should see some second-unit power-play time too.
Purcell wouldn't be a sexy pick, but he could be a solid one. There will be younger, flashier players available in that range, but Purcell could outperform — or, rather, outproduce — them by season's end. He's a sleeper more in the sense of a player most don't think to pick.
Will signing with the Kings help Teddy Purcell's fantasy value? https://t.co/DnLPP7QrkF @DobberHockey

— Ian Gooding (@Ian_Gooding) July 1, 2016
Purcell enjoyed a bit of a resurgence in Edmonton, playing the right side on a line with Taylor Hall and Leon Draisaitl, but he's listed as a left-winger on the Kings' roster. Purcell finished with 43 points last season, including 11 with Florida following the trade deadline, but he could flirt with 50 points this season.
It helps that Purcell already has familiarity with some of his surroundings in Los Angeles, having got his start with the Kings a decade ago. Granted, Darryl Sutter wasn't the coach back then and he'll need to adjust to a new system again, but Purcell is a veteran at this point in his career and should be able to find some level of success in making that transition.
Bounce-back Candidates: Marian Gaborik, RW and Dustin Brown, RW
Both are risky picks with the potential to rebound. The odds aren't great, though, so buyer beware with either of them. For that reason, both could also be considered overrated fantasy picks, still getting selected on name value rather than recent history.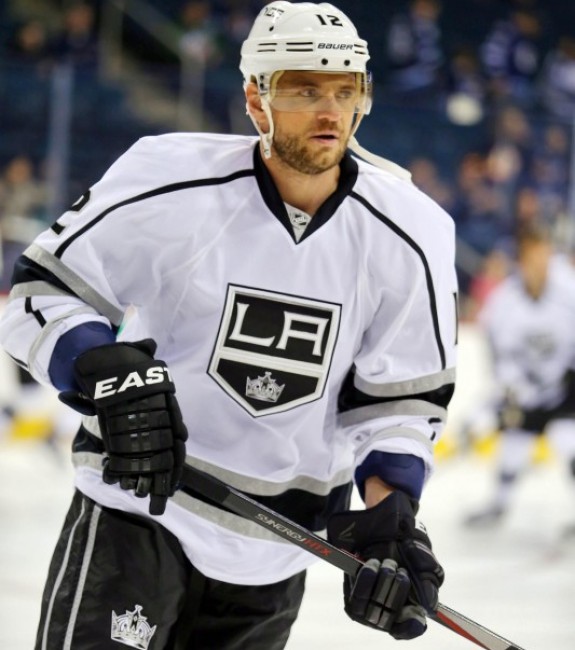 Gaborik has elite skill, but he's made of glass and not getting any younger at 34. He's been in the league since the turn of the century and has only played 82 games once. He hasn't played more than 70 since that full season in 2011-12 when he produced 41 goals and 76 points with the New York Rangers. He has career-highs of 42 goals and 86 points, but don't expect anywhere near that kind of production this season. Even if he bounces back, we're talking 30 goals and 60 points max.
Reality is, injuries have taken their toll on Gaborik — he only played 54 games last season, managing 12 goals and 22 points. Those totals prorate to 18 goals and 33 points over 82 games. If he's healthy — which is a huge IF — Gaborik should be good for 20 to 25 goals and around 40 points, but anything beyond that would be a bonus.
Brown could be coming into this season with a chip on his shoulder after being stripped of his captaincy. That decision was warranted, with Brown's production and role on the team steadily declining.
Once upon a time, he was a 25-goal, 55-point guy. Those days are long gone now. Brown hasn't topped 30 points in the last three seasons, coming off consecutive 11-goal in 82-game campaigns with 27 and 28 points, respectively. Three years ago, he had 15 goals and 27 points in 79 games, but that was the start of a downward spiral.
Brown is a prideful guy and he'll have plenty to prove this season. However, he'll likely be starting out as a third-liner with limited power-play time, so he'll need to work his way back up the depth chart to make any sort of meaningful fantasy impact. That may be easier said than done considering Brown's body has a lot of hard miles from his physical style, but a motivated Brown might be able to net 20 goals and 40 points.
Breakout Candidate: Brayden McNabb, D
Another weak option here, with McNabb really only relevant in deeper leagues. He actually took a step back offensively last season, tallying two goals and 14 points in 81 games. McNabb flashed more upside the previous campaign with two goals and 24 points in 71 games, which prorated to 28 points over 82 games. He does have the potential to be a 30-point guy and could get there this season with a boost in his power-play time behind Doughty and Muzzin.
After Toffoli's breakout last season, it's slim pickings for Los Angeles this time around. Nick Shore and Nic Dowd are a couple waiver-wire forwards who could exceed expectations, but neither of them should be starting the season on your fantasy roster regardless of how deep your league is. Keep tabs on them once L.A.'s depth chart takes shape, or if the injuries start to pile up for the Kings.
Impact Rookies: Michael Mersch, LW and Adrian Kempe, LW
It may be one or the other as opposed to both, but the Kings will likely try to work in some more youth this season. Mersch and Kempe might be competing for the same roster spot in training camp, but both should get an opportunity to become regulars as the season progresses.
Mersch is more of a proven scorer at the AHL level and did get a 17-game audition with the Kings last season, but only recorded one goal and three points in the big league. Based on that experience and knowing what to expect at the next level, Mersch may have a leg up on Kempe going into camp.
Michael Mersch Working His Way into the Kings' Plans – https://t.co/3U1zzdMNl4 #hockey #THW pic.twitter.com/Z0K5l0Ugqa

— The Hockey Writers (@TheHockeyWriter) July 31, 2016
On the other hand, Kempe could get an extra-long look and be given every chance to make the team as a first-round pick from 2014. Mersch was a fourth-rounder in 2011, so he doesn't have the same draft pedigree.
Kempe only turns 20 this month — Mersch will be 24 by the time the season starts — so another year of seasoning in the AHL wouldn't hinder him, but he'll be trying to make the Kings' decision a tough one.
https://twitter.com/Jack8_M/status/731356118513901568
They are both power-forward types, but Kempe is the better skater between the two and his speed could be welcomed into L.A.'s slower-than-average forward group. Purcell and Tanner Pearson are pencilled in as the top-two left-wingers, but both are lumbering skaters, so Kempe could actually be a better fit with Kopitar and Gaborik on the first line.
That's something to watch for — whether Kempe gets a chance there in the preseason — whereas Mersch is more so battling Dwight King and Kyle Clifford for a bottom-six role. Both these rookies should be on your radar but likely won't be worth rostering to start the season.
Goaltending
Jonathan Quick is the man here — he'll start 60-plus games again, possibly even 70.
There is a growing sentiment that Quick is overrated, but he's coming off a career-high 40 wins last season — second-most in the entire league — and as long as Los Angeles has a winning record, he'll be worth owning as a fantasy workhorse.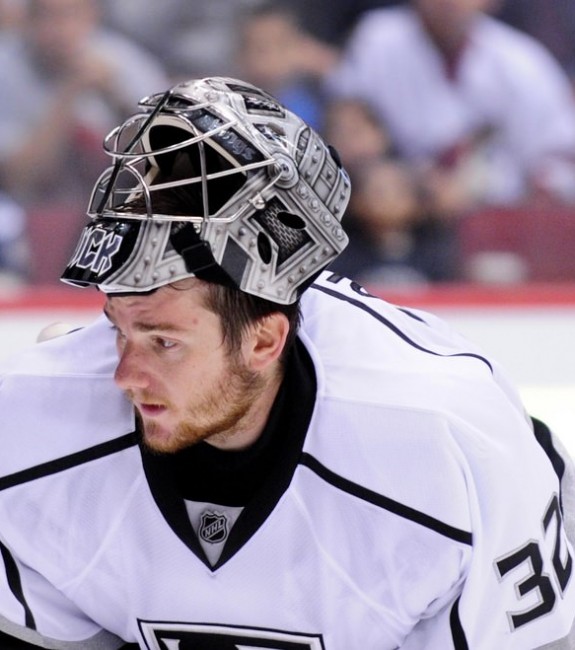 Somewhat similar to Doughty, Quick maybe shouldn't be a top-three or even top-five option and he might get picked sooner than his overall statistics warrant, but he's not a bad goalie to have backstopping your team by any means.
Behind Quick are a bunch of castoffs battling to be his seldom-used backup. Peter Budaj is a veteran journeyman who re-established himself with L.A.'s farm team, but he'll be pushed by free-agent signing Jeff Zatkoff, who was bumped out of Pittsburgh by Matt Murray's emergence. Quick is 30 years old, Budaj turns 34 this month and Zatkoff is 29.
If the Kings decided to go with a younger backup, which seems less likely, then two other newcomers could steal the job. Tom McCollum and Jack Campbell were both first-round picks — by Detroit and Dallas, respectively — but failed to make it with their former teams.
Campbell, the 11th overall pick from 2010, is a reclamation project at this point and the 24-year-old will almost certainly start the season in the minors.
McCollum, who went 30th overall back in 2008, might surprise. He had superior numbers in the AHL and is close to making the jump at 26 years old. Los Angeles would have Detroit to thank for McCollum's development if he does end up as the No. 2 this season.
That will likely be an open competition throughout the exhibition games, but it's not worth paying attention to as far as your fantasy team is concerned.