With the NHL season creeping up quickly, fantasy leagues are beginning to form. It's about this time every year that player rankings are released, and when people really start taking note of who the legitimate players are to consider for their fantasy drafts. Most teams seem fairly set with their roster with the odd, usually insignificant last-second move likely to occur closer to the beginning of training camp. At this point, teams are mostly looking at lines, in-house call-ups, and general housekeeping leading up to the preseason.
Now is as good a time as any to really evaluate every team in the league and see what they have to offer for fantasy purposes. For the Winnipeg Jets, it's clear that the team has a slew of young talent that is just dying to breakout, coupled with some veterans looking to lead the way. Between Dustin Byfuglien, Blake Wheeler, Brian Little, and younger players such as Jacob Trouba, Nikolaj Ehlers, and Patrik Laine, there are many names that will be considered in fantasy drafts this summer.
Top Performer: Dustin Byfuglien, D/RW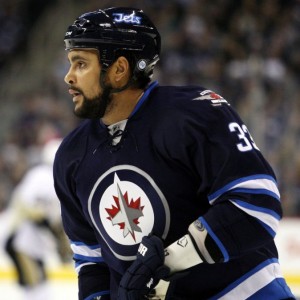 One of the largest players in the entire NHL, Dustin Byfuglien has tremendous fantasy value every single season.While he's likely to play defense for the majority of the season / the latter half of his career, he has been placed into the right wing spot at times in the past. The former forward has indicated that he prefers to play on the backend, but injuries do occur, and Byfuglien could receive additional eligibility again this season should he see any extended time at the forward position.
Assuming Byfuglien doesn't play any time at forward, and doesn't get additional eligibility, he's still the top player on the Jets in terms of all-around fantasy. In 81 games during the 2015-16 season, Byfuglien scored 19 goals and 53 points. He also accumulated 247 shots-on-goal, and 119 penalty minutes to go with his plus-four rating. There is no denying that Big Buff has the potential to be a fantasy stud every single season, and that has placed him 12th in ESPN's Fantasy Hockey Player Rater among skaters.
Byfuglien is also the leader of the Jets power play, racking up three power play goals and 17 power play points last season. He also managed to post one short-handed goal, two short-handed points, and six game-winning-goals. Byfuglien's shooting percentage finished at 7.7 percent, which hovers right around his career 7.4 percent average.
Byfuglien will likely be one of the first defensemen taken in any fantasy draft this summer. There are few players who can excel in all situations as well as Byfuglien does, and as the Jets will, you should feel confident in deploying Byfuglien every single night in your lineup. Fresh off of a new contract and with no distractions in sight, Byfuglien looks set for another outstanding fantasy season.
Underrated Performer: Blake Wheeler, RW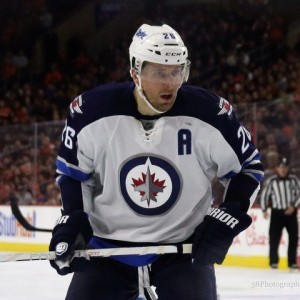 It seems weird to talk about a player who scored 26 goals and 78 points last season being considered as "underrated," but here we are talking about Blake Wheeler. Over the last four seasons, Wheeler has quietly posted 99 goals and 230 points in 291 games. A virtual lock for 25-goals and 60-points every single season, there's no reason why Wheeler should be left out of the discussion for "top right wingers in the league," but he often is.
As is the case with Byfuglien, the Plymouth, Minnesota native is a crucial part of the Jets power play, and also frequently finds himself on the penalty kill as well. Last season in 82 games, Wheeler scored three power play goals, 17 power play points, two shorthanded goals, and four shorthanded points to go along with five game-winning-goals and two overtime goals. The impressive thing about Wheeler is his shooting percentage finished at 10.2 percent last season which is a full one percent drop from his career 11.2 percent average. Wheeler could still see his goal totals rise next season if he can improve his shooting percentage again next year.
Wheeler likely won't be taken in the first round of any fantasy drafts this season, but he could he primed for the picking as a strong value pick in the second or third round. Not many players in the league hit the point-per-game total in today's NHL, and Wheeler came very close last season with his 78 points.
Overrated Performer: Jacob Trouba, D
While Jacob Trouba is one of the most promising young defensemen in all of the NHL, his fantasy totals have been disappointing since his breakout rookie campaign. In 65 games in his rookie season, Trouba scored 10 goals, 19 assists, and 29 points. In the following two seasons, Trouba saw his goal totals, assist totals, and point totals decline.Trouba scored seven goals and six goals and 22 and 21 points in the next two seasons respectively.
At just 22-years-old, Trouba's best hockey is likely still ahead of him. While that may be the case, however, his status as a top-tier fantasy option shouldn't be locked in until he gives us more reason for confidence. Trouba has all the makings of a fantasy stud, it just might take some time for him to finally reach that point.
Fantasy Sleeper Performer: Kyle Connor, LW
Kyle Connor could have very possibly been considered as the "breakout rookie candidate" on the Jets roster, but there happens to be another rookie on the roster who could see more success in that category. As for Connor, he has been an absolute sensation since being drafted by the Winnipeg Jets with the 17th overall selection in the 2015 NHL Entry Draft. At 19-years-old, Connor led the NCAA in points last season, scoring 35 goals and 71 points in 38 games at the University of Michigan. What's even more impressive is the fact that he did that as a freshman. To finish out the season, Connor went on a 27-game point streak, leading the Michigan Wolverines to a Big Ten Championship victory.
It's always tough to put too much stock into a rookie, but Connor has the potential to be a very solid player on the Jets third line with room to rise on the depth chart. As it stands, Connor should start on the Jets' third line, but with Patrik Laine and Nikolaj Ehlers slotted as the left wings above him, any inconsistencies in their game could see Connor slot up in the lineup. All three players are either 20-years-old or younger, and could experience very good seasons with the Jets next year.
Fantasy Bounce-back Candidate: Bryan Little, C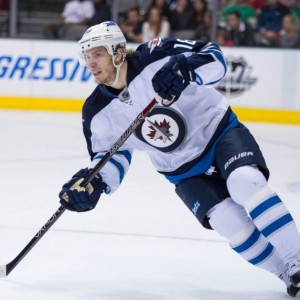 After dealing with injuries in each of the last two seasons, Little will be looking to have a bounce-back performance in the 2016-17 season. Little missed 12 games in the 2014-15 seasons, but was able to score 24 goals and 52 points as well as a plus-8 rating and 24 penalty minutes. His season was cut short in the 2015-16 season, skating in only 57 games, and posting only 17 goals and 42 points as well as a career-low minus-13 rating and 12 penalty minutes.
Mark Scheifele will probably be given top-line duties this season, but Little should still be a solid fantasy contributor on the Jets second line. With one 30-goal season, and three 20-goal seasons under his belt, along with six 40-point seasons (and 32 points in the 48-game lockout shortened season), Little has the potential to be a steal in fantasy leagues, should he fall in fantasy drafts this offseason.
Given the Jets current depth chart, Little is likely to start the season lined up alongside Patrik Laine and Drew Stafford, giving him a nice mix of experience, and youth to work with. Stafford is a solid player in his own right, and the potential to skate alongside Patrik Laine in his rookie season is a good enough reason to consider Little for your fantasy team this season.
Impact Fantasy Rookie: Patrik Laine, LW/RW
Auston Matthews or Patrik Laine?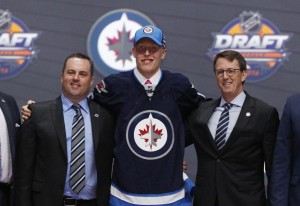 That question was asked for months leading up to the 2016 NHL Entry Draft. The Toronto Maple Leafs ultimately decided that Matthews was their guy, and given the fact that he's a center, it's hard to argue with that. Laine, however, is as good as Matthews and has the potential to have a better rookie season than the Arizona-native.
Laine showed his ability at all levels last season, scoring seven goals and 12 points in 12 international contests, as well as 12 goals and 20 points in international-jr contests. While playing with Tappara in Liiga, Laine scored 17 goals and 33 points in 46 games and continued his impressive showing in the playoffs with 10 goals and 15 points in 18 games.
While Laine has been mentioned as a left wing in this article up until this point, he has the ability to play on both the left and right wing. A booming right-handed shot coupled with Laine's size, playmaking ability, offensive instincts, and solid skating should bode well for the young Finn's fantasy value, even in his rookie season. Any time a player can be compared to both Teemu Selanne (due to the fact that they're both from Finland and both starting their careers with the Jets) and Alex Ovechkin (both big right-handed, left wings with booming shots), that player deserves recognition early and often in their career. Laine has the potential to be a "generational talent", and he will look to show that early on in Winnipeg.
Goaltending
The Jets goaltending situation doesn't look any different this year than it did last year. There is potential for Ondrej Pavelec, Michael Hutchinson, and Connor Hellebuyck to all see time in between the pipes in Winnipeg this season. With that in mind, let's break down all three goalies and see if any of them are worth drafting this offseason, and where they should go if they are:
Ondrej Pavelec is the seasoned veteran of the Jets' goalies. In 371 career games, Pavelec has started 354, posting a 148-154-47 record, compiling a 2.85 goals against average and a .907 save percentage with 17 shutouts. His 2015-16 season was consistent with his career averages, playing in 33 games, starting 31, and posting a 13-13-4 record with a 2.78 goals against average, a .904 save percentage, and one shutout.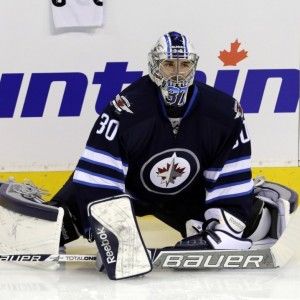 Michael Hutchinson has only played in 71 NHL games, starting 64, posting a 32-26-8 record along with a 2.53 goals against average and a .912 save percentage with two shutouts.In 30 games last season, Hutchinson started 25 games and posted a 9-15-3 record with a 2.84 goals against average and a .907 save percentage.
Connor Hellebuyck, the Jets' potential goalie of the future, posted solid numbers in his 26 games with the Jets last season. In 26 games, Hellebuyck compiled a 13-11-1 record with a 2.34 goals against average and a .918 save percentage along with two shutouts. It's unclear if Hellebuyck will see time on the Jets roster to start the season or not, but he could be a very good stash-and-play for later in the season, as he has star-fantasy potential on a Jets team that is highlighted by a few solid young players this season.
Out of the three goalies mentioned, the only one really worth looking at in drafts is Hellebuyck. If a goalie is needed later in drafts, either Pavelec or Hutchinson should still be available, with both likely to receive similar playing time in a platoon-type situation.
Between the goalies, the rookies, and the contract situation of Trouba, the Jets still have a lot of question marks on their roster this offseason. One of the better young teams in the league, Winnipeg's future looks bright and it might be wise to take a flier on some of the young studs that they have, as there could be a few breakout seasons in the 'Peg this year.
Check out all THW's fantasy hockey content in the coming weeks and throughout the season by checking out our fantasy homepage.
Brandon Share-Cohen has covered the NHL and various professional sports for seven years. Working with The Hockey Writers, Brandon works extensively on covering the Boston Bruins in addition to his role as the News Team Lead.