The 2016 IIHF World Championships drew to a close on Sunday. It was a tremendous couple of weeks featuring some breathtaking upsets as well as a few teenagers who took the tournament by storm.
Everyone was pulling for Hungary, who won their first game in the top division since 1939, but they would be relegated in the last day of the preliminary round.
Meanwhile, in the hunt for the gold medal, it was Canada who came away victorious for the second consecutive year over a persistent Finnish squad.
Among the tournament's leaders were two 2016 NHL Draft eligible players, Auston Matthews of USA and Patrik Laine of Finland. In the end, Laine would be voted Best Forward and MVP of the tournament while driving his country to a silver medal.
There were plenty of notable performances which made selecting a tournament all-star team a difficult task. This is my personal selection and is not representative of the All-Star Team as chosen by the media.
All-Star Team
Forwards:
Vadim Shipachyov – Russia
Shipachyov had a noteworthy tournament after yet another successful KHL season with SKA St. Petersburg. The 29-year-old was impressive enough to draw plenty of NHL attention, where reports are surfacing of a potential transfer. Shipachyov led the tournament with 18 points in 10 games and was third in goals with six.
Shipachyov consistently led his team offensively each night with elite vision and playmaking instincts. He became too much for his opponents to handle with creative hands and shifty skating. While he surprised North American viewers with his overall talent, it was nothing but the usual for Europeans who have seen him in the KHL.
He ranked fourth in KHL scoring this year with 60 points in 54 games, his best individual season of his KHL career. If he chooses, Shipachyov could have a plethora of options to sign with in the NHL for next season, a large consequence of his impressive World Championship performance.
Fans could not take their eyes off of Laine all tournament long. The 18-year-old was a force for Finland each game, proving his ability to be an elite goal scorer for the foreseeable future. His seven goals were tied for first in the tournament while his 12 points were ranked fourth. Those totals placed third and second all-time for U19 players in the World Championships respectively.
Laine used the tournament as yet another stepping stone in a tremendous push towards unseating Matthews as the first overall pick in the 2016 NHL Draft. His game thrives with a powerful shot that some scouts say is the best they have seen since Alex Ovechkin's. Laine also an underrated ability as a playmaker as well, giving him a more well-rounded game.
After not only being the youngest player in the tournament, but also the MVP, Laine is sure to have a bright future ahead of him. He certainly will not last more than two picks at the upcoming NHL Draft, and could be the league's next Rocket Richard winner.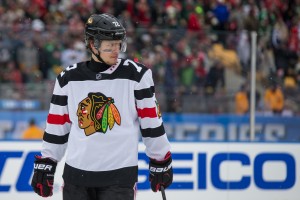 Panarin proved that he is much more than Patrick Kane's beneficiary, ranking second in the tournament with 15 points. After an extremely successful rookie season in the NHL, Panarin continued to dominate his competition, becoming a human highlight reel each night he took the ice.
Panarin uses incredible creativity to make plays when it seems like there is nothing available, often creating scoring chances for his teammates. For Russia, the 24-year-old was often the heart and soul of his team's success, allowing their offence to roll on all cylinders. He also showed his ability as a natural goal scorer, finishing third overall with six goals.
Panarin had an excellent all-around performance, only further proving his elite potential in both the NHL and in IIHF events. On a Russian team that is loaded with outstanding offensive weapons, Panarin has established himself as one of the best available and has already been named to the 2016 Russian World Cup team as a result.
Defencemen: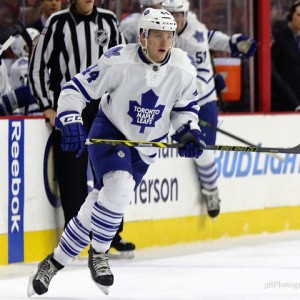 Despite his teammate, Mike Matheson, being named Best Defenceman of the Tournament, it was Morgan Rielly who led the Canadian blue line to a gold medal. Rielly was poised on the back end in all situations, heavily relied upon to not only create offence but to also limit it against his team.
While he scored just a goal and three points, good for 20th among defencemen, Rielly was Canada's best defender by far. He limited controlled zone entries against, using smart stick and body positioning to separate his opponents from the puck. As a result, he was named a Top 3 Player on the Team, as selected by his coaches.
Rielly was a crucial part in Canada allowing just 11 goals over their 10 games. As a 22-year-old, Rielly has already developed into a top-pairing defenceman in the NHL, and could represent his country at multiple international events in the near future.
Although Esa Lindell didn't receive any recognition for his outstanding performance, he was a key cog for Finland to reach the Gold Medal Game. As a mobile, two-way defenceman, Lindell not only added a goal and four points but was noteworthy in his own end as well.
Lindell used his 6'3, 216-pound frame to knock opponents off of the puck, and also blocks his fair share of shots as well. He helped Finland to allow a tournament-low 10 goals over 10 games. The 22-year-old spent his first season in North America this year and was very successful, adding 42 points in 73 AHL games.
Lindell has already established himself as a smart defenceman in Finland, and his country repays him for that with plenty of international invitations. The next step for him will be a transition from the AHL to the NHL, as a member of the Dallas Stars.
Goaltenders: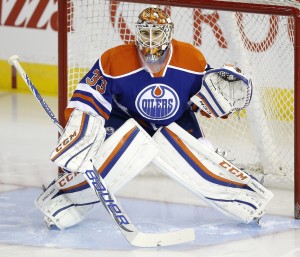 Cam Talbot was instrumental in keeping the Canadian squad calm and confident throughout the entire tournament, on route to their second consecutive gold medal. He led the tournament with four shutouts and was second with a 1.25 GAA and a .940 SV%. Talbot showed poise in following both of his shaky starts, a 4-0 loss to Finland in the preliminary round and a 4-3 win against the USA in the quarterfinals, with shutouts.
Talbot continued to prove his ability as an NHL starter by backstopping Canada with consistency and confidence. He was sharp throughout the tournament, often swallowing up shots or directing rebounds away from traffic. Perhaps most importantly, he allowed the Canadian team to play their style without needing to worry about a little mistake turning into a goal against.
Contributor for the Toronto Maple Leafs and Prospects. Scout with the Oakville Blades of the OJHL. For questions, concerns, or comments, contact me at devinslawson123@hotmail.com or on twitter @SlawsonTHW.