The 2016 NHL Draft has quickly come and gone. It was a draft with plenty of parity, with picks from 20-50 becoming almost impossible to distinguish from each other. There were also several overaged players selected, many more than there have been in recent years.
Because of the parity and overaged draft picks, there were a few players who had been expected to be drafted in the third or fourth rounds that ended up undrafted. Some of them were extremely surprising, spurring thoughts that perhaps the teams knew more about the prospects than the scouts, media, and fans did. Was there an issue with these players off the ice? We will likely never know.
In any case, there were very talented draft prospects leftover at the end of the two-day draft. Luckily, most of them were in their first year of draft eligibility and will have the opportunity to prove themselves in time for the 2017 NHL Draft next year.
Top Ranked Undrafted Prospects
Zach Sawchenko (G) – Moose Jaw Warriors (WHL)
Ranked #130 by Hockeyprospect.com
Ranked #75 by Future Considerations
Ranked #74 by McKeen's Hockey
Ranked #6 by NHL Central Scouting (NA Goalies)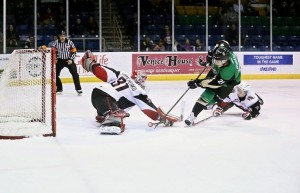 Sawchenko was ranked 3rd among North American Goalies in NHL Central Scouting's Midterm Rankings, before sliding to 6th in their Final Rankings. Despite the fall, he was still projected to be a third or fourth round pick at the draft. With the Warriors, Sawchenko thrived under constant attack. His team allowed an average of 36 shots against while he was in the net while being outshot regularly, but Sawchenko stood tall, allowing just 3.04 GAA while sporting a .916 SV%.
At 6'1, 179 pounds, Sawchenko needs to play an aggressive game to make up for his average size. He is an agile goaltender who uses smart positioning and fluid movements to stop the puck. Among the 18 'tenders selected at the 2016 NHL Draft, many had less stellar numbers than Sawchenko flashed. As an example, Evan Cormier was a 4th round pick, 105th overall. Over 58 games with the Saginaw Spirit this year, he allowed 3.72 GAA and stopped just 89% of the shots he faced. Similarly, Dylan Wells played just 27 games for the Peterborough Petes on route to losing the starting job. He sported a worrisome 4.59 GAA and .871 SV%, but was still a 5th round selection for his raw talents that shone through.
Meanwhile, Sawchenko battled to keep his team in games all year-long and continued to post strong numbers. However, NHL teams found 18 goaltenders they liked better. It was extremely surprising and somewhat worrying that no one took a chance on him. But, he still has two more years of NHL Draft eligibility and another year of solid play should lead to a draft selection. That said, it should have gotten him drafted this year in the first place.
Simon Stransky (LW) – Prince Albert Raiders (WHL)
Ranked #73 by Hockeyprospect.com
Ranked #170 by ISS Hockey
Ranked #100 by Future Considerations
Ranked #75 by McKeen's Hockey
Ranked #48 by NHL Central Scouting (NA Skaters)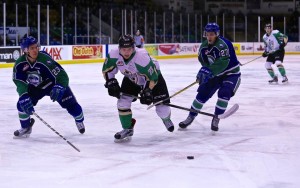 Stransky moved to North America from Czech Republic in 2014 as a result of being selected 24th overall by the Raiders in the CHL Import Draft. In his first season, he adapted well on his way to scoring 12 goals and 42 points over 72 games. His work effort earned him multiple promotions and increased ice time. That translated into 2015-16, where he became a leader of the Raiders.
Stransky would be relied upon as one of the consistent offensive players on the team, and thrived under that pressure to score 19 goals and 62 points over 62 games. He continued to develop an intelligent game, further improving his playmaking abilities. As a result of his efforts, he would be projected to go in the third round of the NHL Draft.
However, despite his best efforts to prove his potential in North American hockey, he would go undrafted through all seven rounds. It was a shock to most NHL analysts given his obvious intelligence on the ice and natural abilities to create offence. If he is able to improve his offensive numbers while developing a strong two-way game next year, he should make it impossible to pass him up at the 2017 draft.
Vladimir Kuznetsov (LW) – Acadie-Bathurst Titan (QMJHL)
Ranked #101 by Hockeyprospect.com
Ranked #99 by ISS Hockey
Ranked #86 by Future Considerations
Ranked #127 by McKeen's Hockey
Ranked #55 by NHL Central Scouting (NA Skaters)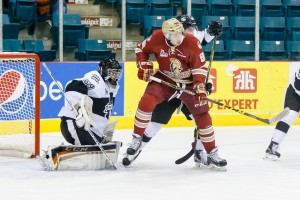 Kuznetsov was a very exciting player for the Titan organization, acquired as the 1st overall pick in the 2015 CHL Import Draft. The team was able to moderately improve to 14th in the league standings this year, but they remained a somewhat weak offensive team. Kuznetsov tried to adapt to the lifestyle as quickly as possible, but obviously it isn't easy to exceed hearty expectations when living in a different country for the first time.
He certainly did perform very well considering the circumstances, finishing with 25 goals and 58 points over 68 games. Standing at 6'1, 214 pounds, Kuznetsov is a strong offensive player who can skate well and be crafty to create scoring chances. He has an electric release which makes his shot very dangerous.
Heading into the NHL Draft, Kuznetsov was looked at as a potential third round selection. However, come draft day, all 30 teams seemed to have seeds of doubt about his game in their heads. He would go undrafted despite his success in a difficult situation. He should be able to boost his numbers in 2016-17, and will almost certainly be a name to consider at next year's draft.
Brayden Burke (C/LW) – Lethbridge Hurricanes (WHL)
Ranked #171 by Hockeyprospect.com
Ranked #143 by ISS Hockey
Ranked #203 by Future Considerations
Ranked #131 by McKeen's Hockey
Ranked #63 by NHL Central Scouting (NA Skaters)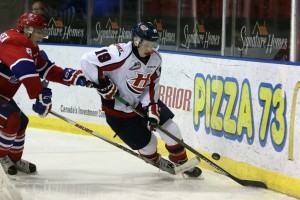 For some, Burke is the most shocking player to go undrafted at this year's draft. Having already been passed over at the 2014 NHL Draft, Burke made tremendous strides to improve his game during the 2015-16 season. In the end, Burke jumped from 8 to 27 goals, and from 34 to 109 points from 2014-15 to 2015-16. He showed excellent intelligence on the ice to pace the WHL in assists with Adam Brooks with 82.
To compare, Brooks, Tyler Soy, and Jack Walker all went undrafted in 2015. Brooks led the WHL with 120 points, while Soy totalled 85 and Walker had 84. In 2016, Brooks was selected 92nd, Walker went 152nd, and Soy was taken 205th. However, Burke once again went undrafted through all 211 picks. It is a fact that has plenty of people scratching their heads and wondering what exactly Burke must do to be drafted.
While he is a smaller forward, standing at 5'10, 165 pounds, that shouldn't keep a tremendous talent from being drafted. Burke has one more year of WHL action and surely has a chip on his shoulder to take further strides in his game. He should be a serious candidate to lead the WHL in scoring in 2016-17 and will be very hard for all 30 teams to pass on again in 2017. Burke undoubtedly has the talent to have a professional hockey career.
Maxime Fortier (C/RW) – Halifax Mooseheads (QMJHL)
Ranked #104 by Hockeyprospect.com
Ranked #165 by ISS Hockey
Ranked #73 by Future Considerations
Ranked #145 by NHL Central Scouting (NA Skaters)
While Fortier wasn't the highest regarded prospect in the draft, he definitely showed great potential during the 2015-16 season. Despite the Mooseheads severe struggles to find success, Fortier was able to improve by leaps and bounds. He led his team in goals and points by a significant gap, even becoming one of the leaders off the ice as well.
Fortier showed great instincts in the offensive zone when reading plays in order to create scoring opportunities for his teammates. He was also able to work on his release, making it quicker and deceptive, a dangerous combination for goaltenders. Fortier finished the year with 31 goals and 77 points over 68 games for a very weak Halifax team.
Fortier would somehow go undrafted at the draft despite his ability to put up solid offensive numbers on a struggling team. Meanwhile his teammate, Otto Somppi, finished with 13 goals and 46 points in 59 games, but would be drafted 206th overall. The reason for Fortier going undrafted is unknown, as most scouts were very impressed from what they saw from him all year. In any case, he will have an opportunity to improve his game next year in time for the 2017 NHL Draft.