The Coyotes showed improvement in 2015-16 over the awful 2014-15 campaign.  The spotlight will be on the desert, with the No. 1 overall pick, in the draft expected to be Arizona's own Auston Matthews.  Even so, the desert dogs have plenty of work to do on their own.  Let's review their pending unrestricted free agents (UFA), and if they should return.
Shane Doan
LW/RW, Age 39
2015-16: 72 Games, 28 Goals, 19 Assists, 47 Points
Doan has been the heart and soul of the Phoenix/Arizona franchise through all the off-ice issues and has even served as the team captain since 2003. He had, arguably, the best season of his career in 2015-16.  Doan narrowly missed the 30-goal mark, scored his second career hat trick, and set the franchise records for goals and points. Doan needs just five assists to move into first place on the Coyotes' all-time leaderboard for them as well. He flirted briefly with the Blackhawks, Red Wings, and Penguins before signing a four-year deal with Phoenix. Arizona has plenty of money and could use his veteran leadership on a very young team, but he is nearing 40 and values the time he spends with his family. He should be back with the Coyotes … if he wants to be.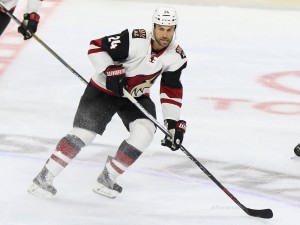 Kyle Chipchura
C/LW/RW, Age 29
2015-16: 70 Games, 4 Goals, 8 Assists, 12 Points
Chipchura had another steady season for the Coyotes. This was his third straight season winning over 50 percent of his faceoffs. He continues to make the change from enforcer to grinder and from winger to center. Brad Richardson was signed last summer and Boyd Gordon was reacquired during the season, which poses a problem for Chipchura since all three play a similar position.  Chipchura will probably be the odd man out with his UFA status, but he should still find value on the open market.
Alex Grant
D, Age 27
2015-16: 5 Games, 0 Goals, 0 Assists, 0 Points
Grant saw limited time with the Coyotes in 2015-16, and spent most of the season with the club's AHL affiliate, the Springfield Falcons. He played well for the Falcons, but could not seem to break through Arizona's logjam on defense. At age 27, he is still young and could return for 2016-17. Though it would serve him better to try and move on to a team with more openings that gives him a shot to play at the NHL level.
Nicklas Grossmann
D, Age 31
2015-16: 58 Games, 3 Goals, 4 Assists, 7 Points
Grossmann's first season in the desert was not his finest. He was brought in to help improve the physicality on the blue line (
and eat contract space
), and he did make an impact in that area when he was on the ice. However, the younger Connor Murphy developed nicely in the second half.  Klas Dahlbeck also seems to have taken this role in leading the team in hits. Grossmann's return is 50-50 with Jarred Tinordi struggling to keep his head on straight. At the very least, Grossmann is reliable.
Boyd Gordon
C, Age 32
2015-16: 65 Games, 2 Goals, 2 Assists, 4 Points
Arizona management seems to love this guy as he is in his second stint with the club. He serves as a good role player on the third and fourth lines. He also has an excellent faceoff percentage (just under 58 percent) and helped the team to the league lead in faceoff percentage. Similar to Chipchura, there is competition at the position with Richardson. Also, last year's No. 3 overall pick, Dylan Strome, will probably make the team out of camp and be the second line center, moving everyone down a line. Gordon has a greater chance to be signed than Chipchura, and it wouldn't be shocking for him to be in a Coyotes sweater come October.
Anders Lindback
G, Age 27
2015-16: 19 Games, 5 Wins, 7 Losses, 3.11 GAA
Brought in to back up Mike Smith last summer, he was hoping to revitalize his career, much like Devan Dubnyk of the Wild did the season before; however, Lindback may have ended his chances in the NHL with his 2015-16 campaign. He was thrust into the starting position with Smith's injury in December, but he was quickly replaced by Louis Domingue, who started much of the remainder of the year. Domingue should receive a good offer from the Coyotes as a restricted free agent (RFA) and head into camp as Smith's backup in 2016-17. Lindback more than likely will return to Europe to continue his career.
Alex Tanguay
LW/RW, Age 36
2015-16: 70 Games, 8 Goals, 27 Assists, 35 Points
Tanguay was a deadline addition from the Avalanche when the Coyotes
couldn't agree on a long term deal with LW Mikkel Boedker
.  He fit in great on the second line with Anthony Duclair and Max Domi, setting them up for some easy goals down the stretch, and a full season together could be a thing of beauty.  The question becomes, where does he fit in?  Tanguay should be a top-nine forward (or top six, keeping him with Duclair and Domi), so then what about Richardson, Strome, Hanzal, Gordon and Chipchura?  The team is at a turning point moving from grit to finesse and keeping Tanguay could be the transition.
Viktor Tikhonov
LW/RW, Age 27
2015-16: 50 Games, 3 Goals, 3 Assists, 6 Points
Tikhonov was a first round pick for Phoenix in 2008, but he struggled with the North American Game before returning to the NHL. He seemed to improve in the second half, after being claimed off waivers in December from the Blackhawks. If not resigned by the Coyotes, a two-way contract will easily keep him in North America for the 2016-17 season.
Arizona is in a good position moving into the offseason. Many of their future stars are locked up long term, or in an RFA status that will keep them with the club for the foreseeable future. Doan will either be a Coyote or retire, but that is his decision to make and cost would not be an issue. None of their UFAs on this list are "must haves," although not keeping Tanguay and Gordon could deal the team a blow. The pending expansion draft team could also be a bonus for the squad as it could help thin the Coyotes at the bottom-six forward and bottom-four defensemen groups, allowing some younger stars to emerge.