Christopher Ralph is a hockey writer with a focus on prospects and the entry draft, as well as the Leafs' correspondent here at THW.
"Full Potential" Prospect Profile: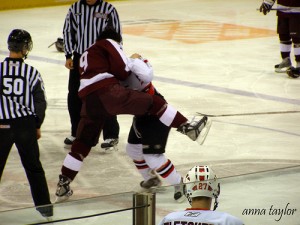 Please "Click Here" for "Notes Up Front" and the "Legend" for various topics covered below, as well as a running live updated NHL 2009 Draft rankings.
27.  Zack Kassian – LaSalle, ONT – 6'3″ – 205 lbs – OHL – Peterborough – RW
One-Timer: The stock of this budding power forward has been rising this season after raising his offensive game, averaging just over a PPG in the OHL. He is also one of the OHL's toughest players and doesn't shy away from donnybrooks, but likely needs to show more discipline after sometimes taking needless penalties. There is no doubting the size, skill and energy he brings to the table, but he does need to continue to work on his skating and likewise getting quicker. Hs skating problems were exposed at times during the WJC-U18s. I honestly almost took this guy out of the Top 30 as I think he is being overrated given his poor OHL playoff showing, but he does have that Lucic-like potential (although Lucic was a playoff phenom).
NHL Player(s) Comparison: Milan Lucic, Scott Hartnell, Brendan Morrow
Bio/Interview Links:
http://www.blueshirtbanter.com/2009/6/10/900970/2009-nhl-draft-prospect-preview
Scouting Combine Performance:
Sorkin stated: "Personally, I'm not that high on this guy as I've heard murmurs about his attitude problems, but he killed the strength tests, and looked a lot like Budish to me in terms of size. A lot of comparisons to Lucic, but who knows. Physically though, he looks ready to step in starting next season."
Gare Joyce noted Zach Kassian scored "A" (average) on bother upper and lower body development.
TSN staff stated: "Zack Kassian (#10) did an impressive 16 lifts on the bench."
International Tournaments: Kassian registered 2 goals and 3 assists in 6 games for Team Canada at the recent WJC-U18 tournament.
ETA = 2 years
Risk-Reward Analysis: Risk = 2.5/5   Reward = 4/5
NHL Potential: 2nd line power forward
Fantasy Hockey Potential: Offensive = 8/10   Defensive = 8/10
Other Rankings:
ISS: 20
CSB: 10-NA
TSN: 16
THN: 16
Video Links:
(Draft Profile)
httpv://www.youtube.com/watch?v=9YXH7vkciSg
(Tribute Video)
httpv://www.youtube.com/watch?v=OSuzenUtyxU
This document is the intellectual property of Christopher Ralph and cannot be used or duplicated in anyway without expressed written consent. Any use of this document without the expressed written consent of Christopher Ralph will result in public exposure and legal prosecution.
Chris is THW's senior draft/prospect analyst and a Managing Editor. Watch for "The Next Ones" Prospect Profile series, exclusive rankings, mock drafts, as well as the annual THW NHL Entry Draft Guide. Follow @ChrisRalphYQ on Twitter as he infiltrates, dissects and analyzes all happenings of hockey prospects and the NHL entry draft. Email: cralph[at]thehockeywriters[dot]com