Three Takes is a column that explores the world of the Columbus Blue Jackets and offers strong insights into the team and what to watch for. Have a strong take to share? Feel free to leave your comments below or tweet me anytime @THWMark.
Take One: The State Of The Bottom Six
Thought of as one of the weakest links on the Blue Jackets, their bottom six has shown nice flashes of brilliance in their recent games. This discussion must start with a surprising rookie.
William Karlsson has turned heads in Columbus in the early going. He made the team out of camp by showing well in the preseason. He started out as a fourth-line winger. He's now entrenched as their third-line center. He is also a favorite of new coach John Tortorella.
Karlsson plays well at both ends of the ice. He's fast, tenacious and gaining confidence by the game. It was just a matter of time before his scoring would pick up. Against the Arizona Coyotes, he scored two goals, helping the Blue Jackets end the Coyotes' winning streak.
Because of Karlsson's breakout, the bottom six, especially the fourth line, is a storyline to watch. For now, injuries to Brandon Dubinsky, David Clarkson, and Alexander Wennberg have helped shape the current lineup. But what happens when the injured players start to return?
Of the injured group, Wennberg is the closest to returning. When healthy, Wennberg played on both the third and fourth line. With Karlsson passing Wennberg on the depth chart, that left Wennberg playing under 10 minutes a night on the fourth line. Is that what will happen once Wennberg returns?
My gut says yes, that's where he will slot in the lineup. Wennberg is not a fourth-line player. He's better suited in the top nine, even if it's on the wing. He does too many good things not to play him more. His usage is worth monitoring upon return to the lineup.
Now what about Clarkson? As of this writing, we have no timetable on his return. Once he does return, does he regain a spot in the bottom six? In his limited playing time this season, he hasn't played well. To be fair, the injury could have had something to do with his poor play. We really don't know. What we do know is that he's the most expensive fourth liner in the NHL. Yet, he might not crack this lineup upon returning. Could this season be a one and done for Clarkson, before the Blue Jackets buy him out? Too early to say at this point, but the topic could arise later if his play doesn't improve.
Here's my take. Once everyone is healthy (fingers crossed), I'd like to see Wennberg back on the third line with Scott Hartnell, with Karlsson on the fourth line at center, allowing the Blue Jackets to roll four solid lines.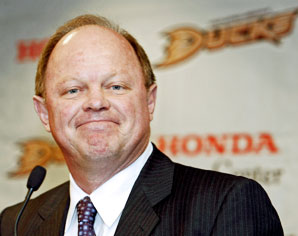 Take Two: Keep An Eye On The Anaheim Ducks
Some fans love knowing which scouts show up to games. Even though it's a daily occurrence at games, it still makes for interesting discussions. Why are they at this game? Which player or players are they scouting? More often than not, a scout's presence at a game doesn't imply something immediate is going to happen. When it becomes interesting is when a team starts to follow you around for an extended period.
That is why the Anaheim Ducks are an interesting team to watch now.
The Ducks have been at several Blue Jackets games this season, including this past Friday's game in Pittsburgh. Why is this interesting? Because the Ducks have had both Rick Paterson and Bob Murray at these games. Paterson is their director of player personnel and assistant general manager, while Murray is, of course, their general manager.
What should we take away from this? Well, when you have the GM and assistant GM at the games, it's usually a sign that they want an up-close look at a particular player. They want to see them in a few games to get a feel for what they can do. It doesn't mean a trade is imminent. It does mean that there is interest, and something could develop.
Keep this in the back of your mind as the season rolls along. The Blue Jackets are certainly willing to listen if a team wants to discuss potentials. Could a Ducks/Blue Jackets trade happen? Sure it could. But it's too early to speculate what could be happening, if anything. We will revisit this situation later.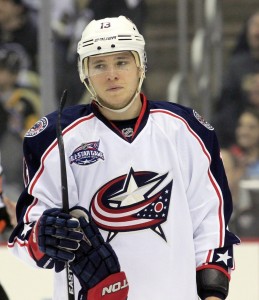 Take Three: Defense Isn't Their Only Weakness
All of the attention thus far for the early Blue Jackets struggles has focused on their defense. Although they've been better of late, it still was a major reason (along with Bobrovsky) that they went 0-7-0 to start the season.
There is another part of the Blue Jackets that is severely lacking talent wise. It hasn't been brought up much with all the lineup shuffling, but the Blue Jackets lack depth on the right wing.
In terms of natural right-wing players, Cam Atkinson is the best they have. Beyond that, it gets scary. Clarkson, Rene Bourque and Jared Boll are the other natural right wingers.
Give credit where it is due. Bourque and Boll have played well as of late. But you won't find them playing in the top six. You won't find Clarkson there either. If the Blue Jackets had a right wing to go with Atkinson, it would balance the rest of the lineup, instead of making players play on their offside.
Nick Foligno is a left winger who's playing either center or right wing. Brandon Saad is a left winger who's been asked to play the right side. The fact that they can play the other side is a nice luxury, but they'd be better in their natural spot.
Not to mention the many rumors that seem to hover around Atkinson. If he's traded, then what do you have left at right wing? It's already thin enough as it is. It is worth mentioning that Oliver Bjorkstrand is in the AHL and, when ready, will give a nice boost on right wing for the Blue Jackets. But that's later on. We'll see if the Blue Jackets have success playing wingers on their off wing, or if there's a limit to their success.
It's your turn. Have a strong take? Feel free to leave your comments below.