The Detroit Red Wings shut out the Toronto Maple Leafs on Monday and improved their preseason record to 3-1-1. Detroit was playing with mostly prospects and bottom-six players, as Henrik Zetterberg, Gustav Nyquist, Niklas Kronwall and Jonathan Ericsson were among some of the scratches.
Petr Mrazek continues to impress in net for the Red Wings, and one defensive prospect had a noteworthy night.
Here are three highlights from the Red Wings' 3-0 win.
Penalty Kill Continues to Shine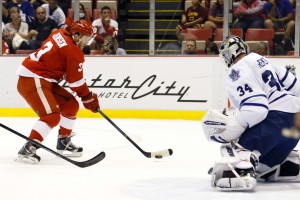 The penalty kill continues to be impressive, even with the team's top penalty killers not playing every single preseason game.
The Red Wings killed all eight power plays against the Maple Leafs, including a short 5-on-3 after Tomas Nosek was ejected from the game for a hit from behind on Stuart Percy early in the second period.
Detroit has killed off all 23 opportunities this season, as assistant coach Tony Granato has come in and done a wonderful job with the PK unit. Just like in the first four games of the preseason, the Red Wings are keeping the shot totals against them down while on the penalty kill.
They allowed just six shots on eight opportunities against the Maple Leafs. Detroit is making it hard for opposing teams to enter the offensive zone, and when they do enter, they are keeping the play to the outside and allowing the goalie to see shots from the point.
And when the goalies are called upon, they are making the big saves, especially Mrazek. But more on him later.
Brendan Smith and Mitch Callahan were two players who saw extended time on the PK and both looked phenomenal. Smith was making the right reads and blocking the passing lanes with his body, while Callahan could have found his niche in penalty killing.
Callahan would have to go through waivers should the Red Wings not keep him on the big club, and I think the Red Wings don't want to risk subjecting him.
He's an aggressive player who found a scoring touch last year, but the Red Wings are loaded with prospects who can put the puck in the net. Penalty killing may be how he separates himself from the other prospects.
I've really liked what I have seen from the penalty kill. In the past, Detroit has been a fairly disciplined team, but last year, they ranked fourth-worst in times shorthanded at 295. Most of that was due to inexperience on the blue line, but a lot of them were dumb penalties caused by lack of focus.
If they can continue to improve on the penalty kill, they'll frustrate their fair share of opposing teams' power-play units.
Petr Mrazek Playing at High Level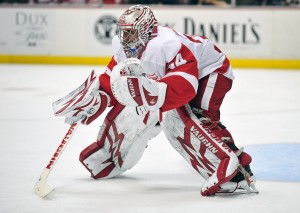 A couple of days ago, I wrote about how I believe Mrazek is NHL ready, and he continues to impress me with every game he plays in.
He played the entire game against the Maple Leafs and stopped all 27 shots in picking up a shutout. Granted, the Maple Leafs didn't have Phil Kessel, but they still had a lot of their top players in the lineup, such as James van Riemsdyk, Nazem Kadri, Tyler Bozak and Dion Phaneuf.
Mrazek didn't look like your typical AHL goalie, he looked like a seasoned veteran who already had the starting job locked up. He was always in great position, he held his glove hand up high and he stopped a couple of key one-on-one situations.
Coach Mike Babcock had high praise for Mrazek, according to MLive.com's Ansar Khan.
Your best penalty killer is your goaltender and I thought he was really good, solid, good plays with the puck. He gave us an opportunity.
Mrazek said he felt good during the entire game.
I felt great from the beginning of the game. We had penalty kill right away, 17 seconds, you get into the game and then continue that work.
Mrazek also got a bit lucky, as Phaneuf hit the post a couple of times, but all in all, Mrazek has been very impressive in these preseason games. In three games during the preseason, Mrazek has stopped 43 of 44 shots. He's certainly making his case for backing up Jimmy Howard next season. He won't be starting over Howard next year, but his play will certainly put pressure on Howard to continue to play at a high level.
Nick Jensen Looks to Bounce Back
With top defensive prospects Ryan Sproul, Xavier Ouellet, Mattias Backsman and Alexey Marchenko, Nick Jensen got lost in the shuffle after he hurt his shoulder fighting fellow prospect Tyler Bertuzzi during last year's development camp and only played in 45 games last year for the Grand Rapids Griffins.
However, Jensen had a bit of a coming out party against the Maple Leafs. He scored the game's first goal, which came on the power play after Andrej Nestrasil made a nice flip pass to Jensen at the point, and Jensen got a fortunate deflection from a Maple Leafs player to put the Red Wings up 1-0.
He also spent 4:33 on the penalty kill, helping the Red Wings remain perfect on the man disadvantage.
Jensen is a mobile, puck-moving defenseman and could be on the way to having a bounce-back year after missing half of last year. The Red Wings definitely need all the help they can get on the blue line, and Jensen is right-handed, which is always helpful on a team full of left-handed blueliners.
Tom Mitsos is a writer from Michigan who covers the Red Wings and the Red Wings' AHL affiliate, the Grand Rapids Griffins, for The Hockey Writers.