The Edmonton Oilers have a rich history and with that comes a list that reads off as some of the most talented players to ever play the game of hockey. This is evidenced by the Oilers ability to yield a total of seven Hall of Fame members. A tradition in hockey is the banner raising ceremony where a players jersey number is retired or honoured.
The first team to ever do a jersey retirement were the Toronto Maple Leafs in 1933-34 when they retired forward Ace Bailey's No.6. It wasn't until October of 1980 when the Oilers got their initial retirement when they retired defenseman Al Hamilton's No. 3. Since then the Oilers have been adding to the list with all the names coming from the Oilers "Dynasty Years" of the 1980s where they won five Stanley Cups in seven seasons.
Edmonton has a rich history but since the teams last Stanley Cup win in 1990, the team has been futile for the better part of three decades. Very few notable names, very little star power of players that truly captivated the fans of the Edmonton Oilers. The mystique from a fan perspective of the retired numbers is a reminder to them the memories and players that give a franchise such history. It's exemplified by generations sitting together in the stands and a fan of the 1980's Oilers turning to a young fan of the current team and saying "Oh you should've seen him play, he was incredible to watch. I used to sit here and watch him.".
Yes there are some incredible names hanging from the rafters of Rexall Place and soon to be hung in Rogers Place next season but there are three names missing from the rafters that Edmonton needs to consider rectifying.
The current list of retired and honored numbers stands as this:
#3 Al Hamilton (Jersey retired October 10th 1980) – The team's first captain, Hamilton played 7 seasons for the Oilers between their WHA and NHL days scoring 269 points during that time.
#7 Paul Coffey (Jersey retired October 18th 2005) – Not only the Oilers all-time leader in goals, assists and points by a defenseman, no one has come close to matching the 669 points he put up after leaving the team in 1987.
#9 Glenn Anderson (Jersey retired January 18th 2009) – Third in franchise goals behind Gretzky and Kurri with 417 goals in 845 games as an Oiler. Won five Stanley Cups with the Oilers between 1984-1990.
#11 Mark Messier (Jersey retired February 27th 2007) – Third in points all-time for the Oilers with 392 goals and 1,034 points. Won five Stanley Cups including being captain of the 1990 Stanley Cup champion team.
#17 Jari Kurri (Jersey retired October 6th 2001) – Second in points all-time for the Oilers behind Gretzky with 474 goals and 1,043 points in 754 games as an Oiler.
#31 Grant Fuhr (Jersey retired October 9th 2003) – The Oilers leader in wins by a goaltender with 226 wins, Fuhr was apart of all five Stanley Cup wins for the Oilers.
#99 Wayne Gretzky (Jersey retired October 1st 1999) – Arguably the greatest hockey player of all-time leads the NHL in almost every offensive stat imaginable. Scored 583 goals and 1,669 points as an Oiler.
* Rod Phillips – Commentator and Play-By-Play Announcer also has his name hanging from the rafters for years of service to the organization.
* Glen Sather – General Manager, Head Coach recently had a banner raised with his name and five Stanley Cups to symbolize his work with the Oilers. Sather is also a member of the Hockey Hall of Fame.
Before we carry on with the three players the Oilers should consider retiring their numbers, here are two that also deserve some consideration:
#10 Esa Tikkanen – Played 8 seasons with the Oilers winning three Stanley Cups as one of the leagues most notorious agitators. Tikkanen also had a pencant for scoring as evidenced by two 30 goal seasons and two career-high 78 point seasons.
#30 Bill Ranford – Played 10 seasons with the Oilers and won the Conn Smythe trophy as Playoff MVP during the Oilers last Stanley Cup win in 1990. Second in wins by a goaltender with 167. Second in games played by a goaltender with 423.
---
#4 Kevin Lowe
Defense
Years: 1979-1992, 1996-1998 (15 Seasons)
Stats: 1,254 – 84 G – 247 A – 431 PTS
---
No Oiler has played more games for the team than the 1,037 games Lowe played during his 15 seasons with the organization.
Lowe was a premier shut-down defenseman in the league during his prime as evidenced by his seven appearances in an NHL All Star Game. In his career Lowe won six Stanley Cups, five of them as a member of the Oilers.
Though Lowe never won a Norris trophy as the league's best defenseman, he was a strong candidate in numerous years.
All things considered until the Oilers drafted Taylor Hall in 2010, no Oiler had worn No.4 between 1998-2010, a clear indication the Oilers were planning on eventually retiring Lowe's number likely in the foreseeable future. Lowe was honoured and even gave permission to Hall to where his old number.
Say what you will about Lowe's managerial ineptitude as some fans describe their frustration since he joined the managerial side in 1999. Lowe deserves to have his number retired due to his sheer dedication to the Edmonton Oilers franchise which he has been apart of on and off since 1979.
---

#39 Doug Weight
Center
Years: 1993-2001 (9 Seasons)
Stats: 588 GP – 157 G – 420 A – 577 PTS
---
In 1992 the New York Rangers dealt a promising 34th overall selection from the 1990 NHL Draft to the Oilers for Esa Tikkanen. The Rangers were trying to build a contender and Weight became expendable in the process. The rest is history.
Weight soon developed into one of the league's premier playmakers and best centers. With Ryan Smyth and Bill Guerin playing on his wings in their prime, the Oilers had a stellar first line combination. It was a travesty that the Oilers couldn't find any consistent secondary scoring behind Weight's line to build a contender.
Weight peaked with a 25 goal 90 point season in 2000-01 and after captaining the Oilers from 1999-2001 and due to a falling Canadian dollar and fiscal restraints on the team he was traded to St. Louis.
It took the better part of a decade for the Oilers to get someone to replace Weight's shoes as a true bonafide No.1 center in the NHL. Weight currently sits 7th in all-time scoring for the Oilers with 577 points behind only those of the dynasty years already with their numbers hanging in the rafters and one other Oiler.
---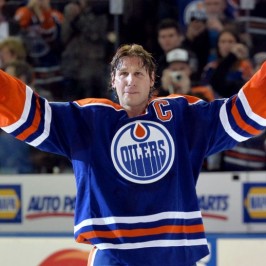 #94 Ryan Smyth
Left Wing
Years: 1994-2007, 2011-2014 (15 Seasons)
Stats: 971 GP – 296 G – 335 A – 631 PTS
---
There is so much about Ryan Smyth that exemplifies what it means to be an Edmonton Oiler. The story goes back to the 1994 NHL Draft when the Oilers elected to pick Smyth over the likes of junior stars like Jamie Storr, Brett Lindros and Nolan Baumgartner. None of those players had the heart and drive that Smyth possessed which made him an easy selection and he never disappointed.
Smyth is the highest scoring Oilers player in franchise history never to have played in the 1980's Dynasty Years with 296 goals and 631 points in 971 games as an Oiler. Smyth has a Hall of Fame worthy career with 386 career goals and 842 points in 1,270 career games in the NHL. Smyth has six gold medals playing for Canada at the Olympics, World Cup, World Championships, Spengler Cup and World Juniors.
He was nicknamed Captain Canada and leads all Canadians with 78 games played internationally at the senior level.
At the NHL level Smyth was a warrior, playing hurt, a mainstay on the Oilers powerplay in front of the net and scoring four 30-goal seasons including a career-high 39 in 1996-97. Scoring wise only four Oilers have more goals than Smyth's 296 in franchise history, all members of the 1980's teams. Only Kevin Lowe has played more games than Smyth's 971.
Consider this if the Oilers never had to trade Smyth at the 2007 Trade Deadline and he contributed the same stats he did between 2007-11 (NY Islanders, Colorado Avalanche, LA Kings) he'd be the franchise leader in games played (1,270). He would also have been just six goals back of tying Mark Messier for 4th in franchise history with 392 goals and would've passed Paul Coffey for 5th place in all-time scoring with 842 points, a 173 point difference than what Coffey put up.
Edmonton Oilers regular contributor providing insight on all things Oilers including club history, prospect profiles, trade breakdowns, and everything else in between. Check back regularly for new and exciting content. Follow on Twitter @SanderTHW.