The Philadelphia Flyers have opened pre-season play with a 2-2 record. That may not seem too impressive at first glance, but the team has looked good, and above anything else, the goaltending has been pretty impressive. Travis Konecny, Travis Sanheim, and Ivan Provorov have already proven that they will give Ron Hextall a lot to think about going into the regular season.
All of that aside, the Flyers are coming off of a year which saw them make the playoffs for just the second time in the past four seasons, something that is out of the ordinary for the franchise. What will the Flyers have to do to find themselves back in the playoffs? Here's a look at their keys to success for this season.
A Hot Start
If there's one thing that has plagued the Flyers over the past few seasons, it has without a doubt been slow starts. In fact, you would have to go all the way back to the 2011-12 season to find a year when the Flyers finished October with a winning record. Here's a breakdown of the past few seasons:
2013 (January due to lockout): 2-5-0
2013-14: 3-8-0
2014-15: 4-4-2 (Lost five of first six)
2015-16: 4-4-2 (Went on to win only five of 14 in November)
Now, of course, the worst of those starts was in 2013-14 and the Flyers ultimately ended up clinching the third spot in the division, but you can't help but think, where would they have finished if they didn't start so slow?
That's something we may never know, but if it tells us anything, it's that the Flyers really can't afford to have a start like that again this season. That may be hard to come by as the Flyers face an extremely rough schedule in October. They start on the West Coast and will play three of their first four games against playoff teams (Chicago, Los Angeles, Anaheim). Talk about being thrown into the deep end right away.
A hot start will take a lot of pressure off the Flyers if they want to make the playoffs. They have been one of the better mid-season teams over the past few seasons but have lacked the quick starts to secure a good position for the playoffs.
Third Line Grind
A few days ago I wrote about how important the Flyers third line will be this season. It will absolutely be one of the biggest keys to their success this season.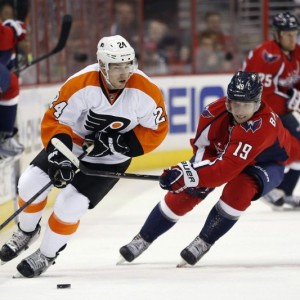 For the majority of the past few seasons, the Flyers have had a largely ineffective third line. I believe that has had a direct correlation to the decrease in scoring from guys like Claude Giroux and Jakub Voracek. Teams no longer have to worry about tertiary scoring threats, so they can throw their best defensive forwards out against the Flyers first line without any hesitation, and then they don't have to worry about anyone else.
That also accounts for why nearly all third line guys for the Flyers have spent more time in the defensive zone than producing offense. That is something you would rather see out of your fourth line. Matt Read, for example, started 53.8% of his shifts in the defensive zone last season. That's interesting because fourth liners Pierre-Edouard Bellemare and Chris VandeVelde only started 50.7% of their shifts in the defensive zone.
If the Flyers third line can start to find the back of the net again, it will give them other viable scoring options besides Giroux, Voracek, and Schenn. They don't need to light up the scoresheet night in and night out, but they need to have a better presence on the ice than in the past few seasons. That could help the Flyers in big ways.
The Resurgence of Giroux and Voracek
If there was one thing Flyer fans were left wondering at the end of last season, it had to be wondering where the scoring of Voracek and Giroux went.
Giroux's numbers have been steadily declining since his 93-point performance a few seasons ago, but then again, he has taken a different role with the Flyers, one that focuses on his all-around game rather than just his offense. That's fine, but the 28-year old is still in his prime and is very capable of regaining that elite scorers touch again.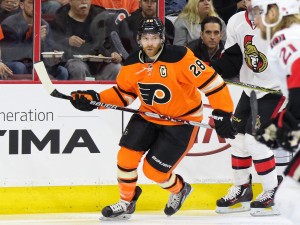 The Flyers are well aware of this. The acquisitions of Boyd Gordon and Dale Weise should allow the Flyers to significantly reduce Giroux's time on the penalty kill and time spent in the defensive zone. That could lead to good things for the star center and may even help generate more scoring from him.
The other side of this story is Voracek. Nearly everyone in the Flyer organization expected Voracek to pick up right where he left off at the end of the 2014-15 season, but that didn't end up being the case.
After years of continuing to post better and better numbers, he saw a very steep dropoff from 81 points to just 55 points last season. Voracek even admitted to having a problem with his confidence at times last season, which could have been a huge part of why he wasn't scoring.
The Flyers really have to hope that it was just an off-season for Voracek. His massive new contract kicks in this season, and the Flyers really need him to perform for them.
If Giroux and Voracek both regain their elite scoring status this season, the Flyers could very well be one of the better teams in the Metropolitan division. Don't forget, they made the playoffs last season despite down years from both of those guys.
They are the key to success on this team and will have a huge influence on how the Flyers end up this season.