The San Jose Sharks currently sit second in the Pacific Division. Their inconsistent roller coaster of a season is trending up the last two weeks. The Sharks have gone 5-0-1 over their past six games and are playing a solid brand of hockey dating back seven contests to a 2-1 regulation loss against the Red Wings.
At this exact moment, trading away current roster players for draft picks, prospects or younger established players wouldn't necessarily make sense. However, teams don't always have to be exclusively sellers or buyers come the trade deadline. The following three Sharks players could potentially be on the move and it doesn't mean the Sharks would be throwing in the towel.
Patrick Marleau
Trade rumors involving Mr. Shark have picked back up after a few weeks of quiet since those November rumors surrounding the Anaheim Ducks, Los Angeles Kings and New York Rangers. As many in the media have noted, this doesn't necessarily mean anything is imminent with Marleau or that a trade is likely to happen at all. However, given the well respected Pierre LeBrun is reporting the latest information on the Marleau situation, it has to be taken seriously. Finding a trade partner for Marleau though is particularly tricky.
At this point in time the Sharks certainly aren't a clear-cut seller. Ergo, a deal involving Marleau would seemingly have to return a quality NHL player in return. However, any team looking to acquire the 36-year old is certainly in a win-now mode and it might not be wise for them to give up a quality roster player for the slumping star. Marleau has just one goal in his past 13 games and just one point in his past seven games. For the season, he is sporting a minus-13 rating.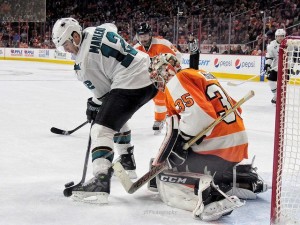 Some have suggested that the St. Louis Blues would be a possible trading partner. St. Louis would certainly like to improve their goal scoring as they sit just 18th overall in the league. San Jose wants to improve upon their 21st spot in goals against. Blues defenseman Kevin Shattenkirk has been involved in rumors this season and ergo a swap involving these two players makes superficial sense.
However, trading a 26-year-old defenseman in the middle of a down year for a 36-year old forward would be pretty poor asset management from the Blues perspective. Plus it would be highly unlikely for Doug Armstrong to get anything more out of Doug Wilson for Shattenkirk than just Marleau. The veteran scorer may be aging, but he is such an iconic figure in San Jose, that it is hard to imagine the Sharks adding an asset with Marleau to acquire a single player. The Shark Tank is already suffering in attendance and a trade of Marleau that doesn't come off as a clear win for the Sharks could cause attendance numbers to fall significantly further. Marleau is absolutely beloved in San Jose.
While certain teams could make sense on the surface as trade partners for Marleau, I just don't see it actually happening by the trade deadline. The far more likely scenario is an offseason deal, if any at all. The next two Sharks on this list are far more likely to be moved this season.
Matt Nieto
Long Beach native Matt Nieto is often criticized by Sharks fans over social media for failing to live up to his initial top-six potential. The 23-year old took off down the stretch of his rookie season on a top-six line with Marleau and Logan Couture. Nieto chipped in nine points in 15 games during March of 2014 and then added five points in seven playoff games. With that performance, Nieto's outside expectations rose to being a 40-50 point player. In the time since Nieto has failed to live up to those expectations. In 2014-15 Nieto finished with just 27 points and this season he is on an 82-game pace of just 22 points.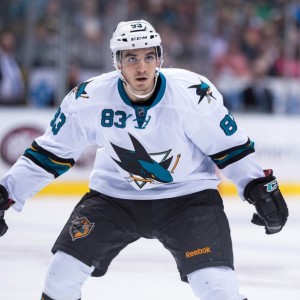 Despite falling short of becoming a top-six talent, Nieto's speed and puck skills allow him to be a valuable role player. He's effective on the forecheck and his speed at times allows him to be complementary player for slower forwards like Joe Pavelski and Joel Ward. Nieto has also been strong on the penalty kill this season. His GA/60 on the PK is a respectable 7.04. He uses an extremely long stick that helps him break up cross ice passes, and his speed allows him to pressure puck carriers. Not to mention those wheels help him be an offensive threat short-handed. Nieto leads the Sharks with two shorthanded goals on the season. He also is frequently sacrificing his body to block shots.
Nieto certainly brings value to the Sharks and trading him would cut into their bottom-six depth. However, he is set to be a restricted free agent this offseason. Considering the Sharks are up against the salary cap and will need to re-sign Tomas Hertl this offseason and Joonas Donskoi the following offseason, Nieto could be the odd man out. With 2015 first-round pick Timo Meier also likely to make an impact in the near future, perhaps as soon as next season, the Sharks will have another young winger looking to prove himself. Nieto certainly isn't going to break the bank with his recent production but he may not be worth the $1.5-2.25 million range on a bridge deal considering Meier would be on on his entry-level contract. If the Sharks could get a third round pick or a B-level prospect back for Nieto, it might make sense to move him.
Tommy Wingels
Of all the Sharks players that could soon be traded, Tommy Wingels makes the most sense. Set to be an unrestricted free agent this offseason (actually has one year left after the season), Wingels is having his worst season as a Shark. The right wing is on pace for just 22-23 points after back-to-back seasons with 36 and 38 points. His current cap hit of $2.45 million would be relatively easy to absorb for a team looking to some depth scoring. Perhaps a change of scenery can ignite one of the hardest working forwards in the league. When on his game, Wingles is a hard-nosed player who gets under the skin of his opponents. He brings a decent shot and solid play-making abilities and is reliable defensively despite poor possession numbers. The Illinois native is a prototypical complementary player that will raise his game if put on a line with a significantly better linemate.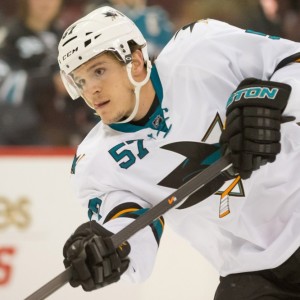 Just like with Nieto, the Sharks trading Wingels for a third-round pick or a mid-level prospect before the deadline makes sense. With Wingels playing below expectations, losing him from the current lineup doesn't leave much of a hole. Plus the cap space gained could be put to better use on the blue line in a separate deadline deal trade. 
Andrew has been credentialed to cover the Sharks since 2010 and the 49ers since 2012. He graduated with his BA in Broadcast Electronic Communication Arts in 2013 from San Francisco State University.