It seems that the 2016 NHL Trade Deadline might be centered around one NHL team. No, not the Toronto Maple Leafs, but their fellow Atlantic Division member, the Tampa Bay Lightning. Not only do they have to figure out what they will do with Steven Stamkos, but with the Jonathan Drouin saga getting more and more interesting every day, it really complicates things for the reigning Eastern Conference Champions.
The latest news concerning Drouin came out Wednesday night as the Lightning announced they have suspended Drouin for not reporting to a Syracuse Crunch game. Who were the Crunch's opponent Wednesday? The Toronto Marlies. Well, when you want to make news, it almost has to involve the Maple Leafs now doesn't it.
Drouin's camp doesn't want him to play because of the risk of injury, which could ruin any trade that the Lightning are trying to make. It does make sense in that way, but now this thing is a mess. Drouin isn't going to be raising his trade value when he's not playing. This also doesn't look good for the Lightning, as they pretty much have to trade him as soon as possible now.
Tampa's problem is that they have a lot of young players having deals end in the next two years. Not only do they have to deal with the Steven Stamkos situation, but Victor Hedman, Ben Bishop, Ondrej Palat, Nikita Kucherov and Vladislav Namestnikov all have contracts ending, either at the end of this season or next. Drouin's trade request was not something they needed.
So, Drouin needs to be traded. The hottest contender right now seems to be the St. Louis Blues, who seem to be dangling Kevin Shattenkirk. Other teams involved are the Anaheim Ducks and Montreal Canadiens. However, could the Leafs have the tools to make a trade to acquire the disgruntled 20-year old?
One of the rumors is that the Lightning are trying to trade Matt Carle and his $5.5 million contract, possibly along in the same deal as Drouin. If that is indeed the case, the Leaf could have an advantage. Currently, the Leafs have $6,897,742 in cap space. That is enough to take on the contracts of both Drouin and Carle. Then you consider that if the Leafs were to trade all of their impending UFA's, which is doubtful, they would have another $12 million in cap space. Even if they were to only trade half of their UFA's, the would still save a significant amount.
Now, of course, the Leafs will have interest in Steven Stamkos if he becomes an unrestricted free agent. If the Leafs go after Drouin, they would be making the choice to not go after Stamkos in the off-season. Acquiring Drouin might actually be the smarter decision. The 2013 third overall pick fits in better with the Leafs rebuilding plans.
What Goes The Other Way?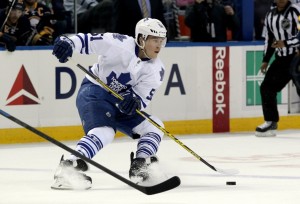 So what would the Lightning want in return from the Leafs? While Jake Gardiner would be an intriguing piece for the Lightning, they need to save money and Gardiner's $4.05 cap hit for another three seasons might be a little too much. Although they could at least attempt it. Otherwise, to replace Carle on the blue line for the rest of the season, Roman Polak fits the bill. He's cheaper and has an expiring contract. Of course, the Lightning would want more than that.
Since, the Leafs would be dealing for potential only, I'd say a mid-level prospect and a third- or fourth-round pick along with Polak would be the starting point. Maybe a second prospect could get added, but I wouldn't go beyond that if I were the Leafs. Sure, Steve Yzerman might say he doesn't have to trade Drouin, but what use is a player to you that doesn't want to be a part of your organization anymore. It's definitely not the most powerful position for Yzerman to have, yet he still obviously has the power in this situation.
It will be interesting to see how this will all go down. Will Drouin be traded? Who knows, but if the Leafs can't get him, there's always Stamkos.