Thanks to the oddities of a COVID-19 afflicted season, the St. Louis Blues and Arizona Coyotes just completed something unique in NHL history: a seven-game regular-season series. Between Feb. 2 and Feb. 15, the two teams were constant dance partners, first with four games in St. Louis, followed by three games in Arizona. The Coyotes ended up winning four of the seven games, though each team scored 20 goals across the series.
While the Blues are still second in the Honda West Division by points and third in point percentage, there were some concerning signs in the series against a Coyotes team that always seems to play the Blues closely. St. Louis native Clayton Keller continued to dominate his hometown team, and his line with Nick Schmaltz and Conor Garland were a thorn in the Blues' side throughout the series. But the Blues' issues go deeper than the Coyotes' top line. All told, there were several issues of real concern for St. Louis in the series, but one positive takeaway should put Blues fans at some ease.
Takeaway 1) The Power Play is a Crisis
The Blues may have underestimated the impact departed captain Alex Pietrangelo had on their power play. At least that is one explanation of their team's horrific power play performance early in the season. In a normal season, 16 games might be too soon to call the power play a crisis, and if the Blues' man advantage had shown any signs of life, they might deserve a break. But in a shortened season, their performance so far is nothing short of alarming, particularly after bringing in elite power play specialists like Torrey Krug and Mike Hoffman in the offseason.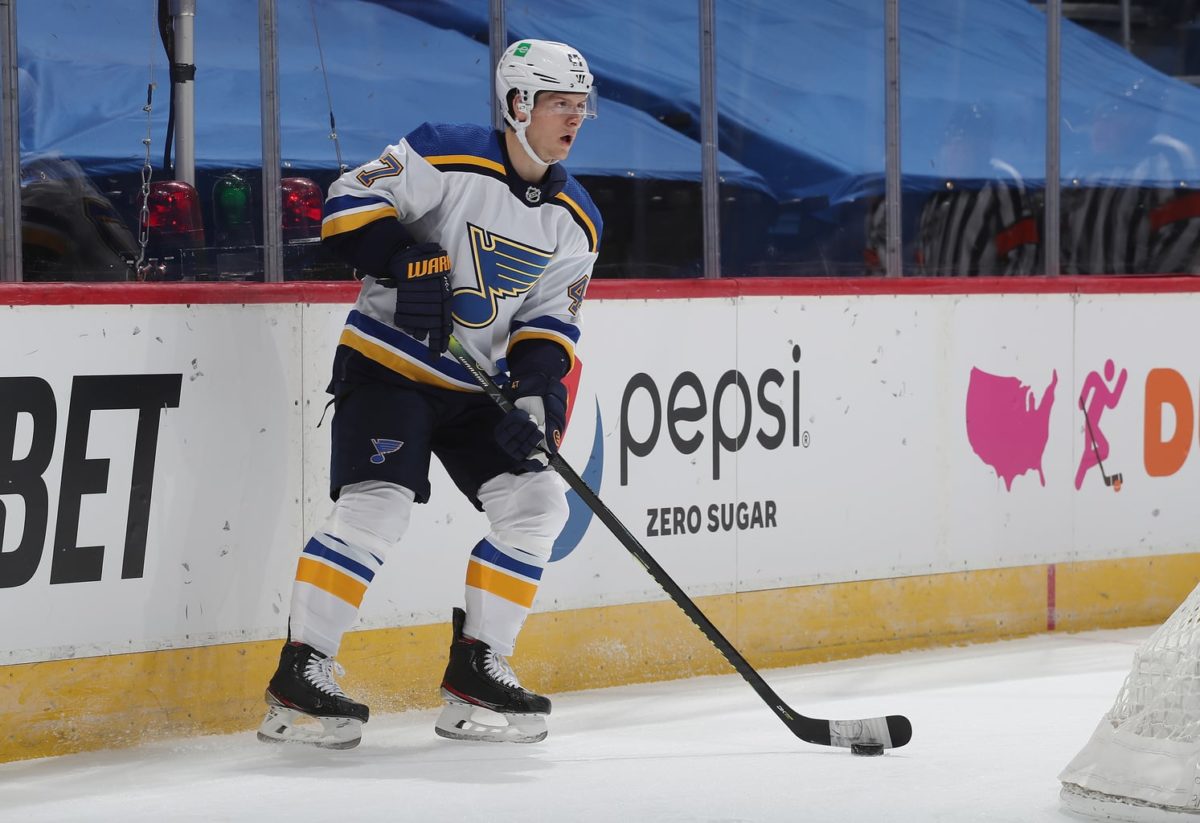 Right now, the Blues' power play is near the bottom of the league, ranking 26th with a conversion percentage of 12.0 percent. But they were even worse during this seven-game series, going a woeful 2/23 with the man advantage, good for a percentage of about 8.7 percent.
The power play is languishing. It looks uncreative and lost. Krug and Hoffman aren't making an impact, and, inexplicably, they aren't even playing together on the top line. The case for playing Hoffman on the first power play is clear: it's the one truly elite skill he offers to teams, and the Blues are paying $4 million for his services this season. But the issues on the St. Louis power play go beyond any one player. The Blues lost power play coach Marc Savard in the offseason, who had helped the team climb to third in the league power play rankings. If his replacement, Jim Montgomery, doesn't figure something out soon, head coach Craig Berube may need to consider alternatives.
Takeaway 2) Injuries Are Piling Up
During this strange season, player unavailability is an inevitability, and the Blues have been extremely lucky in one respect: they remain the only American team to not have placed a single player on the COVID-19 protocol list this season. But on-ice injuries are starting to take their toll.
Sammy Blais has been missing since the game on Feb. 6. Jaden Schwartz was surprisingly absent from the final game of the series and is considered day-to-day, with Berube admitting it's tough to tell how long he'll be out. Krug left the final game late and is also considered day-to-day. But by far the most notable injury occurred on an innocent-looking fall, where young center Robert Thomas broke his thumb. He will miss 4-6 weeks at least.
Even assuming Krug and Schwartz return relatively quickly, Thomas is a difficult hole to fill. The team believed he could step into the role as their second-line center, and even though the start to his season was faltering, the Blues needed him in the lineup to find his form. Now, he'll miss roughly a fourth of the shortened season, which will throw his future into some question, particularly as Thomas is a restricted free agent (RFA) in the offseason. Hopefully, the injury has no long-term ramifications for a bright young player, but it certainly throws a major wrench in the works of St. Louis's immediate plans.
Additional injuries linger as well: Tyler Bozak hasn't played since suffering a very questionable hit by Mark Stone on Jan. 26. Marco Scandella hasn't played since Feb. 2, though he may be close to a return. Vladimir Tarasenko hasn't played all season, recovering from another shoulder surgery, though he has recently skated with the team. and not to be outdone, top prospect Scott Perunovich, the Hobey Baker Award winner from last season, underwent shoulder surgery and will miss the remainder of the season. Though many of their injuries appear short-term, the Blues certainly are severely shorthanded, and they will need to continue to rely on the likes of Jacob de La Rose, Austin Poganski, and others to fill in the gaps.
Takeaway 3) Jordan Binnington is Fine
With plenty to be concerned about, here's something Blues fans can get excited about: Jordan Binnington seems to be absolutely fine. The 27-year-old goaltender entered the season with a lot to prove, especially after a deeply troubling performance in the playoff bubble last season. There, he played five games and managed only a .851 save percentage (SV%) and a 4.72 goals-against average (GAA). As an unrestricted free agent after the season, the Blues needed to know whether Binnington was a long-term solution or a flash in the pan who took them to the Stanley Cup in a remarkable run of form.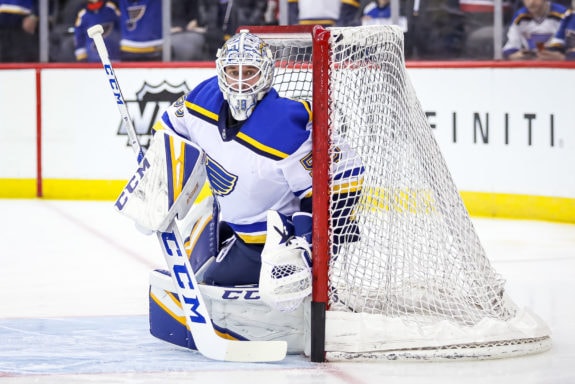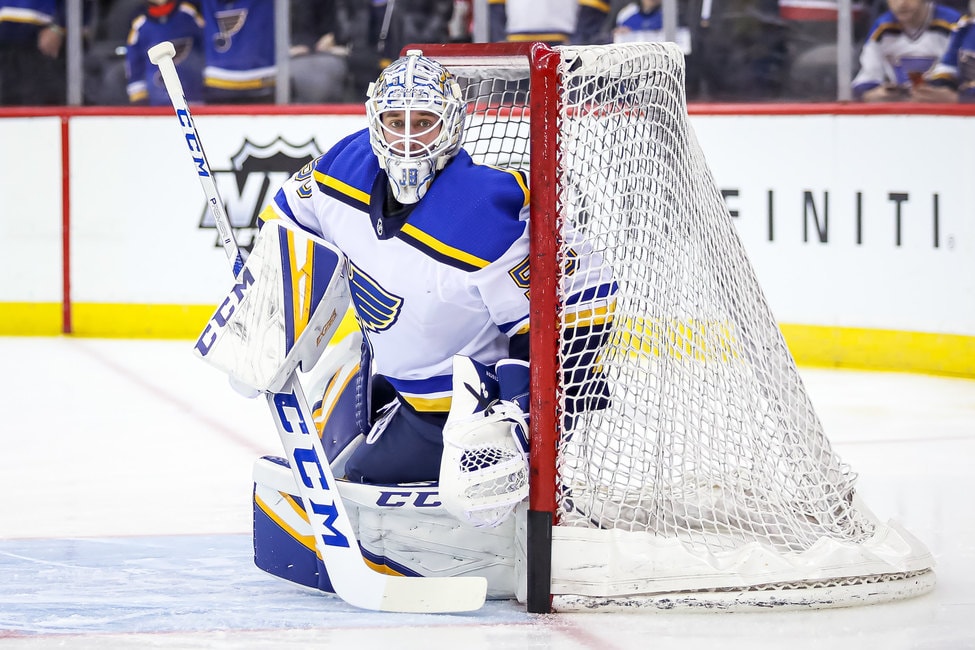 So far this season, though, Binnington looks like every bit of a franchise goaltender. He is 7-3-2, with a .918 SV% and a 2.37 GAA. He's yet to record a shutout, but two-thirds of his starts have been "quality," meaning his SV% was higher than league average. For quality start percentage, any mark above 60 percent is considered very good.
Binnington started five of the games against Arizona, and while he lost three of them (one in overtime), he looked fine throughout the series. He only allowed one goal in each of the final two games, losing the second thanks to a shutout from his opposite, Darcy Kuemper. Even so, it's clear that Binnington is back in form. And that might be the best news for the Blues' future.
The Sharks: a Breath of Fresh Air
The Blues finally face a new opponent, playing the San Jose Sharks tonight at the Enterprise Center. In fact, their next 10 games will be against California teams, all of whom are in the bottom half of the Honda West Division. It's a good opportunity for the team to find its form before a brutal stretch to end the season featuring a lot of games against the Vegas Golden Knights, Colorado Avalanche, and Minnesota Wild. The first thing that needs fixing is the power play. If they can get that on track, the Blues will be a threat entering the postseason.
---
---
Stephen Ground is an author with The Hockey Writers and is co-host of the Two Guys No Cup Podcast. He enjoys studying the numbers and providing fresh looks at various stories.