Late in the offseason, the St. Louis Blues signed Mike Hoffman to a Professional Tryout (PTO) and then, after camp, to a one-year, $4 million contract. The goal of the addition was obvious: the Blues had lost offensive production by letting Alex Pietrangelo walk as a free agent, and with the injury to Vladimir Tarasenko, they had cap space to burn. Hoffman, who had six consecutive 20-plus goal seasons and averaged 0.36 goals per game in that stretch, was an easy one-year solution.
Early in training camp, Hoffman's deployment seemed assured: a second-pairing wing spot with Robert Thomas as his center, and a spot at the right point in the Blues' overhauled first power play unit, which included the other big offseason arrival and another power play dynamo, Torey Krug. Hoffman's career with the Blues was delayed by one game due to a visa issue, but in the second game, the plan continued apace.
Unfortunately for Hoffman and the Blues, that second game was an embarrassing 8-0 blowout of St. Louis by the Colorado Avalanche, which included five power play goals against and four failed power play opportunities for the Blues. Reports from Blues' practice before Monday's game against the San Jose Sharks indicate that Hoffman has been demoted to the third line and the second power play unit. Head coach Craig Berube is making the change way too quickly. The Blues need Hoffman on their top power play unit.
Hoffman a Power Play Star
There were no secrets about the kind of player Mike Hoffman was entering the season. He is an elite power play goal producer, so elite that it offsets his limitations in other aspects of the game. Hoffman is a defensive liability, and he is not especially a strong producer at even strength. Just look at the below chart from Evolving-Hockey comparing his even strength production against his power play numbers.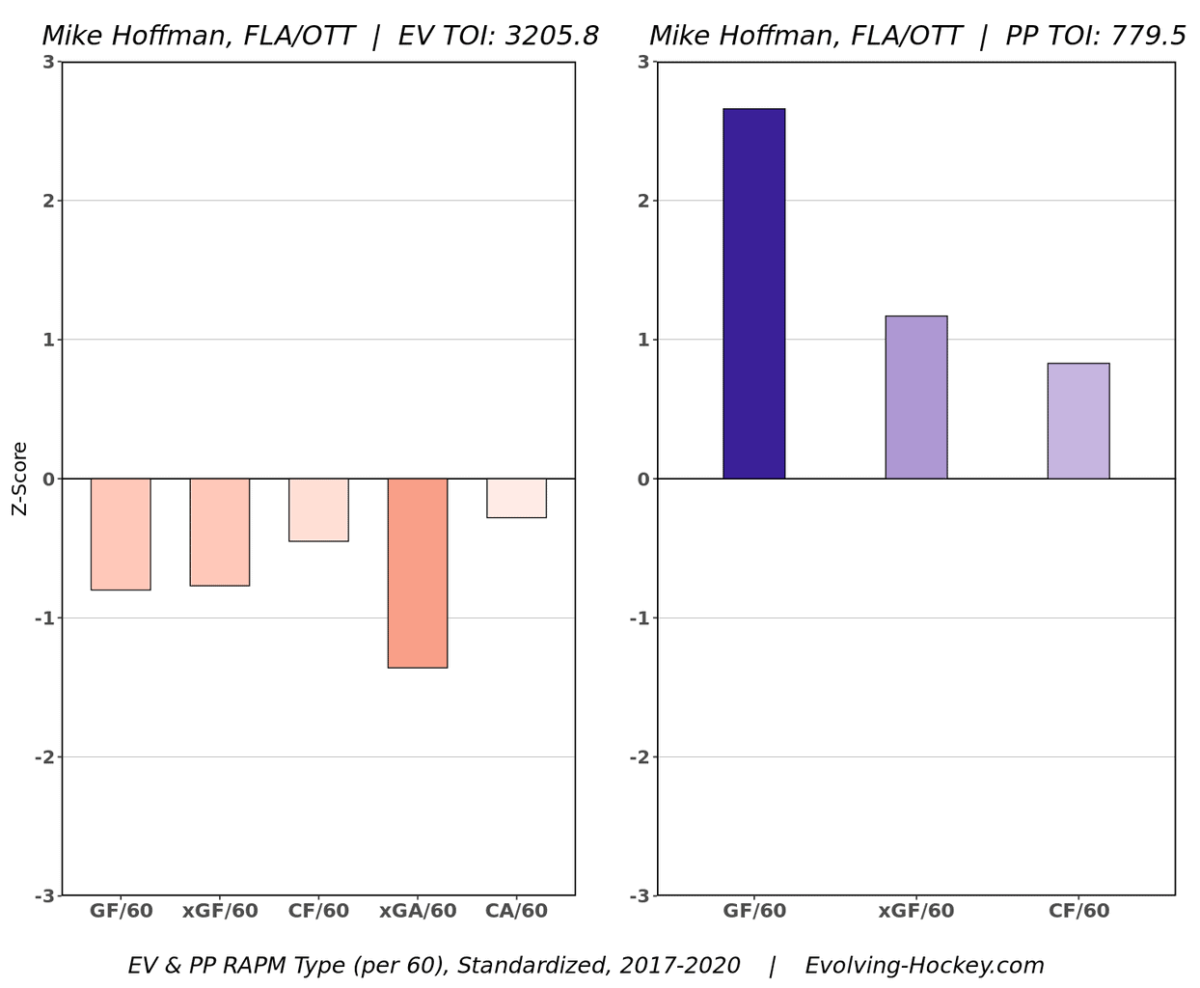 This imbalance was no secret before Hoffman signed with the Blues. In fact, most assumed it was the primary reason the Blues signed him. The addition of Hoffman and Krug seemingly turned a Blues' power play unit that was already third in the league last season, with a 24.3 percent conversion rate, into an unstoppable juggernaut. Breaking that up after one game makes little sense.
And if Berube is moving Hoffman to send a message about his defensive irresponsibility, shame on the Blues. They should have been well aware of his shortcomings before signing him, and general manager Doug Armstrong should have ensured that Berube was okay with such a one-dimensional signing. Moreover, Hoffman hardly bore the brunt of the blame for the eight goals against. He isn't on the penalty kill that allowed five goals, nor did he commit any of the seven penalties. It's tough to explain Berube's quick trigger finger here, but let's try to give him the benefit of the doubt.
Explaining Berube's Decision
Berube has earned that benefit of the doubt from Blues fans, without question. In fact, he seems to have a knack for tinkering with his lineup at the right time. So let's look at the logical explanations for his decision before writing it off entirely.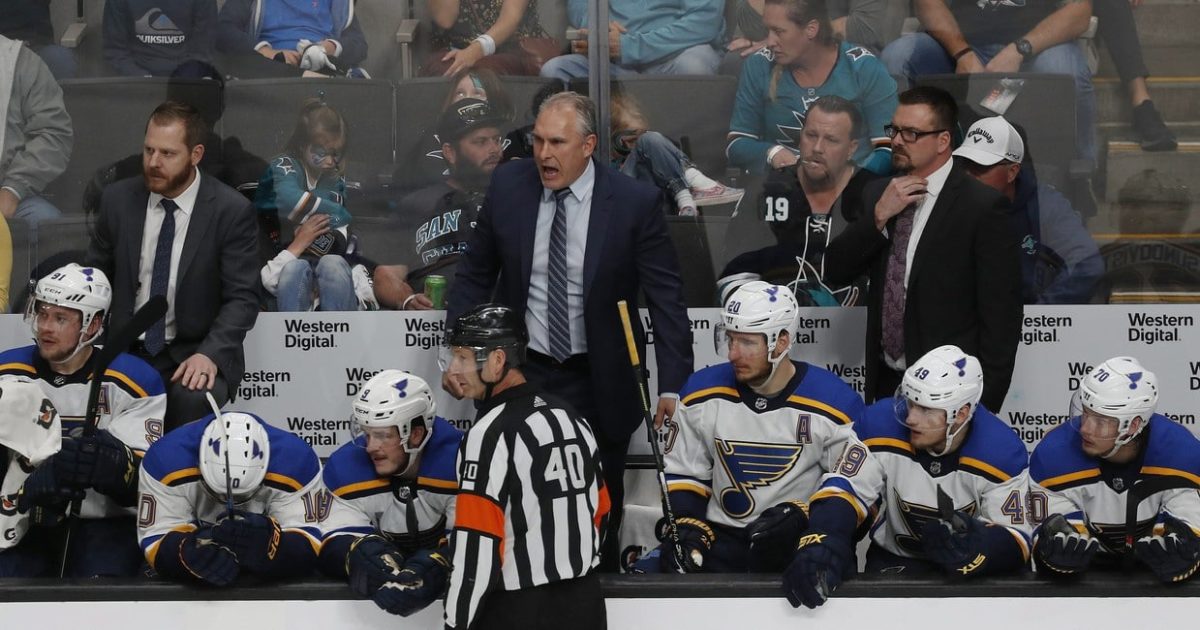 The most obvious reason Berube might be moving Hoffman lower in the lineup is to build his confidence. He's only been with the team in any capacity for about two weeks, and only had the NHL's abbreviated training camp, limited to scrimmages against his own new teammates, to gain any chemistry or momentum. Berube might want to expose him less in the interim while he gets his legs with his new team. But one could argue that keeping Hoffman on the top unit, where he is most capable, would be the best boost for his confidence.
The other possible explanation is that Berube likes what he sees in Hoffman's partnership with Thomas and wants to see more of it. Thomas is the Blues' most dynamic young player, and the Blues seem intent to settle him at center, his natural position, this season. Signing Hoffman may have been seen as a complement to Thomas in particular, and Berube may be moving Hoffman down to the second unit, where Thomas already was, to continue to build that chemistry.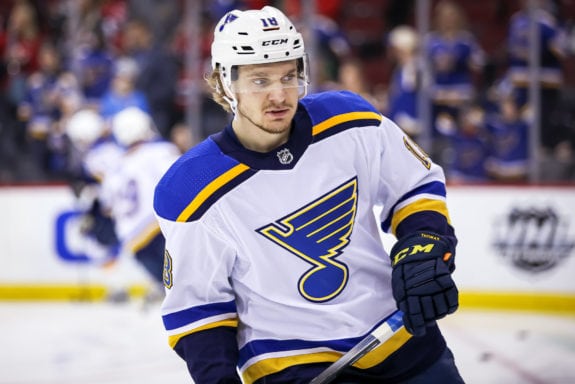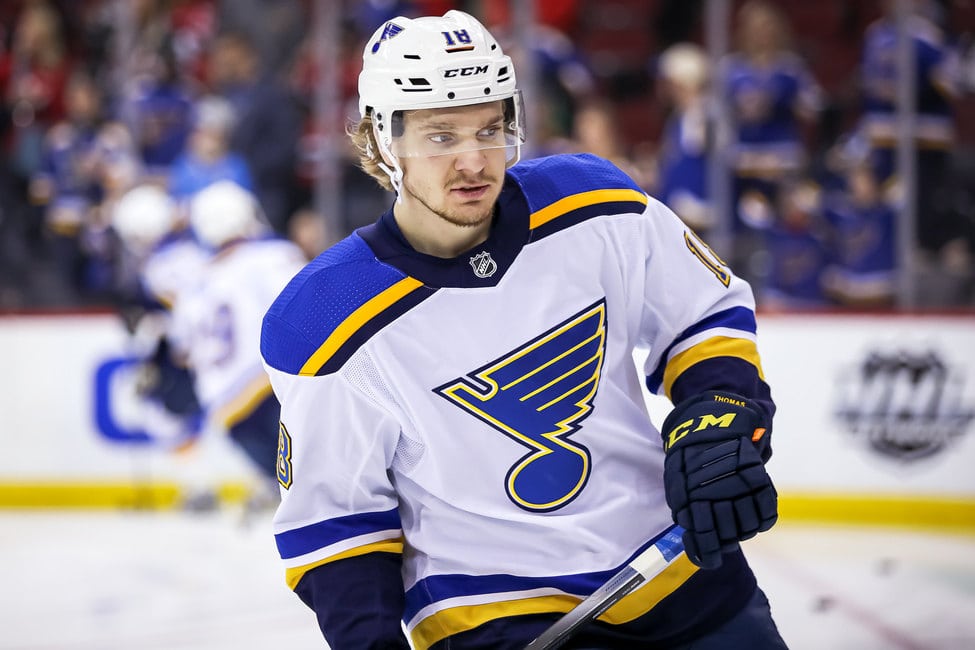 That explanation might make the most sense and, indeed, both Hoffman and Thomas were moved to the new third line together, along with Tyler Bozak, who moves to the wing. But even if that is the goal, Hoffman still will need to return to the top power play unit quickly. His skills there are too valuable, and if Berube insists on deploying the two together, he can move Thomas to the top unit as well. The youngster is more than up to the task.
Righting the Ship Against San Jose
The Blues get their first homestand of the season this week, with games against San Jose Monday and Wednesday night. They will be looking to enforce their will on an old playoff rival who has fallen on hard times, washing away the stinging memory of their shameful performance against the Avalanche in the process. Puck drops at 7:00 PM Central tonight, and Hoffman will start on the second power play unit. But he shouldn't stay there for long. The Blues paid top dollar for this asset, now they need to utilize it properly.
---
---