In this edition of Vancouver Canucks News & Rumors, I'll look at some of the news emerging from the team as it prepares for its rematch against the Calgary Flames later this evening. Specifically, I'll look at roster changes the team has been forced to make because of injuries and COVID protocols.
Related: Vancouver Canucks News & Rumors: Hamonic, Ferland & Podkolzin
Finally, I'll speculate about what these roster changes might mean for the team's play in the future. It's good news that last season's leading scorer J.T. Miller is back with the team. In addition, it's also good news that Alexander Edler's injury on Saturday seems well enough for him to play. Similarly, Quinn Hughes – who missed practice on Sunday – is back with team and prepared to play.
Item One: Alexander Edler Is Healing from Cut During Game
In a bit of good news from the Canucks' organization, it was reported that Alexander Edler was on the ice for Sunday's practice. That's a really good sign after Edler left Saturday's game against the Flames with a cut on his leg after he was clipped by the skate of Matthew Tkachuk and didn't return to the game. Although head coach Travis Green didn't say whether Edler would play on Monday evening, it looks as if that's likely.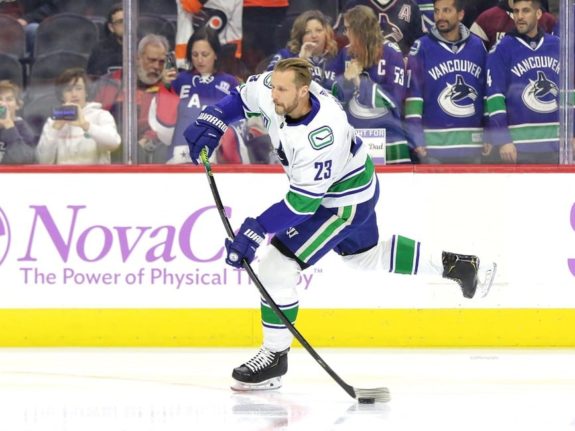 Edler finished the game logging 14:44 of ice time prior to his exit halfway through the third period. It was an interesting play because Edler was sent off for cross-checking Tkachuk; but, during the altercation, Tkachuk accidentally caught Edler's leg with his skate while he was lying on the ice. As television showed, Edler told the referee about the injury and went to the dressing room with a small trail of blood behind him.
As noted, Edler was an active participant in practice on Sunday. That suggests he should be ready to go in Monday's rematch against the Flames. That's good news for the Canucks, who are looking to come back from a shutout loss to old goalie teammate Jacob Markstrom.
Item Two: Quinn Hughes Missed Sunday's Practice, But Will Likely Play Tonight
Quinn Hughes didn't practice with the team on Sunday; however, coach Green reported that he's "anticipating" Hughes will be able to play in Monday night's rematch against the Flames. It seems that, rather than an injury, Hughes was given a maintenance day.
Related: Canucks' Draft-Day Steals
So far this season, Hughes has scored three assists in three games played. In the game against the Flames, Hughes took four shots on goal but obviously didn't score in the 3-0 shutout loss. Vancouver created no offensive production to speak of, and that's a problem against a strong goalie like Markstrom. You can't beat a goalie like Markstrom with a lucky bounce or two.
From my perspective, Hughes has looked confident carrying the puck all season and has averaged more ice time than any other Canucks' player. He's averaged over 24 minutes of ice time in three games played this season and during his last two games played over 26 minutes each game. He leads the Canucks in points after their first three games with three.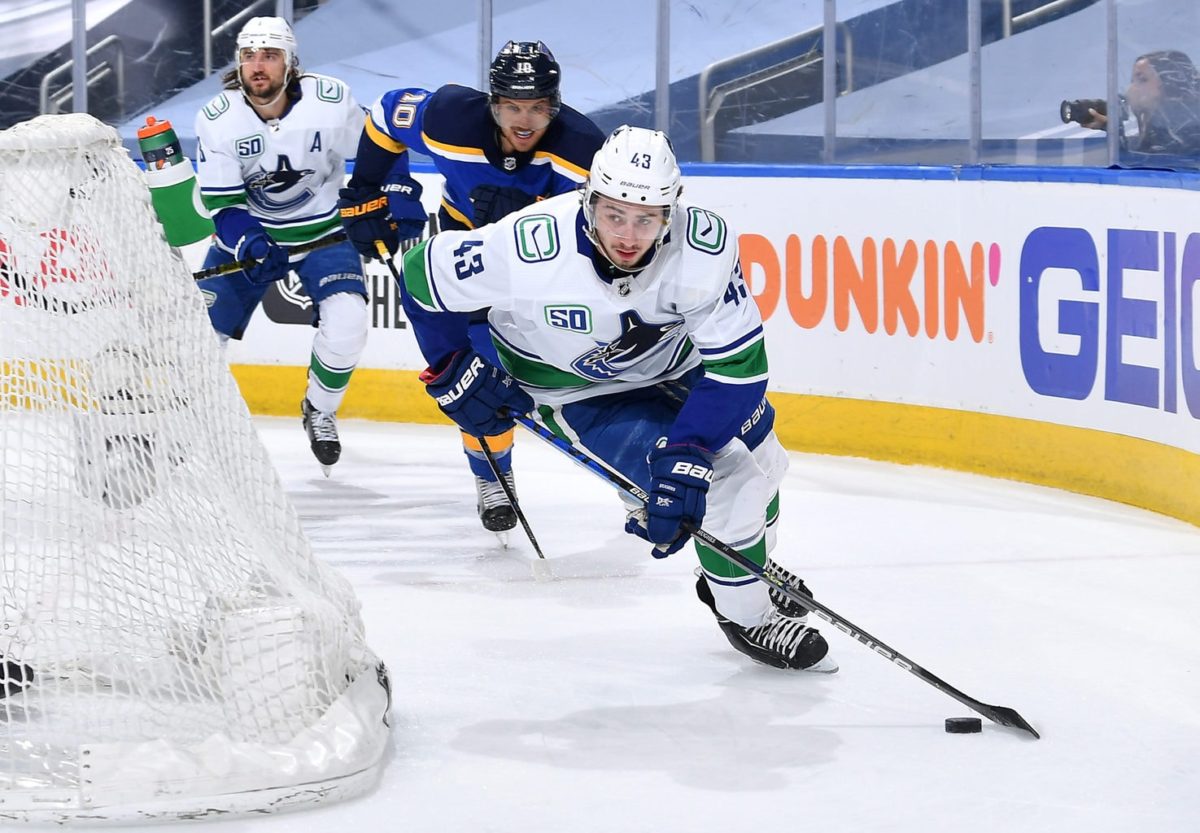 Of all things, defenseman Travis Hamonic has two points for the Canucks. He's not known to score much at all, but has been playing well for the team with little practice. He's been a find for the Canucks early this season.
Item Three: J.T. Miller Ready to Play on Monday Against Calgary
J.T. Miller practiced on Sunday after being removed from the NHL's COVID Protocol Related Absence list. To report for duty in Calgary, Miller is reported to have flown on a private jet to Alberta. Having Miller return to the Canucks' line-up is a big deal for the team. He was their leading scorer last season, and the team misses him on the ice.
As Miller noted, "I followed the league and government protocols and I was cleared to return. I'm ready to get back at it… I'm excited about the game tomorrow."
The 27-year-old Miller scored 27 goals and 45 assists (for 72 points) in 69 games last season. He'll be joining partners Elias Pettersson and Brock Boeser on the Canucks' top line as he makes his 2020-21 debut. In addition to being on the team's top six, he'll take his place as a regular on the team's power play. Of Miller's 72 points last season, 25 came with the man advantage. 
Related: Connecticut Whale 2021 Season Preview
Item Four: Jordie Benn Remains on the COVID Protocol List
Although Miller was removed from the COVID protocol list, Jordie Benn remains on it. The report is that Benn is presumed to be a positive case for COVID-19 after he tested positive in one of the two days post-false positive.
What's Next for the Canucks?
The Canucks missed Miller more than they should have. The team currently has six top-six forwards — Miller, Pettersson, Boeser, Tanner Pearson, Bo Horvat, and Nils Höglander. With Miller gone, the team simply could find anyone to adequately replace him.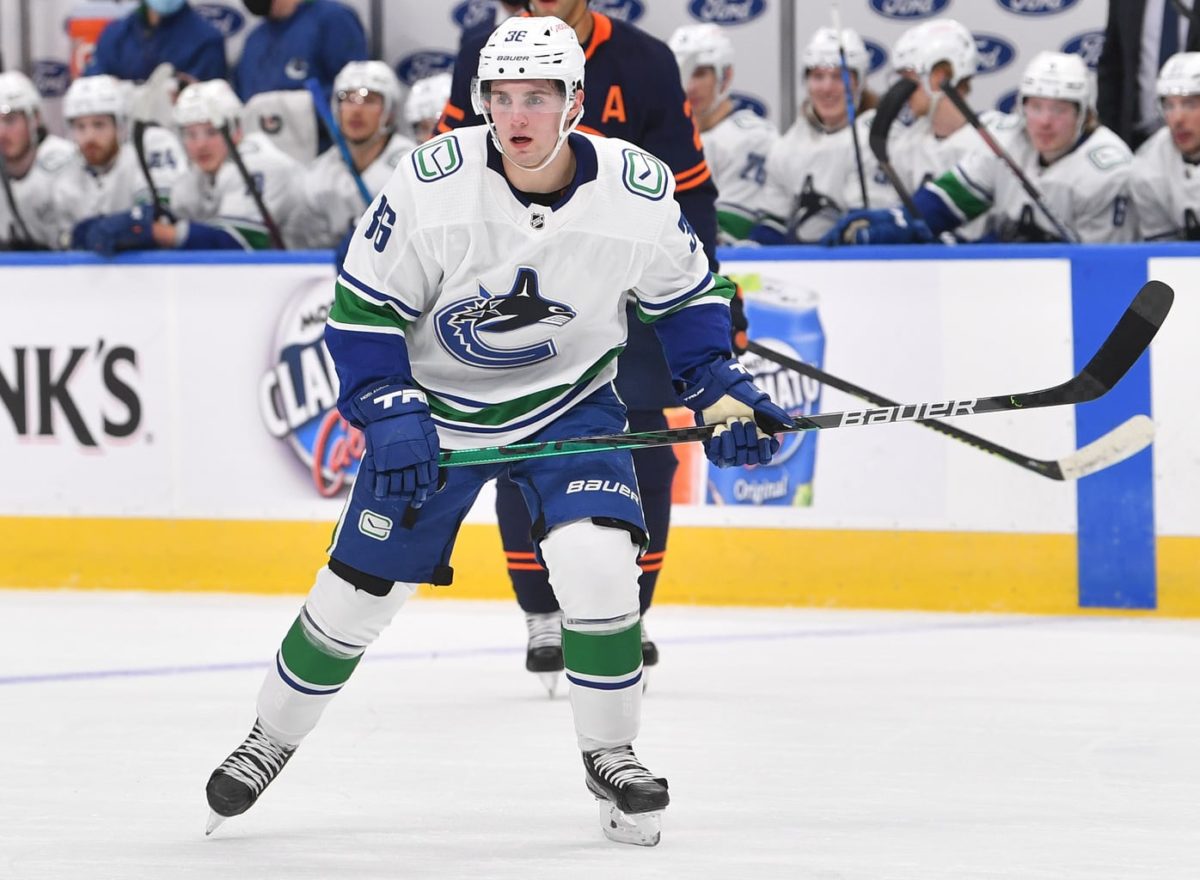 I've been focusing on watching Hoglander during the games. He's working hard, even taking up space in front of the net on the power play. It seems as if he's going to be keeper; but, for now, he's a rookie who's doing his best.
However, his best can't yet match what Miller brings to the ice. Miller is a dynamic thinker who controls play – especially on the power play. He just seems to get things started – and finished.
Related: Canucks News & Rumors: Schmidt, Focht, Motte & MacEwen
Canucks' fans will see if he can make a difference to the team's play tonight. The team needs him.
---
---