Brandon Saad is a Columbus Blue Jacket.
Still feels awkward to say, doesn't it? Nobody saw this trade coming. The Blackhawks had no choice but to trade him, thanks to the salary cap. The Blue Jackets saw the opportunity. They took full advantage as an up-and-coming team in the Eastern Conference.
What did the Blue Jackets really get in acquiring Saad? We address this and more in this edition of "Three Takes."
Take One: With Saad, Blue Jackets Have NHL's Best Top Nine
Saad's HERO chart illustrates how good an acquisition he really is. His individual production speaks for itself. He produces goals and assists at an elite level. His other metrics are also solid. Saad has a positive impact on his linemates, especially in goal production. Ryan Johansen and Cam Atkinson have to love that part of it. Each are coming off 20-plus goal seasons. Saad's presence will improve those numbers.
Saad's acquisition likely puts Nick Foligno on the second line. A line of Foligno, Brandon Dubinsky, and Boone Jenner is one of the best second lines in hockey. Saad's presence allows Scott Hartnell to play on the third line, and Matt Calvert to play on the fourth line. Marko Dano is missed, but Saad is a game changer. This is the best top nine in the NHL.
Take Two: Don't Worry About Their Defense
Most of the talk this offseason has centered around the Blue Jackets' search for a top defenseman. It's no secret that the team is looking for ways to improve in that area. However, don't expect the Blue Jackets to make a move … at least for now.
Injuries devastated the team last season. Ryan Murray missed the majority of the season. Other key players missed significant time. This led to sharp increases in goals against and shots allowed. When the team was healthy, the defense, not surprisingly, was better. The Blue Jackets finished 16-4-1, thanks to an improved defense. Expect this improvement to carry over to the new season.
This is a young defense. Outside of Fedor Tyutin, every Blue Jacket defender is under 30. Why is this important? That's because they are still developing. Each defenseman has shown improvement as they've gotten older. That will continue this season.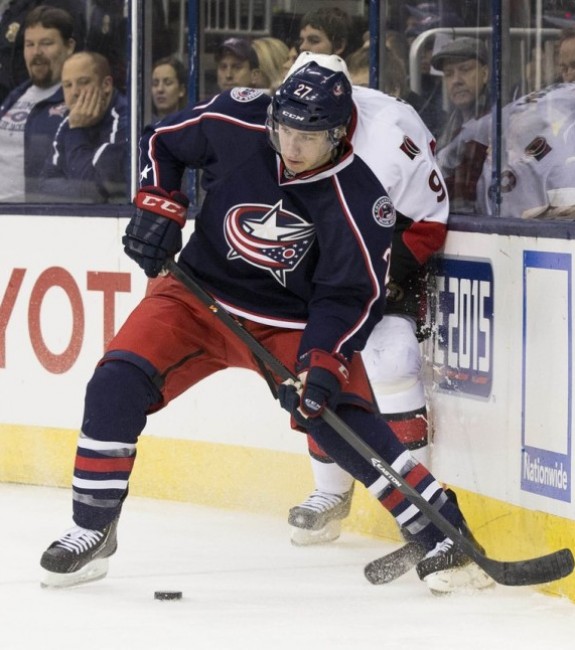 Here is what is not getting enough attention: defense is a team effort. The forwards must defend as well as the defensemen. Sometimes, the best defense is a great offense. Their revamped offense will help drastically improve their defense.
And don't forget about Sergei Bobrovsky. He can get in stretches in which he dominates in goal. He will cover mistakes made by the defense. A revamped offense, an improved defense and a healthy Sergei Bobrovsky means good things for the Blue Jackets team defense this season. They can wait to make a move if one becomes available.
The defense is fine, but the fourth line is not.
Take Three: Letting Letestu Walk Was A Mistake
Check out the HERO Charts of Mark Letestu and Gregory Campbell.
Letestu was solid on both ends of the ice. He was also one of the Blue Jackets' best possession players. He did many things well. His HERO Chart clearly demonstrates this. Although Campbell has playoff experience, signing him is a downgrade from Letestu.
The Blue Jackets gave Campbell a two-year contract worth $1.5 million per season. Letestu signed in Edmonton for $1.8 million AAV for three seasons. Which would you rather have?
Why the Blue Jackets wouldn't go to three years for Letestu, I'm not sure. But it is a mistake. The fourth line has not been consistent the last few seasons. Letestu brought consistency when he was in the lineup.
Matt Calvert on the fourth line is a nice touch. However, he won't stay there when someone gets injured. Then we'll be back to an inconsistent fourth line. Teams took full advantage of this last season. Campbell's play is the key to stabilizing that line. I'd rather have kept Letestu. You knew what you were getting with him. The team made a mistake letting him go. Hopefully, it doesn't burn them later.