Christopher Ralph is a hockey writer with a focus on prospects and the entry draft, as well as the Leafs' correspondent here at THW.
"Full Potential" Prospect Profile:
Please "Click Here" for "Notes Up Front" and the "Legend" for various topics covered below, as well as a running live updated NHL 2009 Draft rankings.
32. Stefan Elliot – North Vancouver, BC – 6'1″ – 184 lbs – WHL – Saskatoon – D
One-Timer: Some think he's going to be a steal coming out of the Saskatoon Blades a la Mike Green. I wonder though. I've heard some rumbling of skating issues, which are concerning, although more report this is a strength. He is described as a good two-way d-man and plays in all situations for the Blades.  Elliot registered 55 points in 71 games for the Blades. He did become the first ever Saskatoon Blade to be named the WHL Scholastic Player of the Year, after maintaining a 93.3% school average in 2008-09.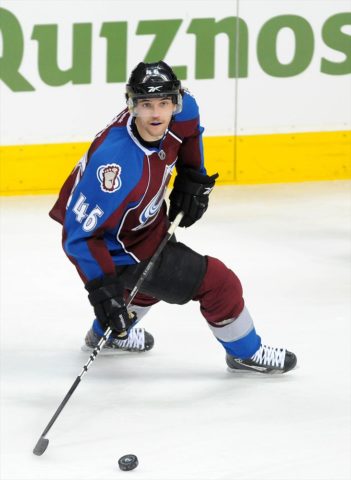 NHL Player(s) Comparison: Tomas Kaberle
Scouting Combine Performance:
Gare Joyce noted Elliott did not participate in any upper body events due to pending shoulder surgery.
TSN reported: "Saskatoon defenceman Stefan Elliott (ranked #17 among North American skaters by Central Scouting) is in good shape; had a strong vertical leap and standing broad jump and appeared to perform well in the hexagon agility drill."
International Tournaments: Elliott had 2 assists in 6 games at the recent WJC-U18s.
Bio/Interview Links:
http://www.stanleycupofchowder.com/2009/6/3/897726/2009-nhl-entry-draft-prospects
ETA = 3 years
Risk-Reward Analysis: Risk = 3.5/5   Reward = 4/5
NHL Potential: 2-way blueliner
Fantasy Hockey Potential: Offensive = 7/10   Defensive = 7.5/10
ISS: 32
CSB: 17-NA
TSN: 23
THN: 27
Video Links:
Chris is THW's senior draft/prospect analyst and a Managing Editor. Watch for "The Next Ones" Prospect Profile series, exclusive rankings, mock drafts, as well as the annual THW NHL Entry Draft Guide. Follow @ChrisRalphYQ on Twitter as he infiltrates, dissects and analyzes all happenings of hockey prospects and the NHL entry draft. Email: cralph[at]thehockeywriters[dot]com