The six weeks of 3ICE for season two have now come and gone, and we now know the four teams that will battle it out for the championship (the Patrick Cup aka the Patty) on Saturday, Aug. 12 in Philadelphia. Among those teams is Team Bourque, led by head coach Ray Bourque who is in his first season of coaching 3ICE. After having a successful campaign and finishing the season in third place, he'll be looking to bring home a championship against some tough competition in Team Johnston, Team Patrick, and Team Murphy. 
Related: 3ICE – Ray Bourque Excited For 1st Season as Head Coach
Team Bourque finished the season with four wins in six games, a half point behind the second-place Team Patrick, and with 26 goals scored and 21 against. They'll be facing some strong offensive opponents and may have to rely on the defensive skill that they've shown throughout the season, but out of the four teams vying for the championship, Team Bourque has been scored on the most. 
Keys to Success
Team Bourque is a really strong team and they've shown signs of being one of the better defensive teams in 3ICE. Unfortunately in comparison to their opponents this weekend, the stats don't agree. They don't quite have the offensive firepower that their competition will on Saturday, but if they can come out strong and play as solid as they have defensively, they have a real shot to surprise everyone and win the Patty.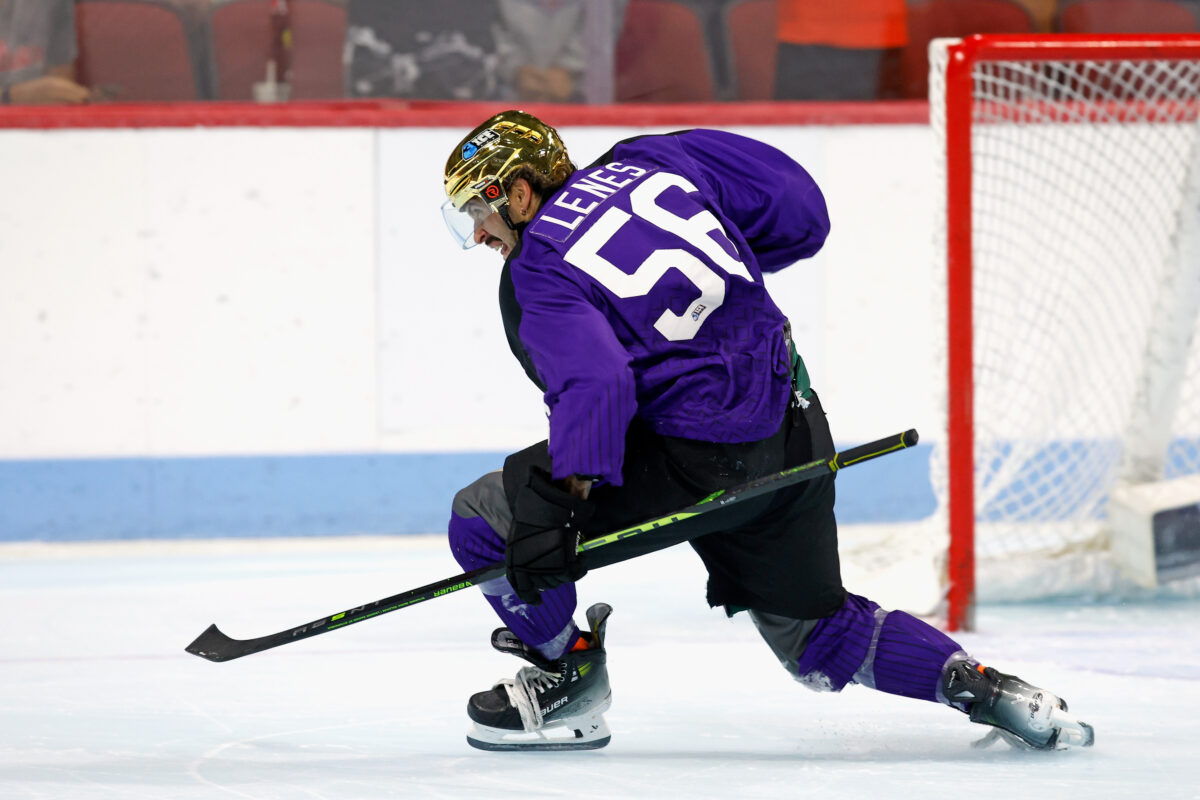 They'll also have to rely heavily on their goaltender, Ryan Bednard. He has played really well this season, but he's facing the most challenging week of the season on Saturday. He won't be expected to stop everything, but a solid performance from him likely equals a good chance for Team Bourque. 
A complete game from their entire lineup and a hot start will be the keys to success for Team Bourque. As a coach, this is Bourque's first time at the championship level and he'll be looking to make a statement and hold the Patty going into season three of 3ICE next summer.
Players to Watch
Pete Lenes has been a really strong player for Team Bourque and has been one of the most entertaining players throughout all of 3ICE this season. He is an electrifying offensive magician that will be the player the team leans on to provide scoring during championship weekend. 
Chris Bourque has played well at both ends of the ice this season. While he isn't insanely strong at producing offensive numbers, he has played well defensively and driven the play on numerous occasions giving his team multiple opportunities.
Lastly, I mentioned him earlier but Team Bourque's goaltender Bednard will be a key player for the team and he will have to have a really strong outing if they hope to have any type of success on Saturday.
Related: 3ICE – Eddie Matsushima Pumped For Opportunity To Play
This isn't taking away from the rest of Team Bourque, as it took each individual player playing at their best to make it where they are, but Lenes and Bourque will be the ones to watch and the two that will help lead Team Bourque to victory. 
With the season now over, Team Murphy, Team Patrick, Team Bourque, and Team Johnston have earned the opportunity to play in championship week on Saturday, Aug. 12, while Team Mullen, Team Fuhr, Team LeClair, and Team Carbonneau finish outside the top four, and will not play next weekend.
Make sure to stay tuned to The Hockey Writers for all your 3ICE coverage throughout the rest of the season.