Is there a more discouraging and disappointing team in the National Hockey League than the Florida Panthers?
Sure, they've managed to avoid the basement of the Eastern Conference, but is that any solace to the fans of a squad that is rudderless and without direction? Their spectacular February instilled false hope, but mercifully a disastrous March has them crashing back to Earth.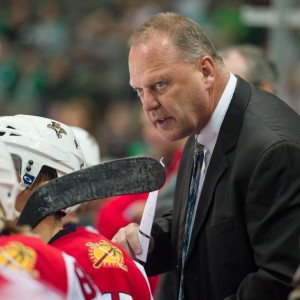 Thanks, computers. Like Michael Scott faithfully coasting into Lake Scranton, the Panthers continue to crawl headfirst into nothingness. Advanced analytics said some changes needed to be made in Sunrise, and that led to the jettisoning of head coach Gerard Gallant on Nov 27. Tom Rowe has been serving in an interim capacity and he's been unable to right the ship. Now a team with plenty of young talent that reached the playoffs last year will miss the postseason for the 14th time in the last 16 seasons.
But I'm a Vegas guy, so I don't care about Florida. They can keep their head above water, or drown – whatever. I'm only concerned with figuring out which player will be trading in their Panthers sweater for Golden Knights' colors. Adding to the intrigue is the possibility that Gallant could end up being the first coach in team history.
Here are four Florida skaters you should keep an eye on for the remainder of the season. I'm favoring a 4-4 format this time around. I suspect Rowe and Dale Tallon would prefer to protect their top four defensemen, but who knows? Computers act up sometimes.
Nick Bjugstad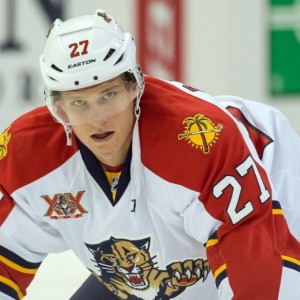 Anyone who isn't subscribing to the 4-4 expansion draft strategy will surely have Nick Bjugstand on their protected list. I think.
His five goals and nine points in 43 contests this season are nothing short of miserable. I'm willing to chalk that up to the 28 games he missed due to a broken hand and a groin injury, though.
I'm of the belief that the 55 goals and 115 points he racked up over the previous three seasons is more indicative of the player the Golden Knights would be getting. $4.1 million a year for the next four seasons is the asking price. That number could be just right for a Florida team seriously bummed out by Bjugstad's 2016-17 campaign, and for a Vegas team that needs to hit the salary cap minimum while also adding young talent.
Jussi Jokinen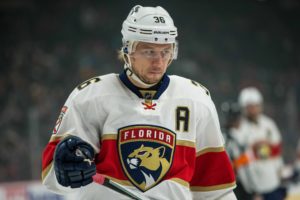 I think Jussi Jokinen is a really difficult player to judge as a fit in Vegas. Let's start with the sure thing. He's 33. That's older than many of the first Golden Knights will be. It will be important to have some grown-ups in the building as this thing gets off the ground.
After that it gets tricky. Statistically, he's been down this season, but then so have most of the Panthers. Like Bjugstad, he suffered an early-season injury that contributed to his slow start. He's heated up of late, with half of his 11 goals on the season coming in the last six weeks.
But this is a guy who was a 60-point scorer just a season ago and played in 81 games three straight years entering this season. The decision that both Florida and Vegas will have to make before June is simple, but not easy: does that guy still exist?
Jonathan Marchessault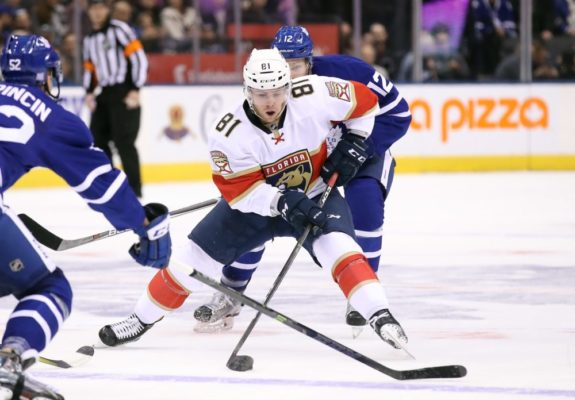 Before the season started there would have been no reason to discuss Jonathan Marchessault. Florida wouldn't have protected him and Vegas wouldn't have selected him. Then he went and had a great season and screwed up everyone's plans. I hope the Panthers have an algorithm for that.
Marchessault signed a 2-year, $1.5 million contract last July. This season, he's the leading goal scorer on the Panthers. The scoring ability is what will interest Vegas GM George McPhee. The lack of size and strength is what will turn him off.
My guess is that Marchessault is protected by the Panthers. Florida management is widely mocked across the league. I suspect they're tiring of the laughs that come with the missteps. Marchessault is only owed $750,000 next season. At that cost, I say it's better to take a shot on a guy who could put up similar numbers moving forward than to give Vegas a quality young scorer on the cheap. Golden Knights fans should watch though because it's Florida, and it's not easy to predict what they'll do.
Colton Sceviour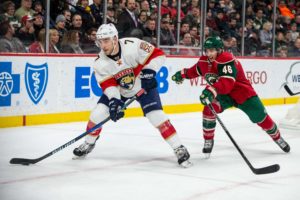 Bjugstad and Jokinen represent the two options Vegas will have if they decide to break open the checkbook with their Florida pick for a high-scoring forward that will make an immediate impact. Marchessault and Sceviour represent more frugal selections that will come with slightly lower expectations.
Sceviour is under contract next season at a cost of $950,000. He came to Florida on a free-agent contract last summer after spending seven years in the Dallas Stars organization.
In a way, Sceviour encompasses qualities of these other three guys. He'd bring a veteran presence to Vegas, he's a savvy goal scorer at times, and he's on an agreeable contract. That said, a scenario where he ends up with the Golden Knights would likely involve Florida protecting seven forwards with Sceviour being the odd man out. Of course, in this 7-3 format, this also assumes Vegas would have no interest in any of Florida's exposed defensemen. If Sceviour is made available it's because he's an unremarkable player. If Vegas chooses him, it's because he's low risk-low reward. It's a long shot that he ends up being selected, but not impossible, so watch the 27-year-old the rest of the way.