Christopher Ralph is a hockey writer with a focus on prospects and the entry draft, as well as the Leafs' correspondent here at THW.
"Full Potential" Prospect Profile: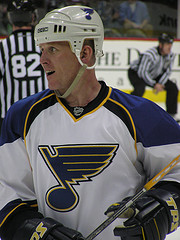 Please "Click Here" for "Notes Up Front" and the "Legend" for various topics covered below, as well as a running live updated NHL 2009 Draft rankings.
40. Zach Budish 1991-May-09  6'2.5"  229 lbs   Edina High (Minnesota)
One-Timer: Budish missed most of last year with a torn ACL from his other sport, football, but is expected to fully recover. He did put up 27 points on the board in 15 Minnesota High School games. The "Mack-truck-built" Budish is a "linebacker on skates"! He reportedly has a great shot. He will definitely need to work on his skating going forward.
2009 College Commitment = University of Minnesota.
NHL Player(s) Comparison: Keith Tkachuk
Bio/Interview Links:
http://www.westerncollegehockeyblog.com/2009/6/16/841240/nhl-draft-prospect-zach-budish
http://www.stanleycupofchowder.com/2009/6/9/903693/2009-nhl-entry-draft-prospects?ref=yahoo
Scouting Combine Performance:
Sorokin was again impressed and had this to say: "Physical "Freak". Simple as that. This guy is gonna be a bully on ice if he pans out. Knees looked fine to me as he did fairly well in the vertical leap test, but it's his overall physique. Played football before hockey, and everyone wanted to know if he's gonna go back to football, cause he sure looked like a linebacker. If he translates his offense to the pros, watch out."
Gare Joyce, not surprisingly, noted Budish was another one of only seven of all tested to score "AA" (above average) in both upper and lower body physical development.
TSN staff stated: "Zach Budish, ranked 22nd, is much more physically mature than most of the other players that are here. At 6'2 1/2, 229 pounds, he is well beyond the growth level of most 18-year-olds who still need to fill out. Consider him already filled out."
Zach scouting combine blog: http://m.kare11.com/news.jsp?key=123842&rc=sp
International Tournaments: n/a
ETA = 3 to 4 years
Risk-Reward Analysis: Risk = 4/5   Reward = 4/5
NHL Potential: Power forward
Fantasy Hockey Potential: Offensive = 7.5/10   Defensive = 7.5/10
Other Rankings:
ISS: 55
CSB: 22-NA
TSN:  n/a
THN: 44
Video Links: (Football recruiting video!)
http://espn.go.com/video/clip?id=3674475&categoryid=null
This document is the intellectual property of Christopher Ralph and cannot be used or duplicated in anyway without expressed written consent. Any use of this document without the expressed written consent of Christopher Ralph will result in public exposure and legal prosecution.
Chris is THW's senior draft/prospect analyst and a Managing Editor. Watch for "The Next Ones" Prospect Profile series, exclusive rankings, mock drafts, as well as the annual THW NHL Entry Draft Guide. Follow @ChrisRalphYQ on Twitter as he infiltrates, dissects and analyzes all happenings of hockey prospects and the NHL entry draft. Email: cralph[at]thehockeywriters[dot]com