The Calgary Flames were potentially the National Hockey League's most surprising team in 2014-15, making the postseason for the first time since 2009 in a year where preseason projections had them closer to Connor McDavid than Lord Stanley.
Well, 2014-15 is in the rear-view mirror and what matters is how the Flames are looking for 2015-16. Here are five key things that need to happen for the Flames to head back to the postseason for a second consecutive campaign.
IMPROVED PUCK POSSESSION
In 2014-15, the Flames were among the worst teams in the NHL in terms of puck possession as measured by Corsi (28th). Or Corsi Close (28th). Or Fenwick (28th). Basically every puck-possession measure, whether they looked at shot differentials, shots and blocked shots, shots and missed shots or any combination, had the Flames second or third last in the NHL. Every season, there's typically one really good puck-possession team that misses the playoffs and one awful one that sneaks in. Last season, those teams were Los Angeles and Calgary. It probably won't happen that way again.
That said, the Flames went out and acquired possession-drivers Dougie Hamilton and Michael Frolik in the offseason, which will likely help balance out the rough spots in their lineup.
GROWTH FROM THEIR YOUNG CORE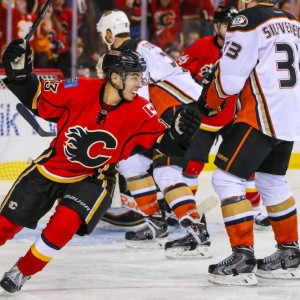 Looking at Calgary's projected opening day roster, approximately eight of their 18 skaters are 25 years of age (or younger): forwards Lance Bouma, Micheal Ferland, Johnny Gaudreau, Sam Bennett, Josh Jooris and Sean Monahan, and defenders T.J. Brodie and Dougie Hamilton. If you look carefully at that list, that includes three of Calgary's top-six forwards (Gaudreau, Bennett and Monahan) and two of Calgary's top-four defenders (Hamilton and Brodie). Considering those players, along with Mark Giordano and Jiri Hudler, are typically considered to be Calgary's "core," some year-over-year improvements should be expected – and will be necessary to get them back to the playoffs.
If the team's complementary young players – Bouma, Ferland and Jooris – can show similar improvements, then the Flames may suddenly have an abundance of offensive options at their disposal.
A BALANCED DEFENSE
Calgary spent a lot of time in their own zone last season. A lot (Only Buffalo started more shifts in the defensive zone than Calgary did in 2014-15). It doesn't help that the team really leaned heavily on Kris Russell and Dennis Wideman, particularly after Giordano was injured late in the season. Russell and Wideman are offensively talented, but defensively the pairing was hemmed into their zone enough for Russell to set the modern NHL record for shot blocks. While Giordano was spoken as a candidate for the Norris, Russell could've been one for the Vezina – he had more saves than aspiring San Jose Sharks starter Martin Jones, for example.
Well, the addition of Hamilton completely jostles around Calgary's defensive pairings, giving the team potentially three evenly balanced pairings, or two really good pairings, depending on how Bob Hartley wants to deploy his group.
Of course, this primarily depends on…
82 GAMES OF MARK GIORDANO
Monahan is pretty good. Gaudreau is quite nifty. Bennett may become a star. But by far, Calgary's best player is their captain, Giordano. Since the day Jarome Iginla was traded, that has been the case.
In each of the past two seasons, Giordano has seen Norris-caliber seasons derailed by injuries – an early season ankle injury in 2013-14 cost him 18 games and a bicep tear last season saw him miss 21 regular season games, plus the playoffs. Simply put, Giordano could be a huge difference maker for his club with an 82-game season, and he'll definitely be a strong contender for the Norris Trophy.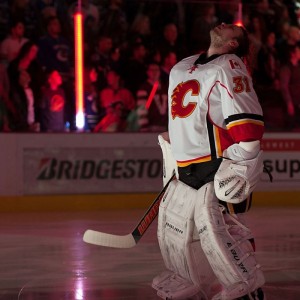 GOALTENDING IMPROVEMENTS
Calgary's trotting out the same goaltending trio that they did last season: Jonas Hiller, Karri Ramo and Joni Ortio. Ortio's young, but the other two are veterans who probably won't get much better in terms of their overall play. The trio finished 18th in even-strength save percentage last season, with Hiller and Ramo playing the majority of the team's minutes.
But consider a Flames team that's better at possession hockey, spends less time hemmed into their own zone and has a more balanced defensive grouping than last season. A better defensive group probably results in fewer high-percentage chances for the opposition attackers, and combined with less prolonged stretches in the defensive end, should result in some moderate improvements in Calgary's goaltending performance. With the Pacific Division as competitive as ever, the Flames will definitely need at least moderate improvements in goal to keep pace.
Ryan Pike has covered the Calgary Flames and the NHL Draft extensively since 2010 as a Senior Writer for The Hockey Writers and Senior Contributing Editor of FlamesNation.ca. A member of the Professional Hockey Writers Association, he lives in Calgary.