Fighting in hockey produced another casualty last week, with the death of former NHLer Todd Ewen. Every death attributed to fighting in hockey gives life to the opinion that the role of the enforcer is no longer needed in our game.
The Canucks showed the same attitude last season when they sent Tom Sestito down to the minors. In training camp last year, head coach Willie Desjardins singled out Sestito as a guy he thought could step up and be an important player for the Canucks.
"I just honestly think he has more to give, he's skilled for a big guy and we need that," Desjardins said in The Vancouver Sun. "The assets he has, we can really use on this team. I told him the role I want from him and said 'it's up to you.'"
Sestito didn't take advantage of his opportunity and was waived by the Canucks halfway through the season. He was yet another enforcer who found himself out of an NHL job, a trend that has taken over the league during the last few seasons.
In a league where most successful teams roll four lines, there isn't a role for slower and less skilled players such as Sestito. If you take a look at the fourth lines that the Blackhawks and Lightning both iced during the Stanley Cup Final, you won't see any stereotypical enforcers.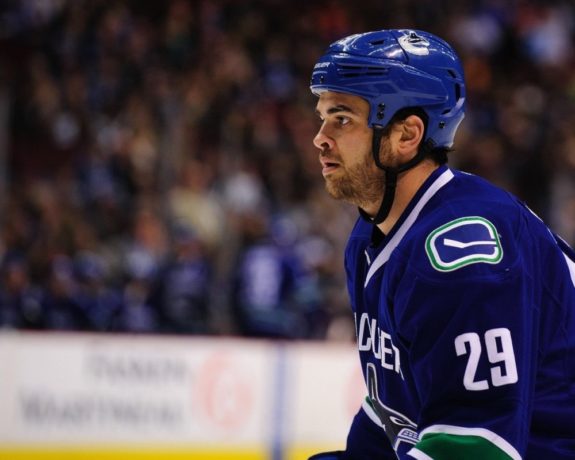 The Blackhawks had a combination of Andrew Desjardins, Marcus Kruger and Andrew Shaw, while the Lightning had J.T. Brown, Brian Boyle and Brenden Morrow. Agitators such as Shaw and Boyle do so much more for their respective teams than just fight. They have a strong presence around the net and both play a 200-foot game. In fact, they each only had two fights apiece last season. One-dimensional players such as Sestito aren't anywhere to be found on Cup-contending teams.
Why Acquire Prust and Dorsett?
So you might ask, in a league where fighting is on the decline, why would Canucks general manager Jim Benning go and acquire two enforcers in Brandon Prust and Derek Dorsett?
Dorsett and Prust were second and third in the league respectively when it came to fighting majors last season. Dorsett registered 17 fights while Prust registered 16, and both of those totals accounted for more than half of their teams' fighting majors. If Prust and Dorsett were on the same team last year, their scraps alone would have been tied for the third highest team total in the league, according to hockeyfights.com.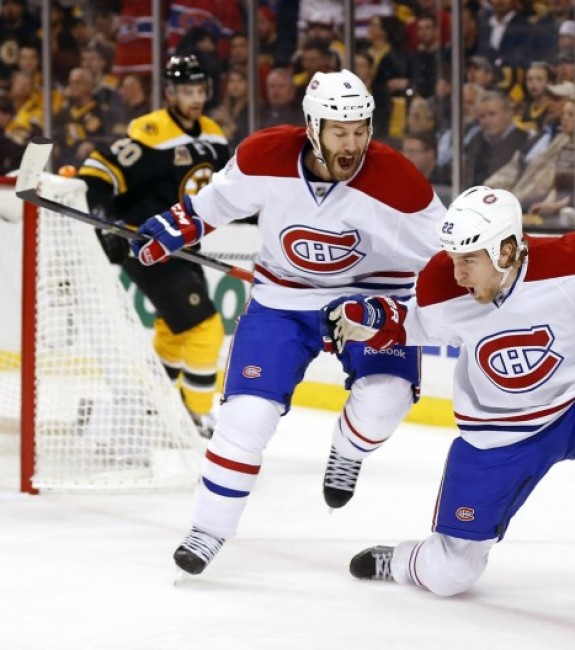 In a league where fighting has been on the decline for more than a decade, it's unlikely that those two will drop the gloves as much for the Canucks this season. That's not a problem for the Canucks, because Prust and Dorsett aren't just on this team for their fisticuffs.
Just read what Benning had to say about Dorsett after he signed the gritty winger to a contract extension back in April.
"Derek is a total team player, he's a selfless guy who does whatever the team asks of him. He's good defensively, he kills penalties, he sticks up for teammates. He's been a big part of Bo's development through the course of the year. Going forward we're going to have more young players making our team and we want them to rub elbows with Derek Dorsett."
Benning had every reason to be thrilled with Dorsett's season. There were moments when his lack of discipline hurt the team, but he proved that he is much more than a one-dimensional fourth-line player, playing in all kinds of different situations along with being a good leader in the dressing room. It also didn't hurt that Dorsett had a career-high 25 points last season and also played in a career-high 79 games.
What Prust Brings to Vancouver
If Prust can imitate Dorsett's performance from last year, then fans in Vancouver are likely to say "Zack who?" Prust only registered 18 points during the regular season, but saved his best for the playoffs with a goal and four points in 12 games.
Early in the preseason, Prust is on a line with Dorsett, centered by Linden Vey. Vey has the ability to be a playmaking center, and if he reaches that potential, it could be a good combination on a line with two players who are able to knock defenders off of the puck and get to the net.
If he brings offence, then it will be an added bonus for the Canucks, but it's his leadership and intangibles that will be valued most on this team. Brendan Gallagher said to The Province in July that Canucks fans will love Prust's style of play.
"He sticks up for his teammates," he said. "He plays hard. It's a difficult style of hockey. It's not easy to do and he's able to do it every single night."
Great teammate moving on, Good luck @brandonprust8 hope you'll be alright without me #? https://t.co/XOSjGj4rRk

— Brendan Gallagher (@BGALLY17) July 1, 2015
During training camp last week, there was some deju vu going on in the Canucks' locker room. Much like the relationship Dorsett and Horvat has last season, the veteran Prust was sitting beside Canucks hopeful Jake Virtanen in the locker room. During a chat with The Province, Prust was raving about the hit that Virtanen threw on Connor McDavid during the Young Stars tournament in Penticton. If Virtanen is able to crack the Canucks lineup, Benning will surely want Prust to play a leadership role with the tenacious winger.
That's what makes these two so valuable to the team. Prust and Dorsett aren't enforcers for the Canucks. They are leaders.
KPU Journalism Graduate. Trevor has been writing for The Hockey Writers since October 2014. He has contributed articles related to the Ottawa Senators, Vancouver Canucks, and other issues/stories regarding the game of hockey. Trevor currently lives in White Rock, B.C.