The Buffalo Sabres showed significant improvement during the 2015-16 season.
Buffalo finished last season with 81 points which was a 27-point improvement when compared to the 2014-15 campaign. According to NHL.com, the Sabres scored 46 more goals last season than they did in 2014-15 by finishing with 199 goals. Special teams also surged with Buffalo earning the 12th ranked power play and ninth overall penalty kill units.
A more seasoned youth core coupled with a big free agent acquisition has Sabreland poised for further improvement. Forwards Jack Eichel and Sam Reinhart look to build on their success last season where each forward scored more than 20 goals. Buffalo also signed forward Kyle Okposo who was one of the marquee free agents this offseason. Okposo will add some additional firepower to the club's offensive arsenal.
The Sabres acquired Jimmy Vesey's rights for a third round selection earlier this summer and are waiting to see if he decides to join the Blue and Gold. In the meantime, GM Tim Murray may pursue other roster moves prior to puck drop on opening night. While hockey fans eagerly await the start of a new season, here are five home games on the Buffalo Sabres schedule to circle on your calendar that you won't want to miss.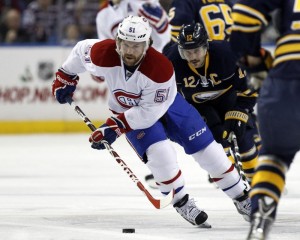 Thursday, October 13 – Canadiens vs. Sabres
Buffalo will kick off the 2016-17 season with a game against the Montreal Canadiens. Opening night for the Sabres is always a spirited event. With the rebuilding years in the rear view mirror, a summer where a top free agent signed with the club, and the potential for a return to the playoffs getting closer to reality, the soon-to-be-renamed KeyBank Center will have an electric atmosphere on opening night.
In five games against Montreal last season, Buffalo compiled a 2-2-1 record. Forward Marcus Foligno shined against the Canadiens notching four goals, five points, and a plus-5 rating during the season series. A healthy Carey Price in net as well as the addition of defensemen Shea Weber, Alexander Radulov, and forward Andrew Shaw will present Buffalo with new challenges throughout their season series against Montreal that begins on opening night.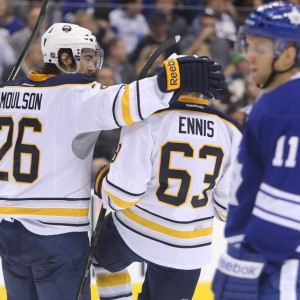 Thursday, November 3 – Maple Leafs vs. Sabres
The rivalry between Buffalo and the Toronto Maple Leafs has gone stale in recent years. This is poised to change in a hurry. Both clubs recently added two important American-born players to their respective rosters. The Sabres selected forward Jack Eichel with their second overall selection in the 2015 NHL Entry Draft. Toronto recently added forward Auston Matthews with their first overall selection in the 2016 NHL Entry Draft.
Both Eichel and Matthews have elite skill and will rise in the rankings of NHL forwards in the years to come. As the teams continue to improve their rosters, the level of competition between Buffalo and Toronto will steadily rise. The rebirth of this Atlantic division rivalry will begin to take shape this season. Sabres fans will get their first look at the Leafs during the Matthews era during this early-November contest.
[See Also: Buffalo Sabres' Season Series Success Stories]
http://gty.im/518476336
Saturday, November 19 – Penguins vs. Sabres
Few predicted the Pittsburgh Penguins to win it all last season. Yet the Penguins defeated the San Jose Sharks in six games to capture the franchise's fourth Stanley Cup championship. The Sabres will play their first game of the 2016-17 season against the Penguins on home ice in mid-November.
Pittsburgh is the only team in the Eastern Conference that the Sabres did not earn a single win against last season. Buffalo performed well on special teams against the Penguins last season. The Sabres scored on four of eight chances with the man advantage and had seven successful penalty kills out of eight opportunities. Zach Bogosian led Buffalo in overall scoring against Pittsburgh last season with three goals and five points.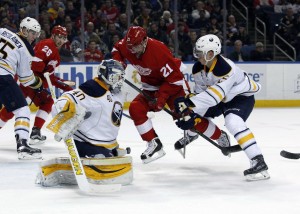 Wednesday, November 23 – Red Wings vs. Sabres
After the departure of forward Pavel Datsyuk, the Detroit Red Wings added a pair of former Sabres to their roster earlier this summer. Detroit signed former Sabres' captains Steve Ott and Thomas Vanek. In addition, the Red Wings added former New York Islanders forward Frans Nielsen to help bolster their offense.
Buffalo managed a 1-3-0 record against Detroit last season. The Red Wings were tied with the Boston Bruins with 93 overall points and qualified for the playoffs by virtue of a tiebreaker. It is important for the Sabres to have a better record against Detroit this season to remain in the playoff hunt. An essential component of this quest will be to limit the offensive opportunities of Red Wings' young forward Dylan Larkin who tallied 23 goals and 45 points last season.
[See Also: Buffalo Sabres' Late Round Draft Gems]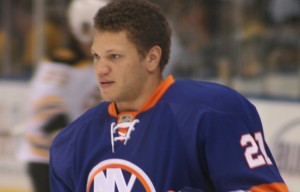 Friday, December 16 – Islanders vs. Sabres
The New York Islanders were a strong team in 2015-16. The club finished with 100 points during the regular season and advanced to the second round of the playoffs where they fell to the Tampa Bay Lightning. While they have lost some key members of last season's team to free agency, the Islanders inked forwards Andrew Ladd, Jason Chimera, and P.A. Parenteau this summer.
One of the key departures for the Islanders, of course, is Buffalo's new forward Kyle Okposo. Okposo scored 22 goals and 64 points during the regular season. He also had two goals and eight points in the playoffs for New York. December 16 will be the first time Okposo faces his former club. Okposo will be energized to play the Islanders and the verve of his new home crowd will help make this game a must-see for Sabres fans.
Tim joined The Hockey Writers in July 2013. He began his tenure with THW by covering the Minnesota Wild and he now writes on the Buffalo Sabres. Tim completed his undergraduate and graduate work at the University at Buffalo. In addition, he is a published historian and a Baltimore Orioles Contributing Writer for LegendsOnDeck.com. Tim's work for THW has been featured on sites such as Yahoo.com. Follow him on Twitter @TOHockeyTHW