The greatest possession is self-possession — Ethel Watts Mumford
Decades from now, when flying cars fill the skies like in Back to the Future, Part II, this era will likely be looked upon as the greatest in Los Angeles Kings franchise history.
And why not? The Kings perennially have one of the NHL's premier defenses. Jonathan Quick has proven to be an elite netminder, in large part due to elevating his game during the postseason. Most importantly, Los Angeles has clearly demonstrated that a blue-collar, lunch pail approach — the bright lights of nearby Hollywood notwithstanding — wins championships.
The regular season
The Kings don't particularly distinguish themselves during the regular season, as quite a few teams win more often over the first 82 games. Case in point, the St. Louis Blues, who went 130-62-20 from 2011-12 through 2013-14 (as compared to L.A.'s 113-71-28 record). Exhibit B: the San Jose Sharks, who posted a 119-67-26 mark over the three-year period.
Combined, the Blues and Sharks won just two playoff series during that span, while the Kings went to the Western Conference finals three straight times, winning two Cups.
Yes, Los Angeles failed to qualify for the postseason in 2014-15, primarily due to a historically poor record in overtime and the shootout. That said, one disappointing outcome doesn't defeat the narrative. A single fluky season doesn't make for a trend, and although early, the Kings are looking like a formidable challenger for the crown once again this season.
So how did a once-bedraggled franchise rise from the outhouse to the penthouse? The following are five keys to the Kings success:
Franchise center, defenseman and goaltender
There are legitimate debates as to what qualities constitute "franchise" players, and questions as to how many of each there are in the NHL. That said, although it's not easy to find any of the above three, the Kings have all of them.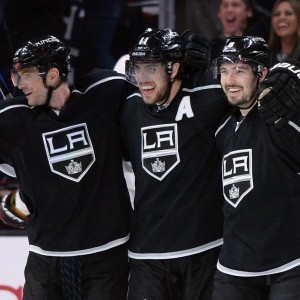 Franchise center. Anze Kopitar is nearly a point-per-game player throughout his career and was a Selke finalist in 2014-15.
Franchise defenseman. Drew Doughty has been a Norris Trophy finalist twice, including last year.
Franchise goaltender. Jonathan Quick has two Cups, a William M. Jennings Trophy and a Conn Smythe Trophy on his mantle.
A heavy defense
Not only has Los Angeles not ranked lower than 9th overall in goals allowed since 2009-10, but it's a heavy defense. Check out the number of hits and the team's overall ranking over the past five years.
-2014-15: 2,630 (2nd)
-2013-14: 2,609 (1st)
-2012-13: 1,446 (2nd)
-2011-12: 2,274 (2nd)
-2010-11: 2,127 (6th)
Somewhat uncharacteristically, the Kings are 10th in the league so far this year, but expect that ranking to rise as the season progresses. Dustin Brown may not contribute much offense anymore, but he is still more than capable of inflicting serious pain:
Puck possession
The Kings don't possess an elite offense. Frustratingly to many Kings fans, they generally aren't even an average team offensively, at least in terms of goals per game.
However, they are a strong puck possession team. Actually, that's not a sufficient description: they are a superior team at possessing the puck.
Consider their Corsi For % in recent years.
-2014-15: 55.4% (1st)
-2013-14: 56.8% (1st)
-2012-13: 56.3% (1st)
-2011-12: 54.8% (2nd)
-2010-11: 51.6% (10th)
Where do the Kings sit so far this year? Where they always rank: 57.1%, tops among all 30 teams in the league.
Darryl Sutter
Head coach Darryl Sutter won't win any awards for eloquent answers to questions from reporters. In fact, his responses can be downright comical:
Good thing verbosity with the press isn't a prerequisite for success. By any number of accounts, Sutter is a top — if not the very finest — head coach in the NHL.
Dean Lombardi
The principal architect of the Kings, general manager Dean Lombardi has built one of the most unusual teams in the league. While others feature top-end speed and elite scoring threats as key factors, the Kings have achieved success from the net out. Jonathan Quick, Drew Doughty, Anze Kopitar and company protect the net and puck consistently better than just about anyone else. Led by Darryl Sutter's stewardship, it's that mantra that places Los Angeles in the mix for the Stanley Cup year after year.
Like all GMs, Lombardi has made his share of mistakes, but all in all, he deserves a ton of credit for the rise of the Kings.
Is there anything else you feel should be mentioned, or do you disagree with any of these points? Leave your thoughts below, or message me @McLaughlinWalt.