After years of coming up short, the Tampa Bay Lightning won the 2020 Stanley Cup, finally silencing the doubters while showcasing that they are the best team in the NHL. Sure, this was not a traditional postseason, but that doesn't mean that the run to the Stanley Cup was any less magical for fans and players.
Related: What the 2020 Stanley Cup Means for the Lightning
Throughout the playoffs, it felt almost like the Lightning were assembling their own personal highlight-reel of historic goals. From gorgeous stickhandling past goaltenders to clean blasts from defensemen, they found ways to score when they needed it most.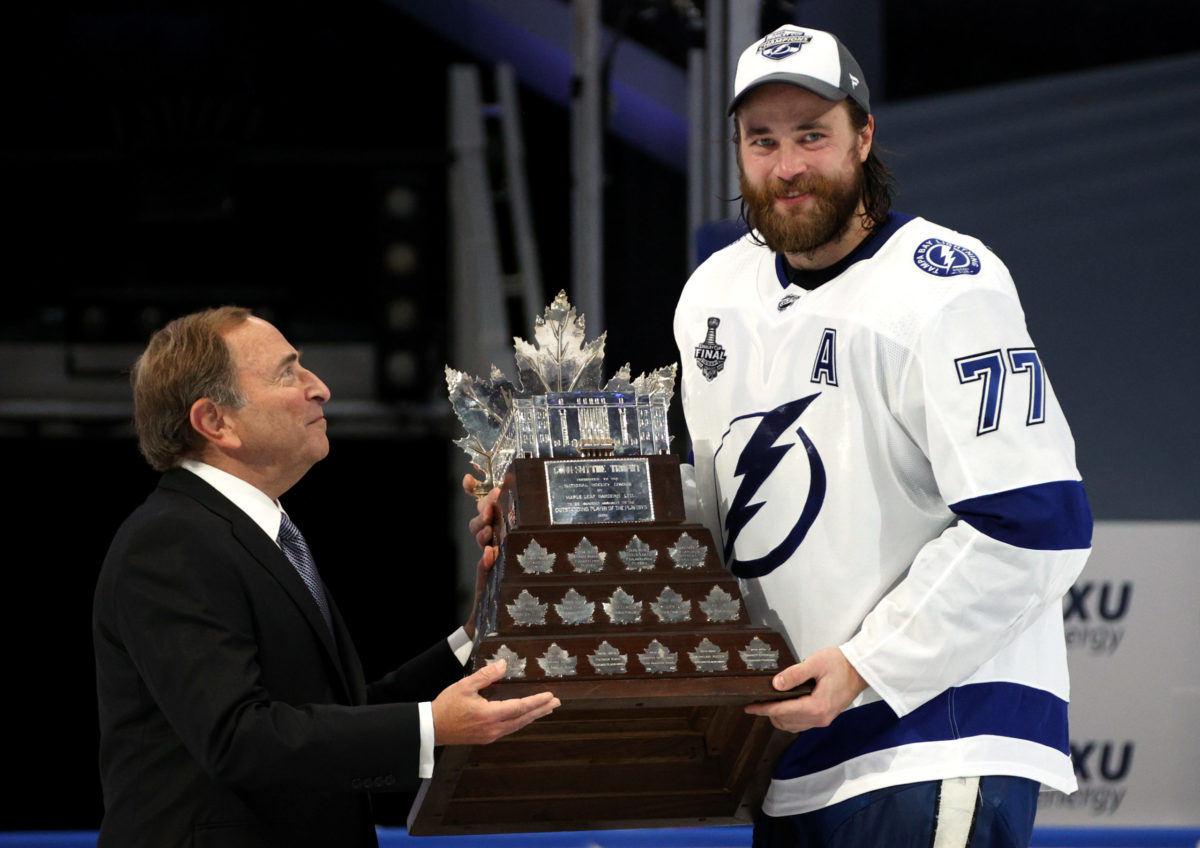 Now with a few days to let the 2020 Stanley Cup victory sink in, let's take a look at five of the Lightning's most iconic goals that will be shown for years whenever this run is mentioned in Tampa Bay.
Kucherov's Flip Pass to Point
When the Lightning found out that their opponent in the Eastern Conference Final (ECF) would be the New York Islanders, everyone expected a long, defensive battle with little scoring. While that is what happened in Games 2 through 6, the first match was a bit of a scoring surprise.
In Game 1, the Lightning racked up eight goals, running Islanders' starter Thomas Greiss from the net in the first period before putting up five more goals on Seymon Varlamov.
While there were a few stunning scores in this game alone, one stood out among the others. As they would go on to post five-point nights, Nikita Kucherov set up Brayden Point with an absolutely ridiculous flip pass, which Point turned around and sent back to him in front of the net for a quick shot and a 6-1 lead.
Kucherov's flip pass is one of those moves that shouldn't have worked. There are a hundred ways that it could have bounced off the ice, or just missed Point's stick altogether. The fact that Kucherov not only got it perfectly where it needed to go and managed to bury Point's pass after makes this an iconic move that no one will forget.
Cirelli Wins the Eastern Conference Final in OT
After talking about a goal from the first game in the series, we have to discuss the tally that ended it. In Games 5 and 6 of the ECF, the Lightning and Islanders played to a near standstill, with both games needing overtime to break a 1-1 tie.
While the Islanders won Game 5 in Double OT, the Lightning capped off the series in Game 6 with one of the weirder goals they scored all year. In this sequence, Anthony Cirelli chased down a puck that was sent into the Islanders zone, getting it to Barclay Goodrow who threw the puck in front of the net back to Cirelli. Then, he barely got a shot off, putting just enough on it to ricochet the puck off the post and slowly trickly off Varlamov's leg past the goal line.
This wasn't a pretty sequence, but it was that perfect postseason goal that the Lightning were missing in recent years. Cirelli fought to put himself in the right spot and got rewarded with a trip to the Stanley Cup Final along with a goal no fans in Tampa Bay will forget, even if it took a while to go in the net.
Coleman's Diving Score From Bogosian's Perfect Play
If you were asked to show one goal that exemplified the Lightning's 2020 postseason, this would be one example that jumps to mind. In this sequence, Zach Bogosian burns past the Boston Bruins' defenseman Torey Krug, before throwing the puck to Blake Coleman as he fell down, who made a flying shot to score the goal before crashing into the net.
In any context, this was an amazing score. Bogosian made one of the best plays of his career by skating around Torey Krug, and Coleman's diving finish was just a thing of beauty.
What makes this goal mean even more is the fact that neither Bogosian nor Coleman were on the Lightning's roster as of February 15th. Both players were acquired mid-season to provide depth for a playoff run, and this goal showcased just how important their additions were to the team.
Stamkos Returns and Scores in the Stanley Cup Final
Few players in the NHL will face the same level of scrutiny as Steven Stamkos. As a first-overall pick, there is an expectation that you will become the face of a franchise while leading your team to postseason glory.
As the years went on, it became clear that Stamkos was a truly special talent for the Lightning, but due to injuries and bad luck, it was unclear if he would ever reach the ultimate goal of a Stanley Cup.
Related: 2020 NHL Draft Guide – Updated
As injuries kept him sidelined throughout the 2020 postseason, Stamkos fought to return in the Stanley Cup Final. While his time on ice was brief, he left an impact that rang throughout the Lightning franchise.
This goal was perfect. Not only did Stamkos beat out one of the Dallas Stars best defensemen in Essa Lindell, but he put a perfect shot on net, scoring one of the most meaningful goals in franchise history.
If you are a Lightning fan, expect to see this goal for the rest of time, as it will be shown whenever Stamkos' legacy with the team is discussed.
Point Ends the 5 Overtime Marathon
There are few games in sports history that everyone will remember. Whether you are a superfan of either team or just a casual observer of hockey, you will always remember Game 1 between the Lightning and Columbus Blue Jackets.
In this five-overtime epic, the Lightning and Blue Jackers fought tooth and nail for every inch on the ice, with both goalies refusing to let anything into their net. As the hours passed by, it felt like the game would go on forever, despite exhaustion setting in.
Then, almost halfway through the fifth overtime, Point threw a puck at the net that eluded Blue Jackets netminder Joonas Korpisalo.
This wasn't a pretty shot, but it is, inarguably, the most important goal scored this playoff for the Lightning. If they had lost Game 1 to Columbus after being swept one-year prior, Tampa Bay may not have recovered.
Instead, this goal became a moment of inspiration for the franchise, showcasing that they could survive any challenge, and had what it took to win no matter the situation.
Lightning Earned the 2020 Stanley Cup
There was nothing easy about the Lightning's run to the 2020 Stanley Cup. Even taking bubble life out of the equation, this team faced off against some of the best defensive units in the NHL and still found a way to scrape together some truly incredible goals.
Related: Lightning Win the Stanley Cup: How They Did It
Whether you are a fan of the Lightning or just of hockey in general, you can appreciate what this team overcame to win the Stanley Cup this year. At the very least, you can marvel at these five goals and understand what they meant for the franchise.
---
---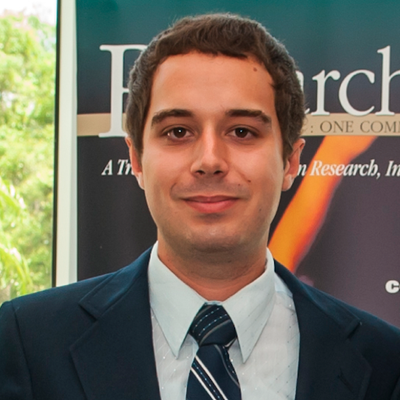 Eugene Helfrick is a Tampa Bay Lightning writer who is actually from Tampa Bay. He has written about the Lightning for six years, covering everything from their run to the 2015 Stanley Cup Final, to their crushing first-round exit in 2019, to their redemption in the bubble in 2020. While he is happy to talk about just about anything from cows to cars to video games, hockey will always remain one of his favorite pastimes.