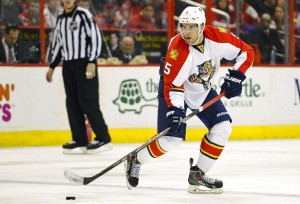 The mystique of the captain's "C" is very much overrated. As far as team success goes, who wears the C hardly matters. That said, there are a handful of individuals out there who should be captain of their respective clubs. While being the best player on the team isn't mandatory, having an under-performing captain can create drama in a dressing room. So can stripping a top tier player of the C.  Just see last year's San Jose Sharks for an example. Stripping Joe Thornton as captain was never going to fix anything in San Jose. Only the 2004 Tampa Bay Lightning come to mind as a Cup-winning team with a former captain on the roster. Without further ado, here are five NHLers who should captain their respective clubs.
Joe Thornton (C) – San Jose Sharks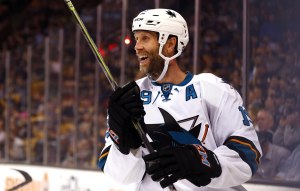 One way for the Sharks to put all that drama behind them? Give the C back to Thornton, where it belongs. The Sharks don't come up short in the playoffs because of some silly narrative that Thornton isn't a strong enough leader. He can't go out there 30 minutes per night to compensate for the awful bottom-six players the Sharks trot out on the ice annually. Thornton has had some playoff struggles, but contrary to popular belief, more often than not Thornton is really, really good in the playoffs. (Career .75 points per game in the postseason).
Give Thornton a better supporting cast, and the Sharks would have won a Stanley Cup by now. He remains a top-tier producer, a possession monster, faceoff stud, and an elite set-up man. He is the face of the franchise. Sharks management should make the face of their franchise happy, not piss him off like they did last year.
Anze Kopitar (C) – Los Angeles Kings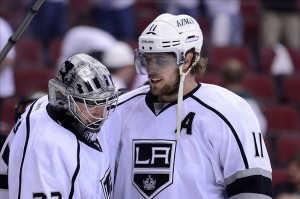 Some Kings fans are bound to go off on me for this one, since current Kings captain Dustin Brown has "led" Los Angeles to two Stanley Cups. How important is Brown to the Kings, though? Brown's decline didn't do much to help the Kings in their attempt to repeat last year. After being money in the bank for 50 points for six straight years, Brown has had back-to-back miserable seasons with just 27 points each year. For a guy counted on to play top-six minutes, that is not close to good enough. He has to be much better. The Kings might in fact be better off buying Brown out than continuing to play him. His cap hit is nearly $6 million dollars for five more years.
Nobody, let me repeat, nobody would want to trade for Brown at that type of salary. And let's face it, who is the face of the Kings? You could make a case for Drew Doughty or Jonathan Quick, but, to me, it is clearly Anze Kopitar. He is the biggest star on that team. He drives the Kings' ship offensively and is one of the few dominant centers we have today. Not to mention, he is simply one of the best people in the game. The Slovenia native deserves the symbolic C on his sweater.
Oliver Ekman-Larsson (D) – Arizona Coyotes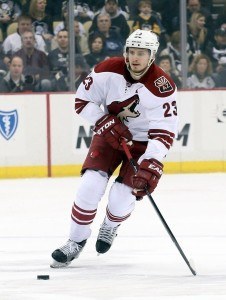 First off, few players in the league are as respected as Shane Doan. He has been a terrific captain for years with Arizona. That said, it is time to turn over a new leaf in the desert. Doan will be playing his 20th season next year and while this past season, his on-ice performance dropped. With Keith Yandle traded, Oliver Ekman-Larsson is now the top dog on the Coyote blue line. The 23-year old is one of the brightest young stars in the NHL. Larsson led the entire league in goals by a defenseman in 2014-15 and is the cornerstone of the Coyotes moving forward.
As mentioned above, typically making a captaincy change isn't necessary because it won't improve the team's on-ice performance. However, when a long-time captain is clearly on the decline, a better established player should take over. Brenden Morrow taking over Mike Modano comes to mind as a captaincy switch of this bill; it was simply time for the Stars to start to move on from Modano. Doan could still be a quality contributor for the Coyotes, but Larsson is the new face of the franchise, and the Coyotes would be wise to anoint him as captain. This would be a marketing decision to show the fans that Arizona is going in a new direction.
Ryan Johansen (C) – Columbus Blue Jackets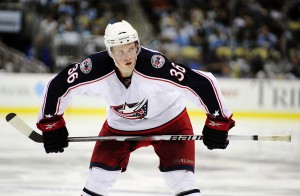 Just last month, the Blue Jackets decided to name Nick Foligno captain. Personally, I think that was a mistake. Yes, the best player doesn't have to be captain, but before last season, Foligno wasn't even an elite producer. Sure, he finished with 73 points last year, but he had just 39 in 2013-14 and his previous career high was just 47. We are talking about a player who has been around since 2007-08. Johansen, on the other hand, is five years younger and, at just 22-years old, has back-to-back career seasons under his belt at 63 and 71 points. When you take in a Blue Jackets game in person, Johansen is the one player that really brings the wow factor. He was taken fourth overall in the 2010 draft for a reason. At 6 feet, 3 inches, and 220 pounds, Johansen is a big body that can skate and hold off defenders with strong power moves to the outside.
What happens if Johansen has another 70 point season but Foligno finishes under 50? While being captain isn't all about points, the captain needs to inspire confidence with his on-ice production. Foligno has only posted 50 points or more one time in eight seasons. Johansen is the better producer, what does that say about him as a leader by not naming him captain? Is he that bad in the locker room? Does he not help those around him? Is he not approachable? Those are areas a coach and other veterans should be able to help him improve on. I may be in the minority, but I would rather have a captain who maybe isn't great in the locker room but is great on the ice rather than vice versa. Johansen is the clear face of the Blue Jackets. He is the star this team should build around, and should be captain.
Aaron Ekblad (D) – Florida Panthers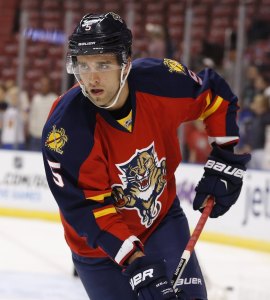 Willie Mitchell was a key player for the Kings but he is on the last legs of his career now with the Florida Panthers. Instead of Mitchell, Florida ought to name 19-year-old defenseman Aaron Ekblad as captain. The first-overall pick in the 2014 draft sparkled as a true rookie this past season. Ekblad scored 12 goals and finished with 39 points in his first year in the league. He finished with a plus-12 on a mediocre team that missed the playoffs. Ekblad was second only behind Brian Campbell among Florida defenseman in Fenwick and Corsi. He led the blue line with a 57.8 goals for percentage.
At 6 feet, 4 inches, and 216 pounds, Ekblad is a straight beast for opposing teams to handle and is going to be one of the top-10 defenseman in the game, if he isn't already. Already the face of the Panthers, Ekblad should be named captain. He is on the fast track to stardom; he is their Shea Weber. A young team like Florida needs a young and symbolic leader.
Final Thoughts:
While who wears the C won't make a significant difference for any of these clubs, it is hard to argue against any of these five being named captain. These elite-level players can back up the role with terrific on-ice production, while guys like Brown, Doan, Foligno and Mitchell aren't elite producers. The ideal captain has the ability to put his team on his back. The five guys on this list can all do that. They all have that beast-mode ability teams need out of their captain.
Being captain isn't about being just a motivational speaker. If players don't have enough self motivation, no words from a captain or any other "leader" are going to motivate lazy performers. The C is much more of a symbolic gesture towards an individual. And for as long as a top player is on a team, and leading by example on the ice, he should never have the C removed.
Andrew has been credentialed to cover the Sharks since 2010 and the 49ers since 2012. He graduated with his BA in Broadcast Electronic Communication Arts in 2013 from San Francisco State University.