Like advertisements on NHL uniforms, the re-institution of the World Cup of Hockey was inevitable. It was only a matter of time before the league brought back their own tournament under their own auspices. The NHL was leaving too much money on the table by not having their own sanctioned international competition and it was about time they brought it back.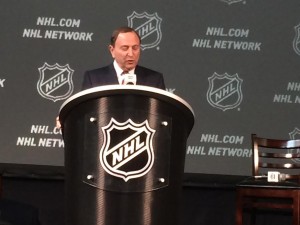 When the announcement was made in January that the World Cup of Hockey was returning after a 12-year hiatus, many were surprised by a new wrinkle that was added to the tournament. In 2004, the eight teams were the US, Canada, Russia, Finland, Sweden, Czech Republic, Germany, and Slovakia. In September 2016, Germany and Slovakia will be replaced by two new "all-star" teams comprised of spare parts.
The first team is a European team made up of players from Switzerland, Germany, Latvia, Norway, Slovenia, and any other country that doesn't have representation. The thought here was that instead of giving countries a team that would indubitably get slaughtered against the powerhouses, perhaps a combination of those countries' stars would make things a little more interesting.
The second team, and one that brought a bit more criticism, is a North American Youngstars team, consisting of players under 23 years old. It'll be an impressive group of young Canadians and Americans joining forces to defeat the competition which may include, erm, other Canadians and Americans.
Obviously, the league wants to promote their rising stars and the world stage would be a nice showcase for them. It could also help develop these players into leaders and well-rounded skaters.
The Problem With the Youngstars
The thing that needs to be understood here is that hockey comes with a lot of national pride. There's something special about a player representing their home country in international competition. There's a large debate whether a player would prefer to win the Stanley Cup or a gold medal. The Stanley Cup can only be won after a long 82-game season followed by a hectic two month stretch of playoffs while a gold medal can be won in just 6 games (and it could be plenty easy if they're riding a hot a goalie, like Carey Price in the 2014 Olympics). The Olympics is a sprint while the Stanley Cup chase is a marathon at a sprinting-pace. Yet, it's still something that has to be debated because a gold medal carries with it the weight of national pride.

These under-23 players are being asked to go up against their national idols and to basically play the heel against their own country. For a Canadian hockey player to battle against a team donning the red maple leaf is simply unheard of and the same can be said about a young American going against the stars and stripes.
It's this idea that takes away from the credibility of the tournament. What was once viewed as a prestigious competition has become a transparent cash grab by the NHL (which should do nicely, especially with ESPN doing the broadcasting).
Even if it's a once-only thing, the Youngstars team idea at the World Cup is dumb, but, hopefully, it really is only a one-time thing.

— Tom Gulitti (@TomGulittiNHL) January 24, 2015
The grouping separated the US and Canada from the U-23 team but they still might match up later on in the tournament. And who's to say that an American player with rooting interests might take it easy against his home country in order to help his nation capture gold?
While this Youngstars team might rally around the idea of being the young upstart underdogs, the motivation for Canadian and American players to compete on a national platform could be bizarre. As Los Angeles Kings defenceman Drew Doughty pointed out, "I don't think Canadians like to play with Americans too much. I don't know how that'd work."
Additionally, the amount of controversy surrounding the selection process of this roster will be incredible. I feel sorry for whoever is tasked with running this team as claims of national bias will swarm regardless of which players are taken and started. Hockey Canada and USA Hockey will be choosing management for the team but every decision will be looked at with a microscope. I can't wait for an American goaltender to start over a Canadian goaltender and the controversy that will ensue.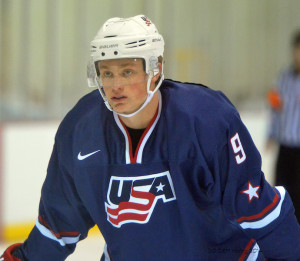 The decision to make the tournament compelling television trumped the need to make this event mean something.
Further to the point, this North American team might not even be all that good. Sure, there were an impressive group of youngsters on this year's US World Championship team in Prague. James Tanner wrote a potential U-23 lineup back in January and, while the team definitely has some skill, there exists plenty of doubt that they could actually compete with a team full of grown men with international experience. Furthermore, Goalies don't even develop fully until they're about 24-25 years old so this team could be especially vulnerable in that position (as Carl Maloney already pointed out for THW).
Bottom Line
This will be a fun tournament and the new format is definitely interesting. We'd rather a league that tries out fun new things than a league that doesn't, so we're pretty fortunate to get such a spectacle.
That being said, if the NHL wants the World Cup of Hockey to hold the prestige that a best-on-best tournament should, then these gimmicks that they're instituting are detracting from the credibility of the event. The NHL will undoubtedly drag on about the history of the World Cup because that's what they always do but this new format makes it into a big joke rather than an important event.
Now we just have to find a better trophy.