With all of the negativity surrounding the hockey world these days it's time for a feel-good article. Hockey for me was a foreign commodity growing up in New York City in the 1980's: there was no internet, no ESPN, NHL Network, heck, there was no cable television until 1987; we had maybe about 13 channels. I knew who Wayne Gretzky & Mario Lemieux were from the Sports Illustrated magazines I would get through the mail. I knew who Mike Bossy of the New York Islanders was because of some kid in grammar school that wore his jersey and I knew who Darren Turcotte of the New York Rangers was because some girl I went to school with had crush on him. At best, channel 9 would show maybe ten Rangers games during a season, but I never got into it really. When we finally got basic cable, somehow my grandparents got the sports-package before us and one night (see below) when I was staying there I found SportsChannel and a new fanatic was born.
THE NEW JERSEY DEVILS
From A-to-Z or from Greg Adams to Andrei Zyuzin, the New Jersey Devils have had a plethora of players pass through their franchise (some more than once) since they moved to New Jersey from Colorado in 1982. I began watching on April 3, 1988 when they played the Chicago Blackhawks & at the time had no idea how big of a game it was. Since it was the first game I ever watched in its entirety I decided beforehand that whichever team won, that would be my favorite team going forward. That night and the ensuing playoffs that followed (New Jersey's first postseason appearance) began my love of the game and my first two favorite players: Sean Burke and Kirk Muller.
Over the years I've enjoyed watching many players suit up with the horns & tail on the front of their jersey and here are a few that really stood out to me (for various reasons): Pat Verbeek, Patrik Sundstrom, Ken Daneyko, Slava Fetisov, Doug Brown, Claude Lemieux, Kevin Todd, Scott Stevens, Martin Brodeur, Randy McKay, Valeri Zelepukin, Scott Niedermayer, Jim Dowd, Bob Carpenter, Shawn Chambers, Neal Broten, Sergei Brylin, Petr Sykora, Patrik Elias, Dave Andreychuk, Jason Arnott, John Madden, Brian Rafalski, Alexander Mogilny, Joe Nieuwendyk, Jamie Langenbrunner, Jeff Friesen, Brian Gionta, Grant Marshall, Zach Parise, Travis Zajac, David Clarkson, Dainius Zubrus, Kevin Weekes, Johan Hedberg, & Adam Henrique.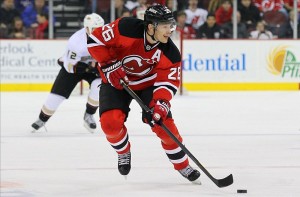 THE GOALTENDERS
Goalies have always been my favorite players, but I'm still not sure if it's because they are so athletic or so crazy. I mean, you have to be a little crazy to stand there and let players shoot a frozen chunk of vulcanized rubber at you right? I'm also a big fan of the masks they wear and how they have unique paint jobs on them.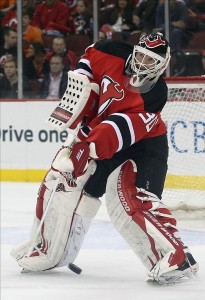 Brodeur has been my favorite player since I can remember seeing him first play in 1993, quickly replacing Burke as my favorite (sorry Sean!). I feel very fortunate to have become a fan when I did with so many talented puck-stoppers active in the NHL. Some of my favorites to watch were/are: Weekes, Hedberg, Dominik Hasek, Ron Tugnutt, Kari Lehtonen, Ilya Bryzgalov, Ryan Miller, Martin Biron, Mike Vernon, Manny Legace, Ed Belfour, Arturs Irbe, Chris Osgood, Felix Potvin, Jon Casey, Patrick Roy, Carey Price, Evgeni Nabokov, Tom Barrasso, Roman Turek, Kirk McLean & Olaf Kolzig.
Enjoy some great moments from my two favorite goalies/players, who also have been great interview-experiences for me in my short career Hasek & Brodeur:
THE NAMES
One of the reasons I was drawn to hockey and my interest was kept was the uniqueness of their names. Still to this day, if a guy has a cool-sounding name, I'm probably more likely to become a fan than if his name is Ed Ward or Brendan Smith (sorry dudes). I think it's awesome that we hockey fans can pronounce some of these guys' names without thinking twice and non-fans (including sportscasters) have no idea how to say some of them. The spelling aspect of it is crazy too, once you learn how to spell a player's name, you rarely forget. During the two years that I interned with Stan Fischler, I must've had to type/write 'Nieuwendyk' over 100 times (easily) and to this day I can still spell it w/o hesitating.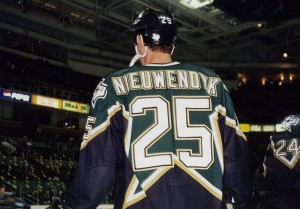 Some of my favorite all-time names are: Maxim Afinogenov, Zach Bogosian, Brad Bombardir, Dustin Byfuglien, Nick Bjugstad, Zdeno Ciger, Mariusz Czerkawski, Adam Deadmarsh, Simon Gagne, Ryan Garbutt, Stu Grimson, Niklas Hjalmarsson, Al Iafrate, Jarome Iginla, Joe Juneau, Darius Kasparaitis, Uwe Krupp, Guillaume Latendresse, Sergio Momesso, Joe Nieuwendyk, Nikita Nikitin, Ziggy Palffy, Fernando Pisani, Kyle Rau, Miroslav Satan, Teemu Selanne, Clayton Stoner, Keith Tkachuk, Jonathan Toews, Ron Tugnutt, Alexander Urbom, Mattias Weinhandl, Steve Yzerman, Wojtek Wolski, Zarley Zalapski, Richard Zednik, Valeri Zelepukin & Dainius Zubrus.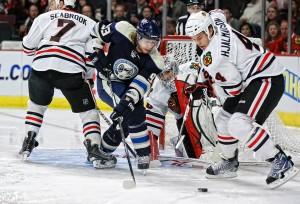 Don't feel bad if you can't pronounce them all, even President Bill Clinton had a problem with the pronunciation of Yzerman's name when they visited the White House.
THE STANLEY CUP
The Stanley Cup is what it's all about, and to experience your favorite team win it is unbelievable. I've met Stanley twice; once at the Hockey Hall of Fame in Toronto during the summer of 2000, and then again we crossed paths in 2003 in New Jersey.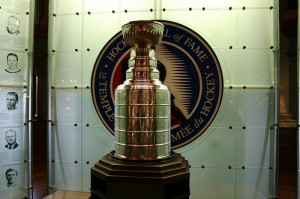 I wish everyone was as fortunate as I feel I have been — seeing my team win the Cup not once, but three times, and in my first full season as a young journalist, working at the 2003 Finals and being around the team after their Game 7 win over the Mighty Ducks of Anaheim. The first one was sweet because, well, it was the first taste of ultimate victory. The second one was thrilling, a double-OT goal that made me leap out of my seat and will forever be etched in my mind. The third one is special because I was able to be in the building, and got a little doused with champagne in the victors' locker room.
This is a nice little montage of all three with the accompanying radio call:
THE STANLEY CUP PLAYOFFS
To win the best trophy in sports, you have to go through the most grueling postseason in sports, playing basically every other day for two months. As a fan do you wear the same color jersey your team is wearing that night? Do you stay up 'til the wee hours of the morning because your team is locked in a multiple-overtime game? Playoff hockey is hockey at its best, team-first, no holds barred, rock 'em, sock 'em, all-for-one and one-for-all. Along the way we experience games that stick with us forever, games that are timeless instant classics. Even in the agony of defeat, we still hold those memories close, because winning is so worth it.
I remember this OT Goal by Yzerman against St. Louis like it was yesterday…where I was, whom I was with. I love to see the pure elation in players' faces when they accomplish things they set out to do. The Stanley Cup Playoffs give us memories that we will never forget; memories like this:
And who could forget this one:
Last but not least, this one is one of my personal favorites, because it was an unexpected contributor (and it's a game I was working at):
Dan Rice can be reached via Twitter: @DRdiabloTHW or via email: drdiablo321@yahoo.com.
Dan Rice is in his 9th year of reporting for THW & has covered NJ Devils home games for 15+ years at various websites. He began his journey working for legendary broadcaster/writer Stan Fischler from 2002-04 & completed an internship at the ECHL; he also has been writing features for the NWHL (nwhl.zone) website since 2016.