The 2015-16 season for the Boston Bruins has been a trip and a half.
A three-game losing streak to start the season at home against Winnipeg, Montreal and Tampa Bay had fans crying foul over the plethora of moves general manager Don Sweeney made in an attempt to improve his roster.
Well three months later, the Bruins have taken their fans on a journey that has featured more twists and turns than a Six Flags rollercoaster. Through all of that, the Black and Gold find themselves at 21-16-5 good enough for 47 points and the final playoff spot in a hotly contested Eastern Conference.
They have hit the skids recently after mounting a challenge for the top spot in the Atlantic Division before the Florida Panthers decided to reel off 12 straight wins and take control. Boston sits 10 points back of them but remains within striking distance of both Montreal and Detroit for a top-three spot.
Through all of it, there are some interesting statistics to take away from what has been a wild 41 games. Here's a few of the more intriguing ones.
(Note: All statistics are prior to the Bruins/Flyers matchup Wednesday night.)
28.1 – Boston's Power Play Percentage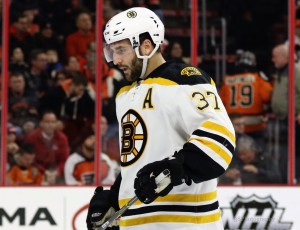 Arguably the most pleasant surprise this season has been the emergence of Boston's power play.
Right from the get-go, they showed the innate ability to be a lethal force when opponents had to take penalties. At the midway point of Boston's season, they sit at the top of the League ranks with a 28.1 percent success rate on the man advantage.
It's all the more impressive to find out they are doing this with limited resources. The Bruins have the second-fewest opportunities on the man advantage this year (114) and the least amount of 5-on-4 power play time (168:12) in the NHL.
The Black and Gold have been an opportunistic bunch led by Patrice Bergeron's eight goals and 19 points while up a man. Ryan Spooner (12 points) and Loui Eriksson (11) have also been major players in Boston's prolific power play.
It has been over 40 years since the Bruins led the League in efficiency on the man advantage. They are in with a real shot of doing so this year.
14-8-3 – Record When Krejci Records a Point
Speaking of Krejci, it's pretty noticeable on most nights when he's out of the lineup.
As an example, the Bruins have gone just 2-3-1 since their Czech playmaker fell victim to an upper-body injury December 27 in Ottawa. Last season was a stern reminder to Bruins fans that Krejci is indeed the driving force behind Boston's offense.
This season has been no exception. The 29-year-old has 33 points in 35 games this season and even topped the NHL's scoring charts for the first month of the season thanks to a nine-game point streak to begin the campaign. In the 25 contests that Krejci has found his name on the scoresheet this year, the Bruins are 14-8-3 and have averaged 3.32 goals/game. In the other 16 games in which he hasn't scored or is out of the lineup, the club is 7-7-2 averaging 2.56 goals/game.
Team needs David Krejci back in the worst way.

— Ty Anderson (@_TyAnderson) January 12, 2016
It goes without saying that Krejci is pretty important.
Three – Fewer Points Than This Time Last Year
It's pretty interesting that through this wacky ride that has been the first 41 games, Boston finds themselves in the same place they were this time last year.
The Bruins had a 22-15-6 record on January 13, 2015 and were in the final playoff spot in the Eastern Conference. At that time, they had 50 points. Fast forward to this season and they have 47 points albeit having played two games. Yet, they are in a similar position but with much more competition for that final playoff spot. Parity has reigned king in the East this season and shows no signs of letting up.
Through the final 39 games last year, Claude Julien's bunch went 19-12-8 and, even with 96 points, still missed the playoffs. The Bruins will have to be wary that every game could be the difference between being participants in the playoffs rather than mere spectators.
Zero – Amount of Games Zac Rinaldo Has Been Suspended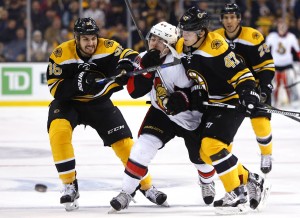 When Sweeney traded a third-round pick to acquire Zac Rinaldo, the backlash from fans was immense. The 25-year-old agitator had a grand total of 24 points and well over 500 penalty minutes from his four-year stint in Philadelphia, including three suspensions totaling 14 games.
This year has seen Rinaldo a little more disciplined in that department. The Department of Player Safety may have him on their watch list but have yet to suspend the former sixth-round pick this season. Some would call it a minor miracle given his propensity to make reckless hits and highly questionable decisions while on the ice.
With all that said, he's still been one of Boston's worst possession players (41.9-percent Corsi For) and has just two points in 34 games with a team-high 63 penalty minutes and minus-7 rating.
At least he hasn't been suspended yet though, right?
9-11-2 – Boston's Home Record
The Bruins have turned TD Garden into a fortress the past few seasons. From 2013-2015, the Black and Gold were 71-22-13 on home ice and almost unbeatable on Causeway Street.
This season has been a far cry from the past. Boston has a putrid 9-11-2 mark in their 22 home contests, good for fifth-worst in the League. In fact as of January 13, they are only one of two teams currently inside the playoff structure with sub-.500 records at home (San Jose, 6-12-0) . It's been night-and-day when you compare the home/road splits between the team.
Take goaltender Tuukka Rask as an example. In his 17 starts at home, the 28-year-old is an unflattering 7-9-1 with a goals-against of 2.97 and an .896 save percentage. On the road, he's 7-3-3 with a goals-against of just 1.86 and .940 save percentage. Do not scratch your eyes, Hockey-Reference.com shows that Rask has been miles better (and more consistent) on his travels than in his own backyard.