If Toronto Maple Leafs coach and general manager Punch Imlach was unhappy with his team's performance on the weekend, today he must be absolutely apoplectic. Imlach's Maple Leafs were defeated by their Rochester Americans farm club 3-2 last night in an exhibition game in Rochester.
While the Leafs didn't play well, it was two Toronto players that Imlach loaned to the AHL club who were the NHL team's undoing. The Leafs took an early 2-0 lead on goals by Dave Keon and Bob Pulford. Eddie Shack, who still firmly believes he belongs with the big club, set up Gerry Ehman to narrow the gap to 2-1.
Pappin, Joyal Did the Damage
That left things up to the two players Imlach loaned to the Amerks, right wing Jim Pappin and centre Eddie Joyal. Pappin picked off a Leaf pass in their zone and tied things up on a breakaway in the second period. That set the stage for Joyal to score the game-winner in the final frame. Joyal's goal also came on a breakaway while he was killing a Rochester penalty. He stole the puck from rookie Toronto centre Mike Walton.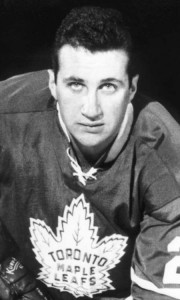 Joyal, who was bitterly disappointed at being sent to Rochester, hopes that his strong showing might have caught Imlach'a eye. He discussed his situation with Paul Rimstead of the Toronto Star:
"It's always like this. The waiting game. They don't say anything to you until the last minute. But, I guess that's their prerogative."
Shack Determined to Get Back
Toronto crowd favourite Eddie Shack was his usual effervescent self. He skated around the rink as if on fire, hitting anything or anyone that happened to impede his path. Unfortunately for Shack, and the capacity Rochester crowd that hooted and hollered at his every move, he had to retire midway through the second period after taking an accidental high stick from Allan Stanley. Shack suffered a badly cut nose, and shouldn't miss any time.
Shack confirmed the injury was an accident.
"It was fun while it lasted. I got Boomer (Baun) a couple of beauts and he and Sam (Stanley)sure nailed me. My eye closed up and that's why I didn't play the third period. I got three stitches on each of the cuts on my nose, but it was an accident."
Shack isn't giving up on getting back to the Leafs, and plans on making it sooner than later.
"Just a couple of goals here and a couple goals there. I shouldn't be down here, they know that. "
AHL President Worried About Amerks
American Hockey League president Jack Riley expressed concern over the strength of the Rochester Americans in remarks made yesterday. While most league presidents would express concern for a weak sister, Riley feels that the Americans are just too strong for the rest of the loop.
Ruby Pastor, owner of the Buffalo Bisons, agrees with Riley. His Bisons tied the Leafs on Sunday evening and must deal with the Rochester club this season. Pastor says that a full one-third of the Americans roster are of National League calibre.
Toronto assistant general manager King Clancy lists several Amerks who, he says, could readily catch on with another NHL team. These include defensemen Al Arbour and Larry Hillman, forwards Gerry Ehman, Red Armstrong, Stan Smrke, Dick Gamble and Eddie Shack. Clancy also mentioned defenseman Duane Rupp, who, he said, could be ready for the NHL in a year.
Habs Deal Aces a Loss
Dick Duff scored two goals to lead the Montreal Canadiens to a lop-sided 5-1 win over the Quebec Aces. The game was played at Chicoutimi, Quebec, and was part of a ceremony or the inauguration of the Centre Georges Vezina, an arena complex dedicated to the late Canadiens goaltending legend.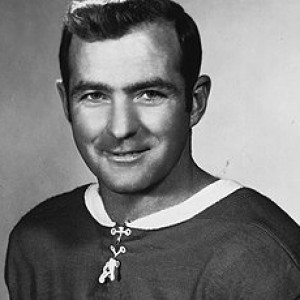 Red Berenson, Jean Beliveau and Gilles Tremblay also scored for Canadiens. Wayne Hicks was the Aces marksman.
Notes:
Toronto signed forward Brian Conacher to a two-year contract. Brian is the son of former NHL star Lionel Conacher, Canada's athlete of the first half-century. He will report to Tulsa of the CPHL.
Memphis of the CPHL has named NHL veteran Warren Godfrey as captain for the 1965-66 season.
Eddie Bush, coach of the AHL Pittsburgh Hornets, a Detroit farm team, has named George Gardner as the club's starting goalkeeper.