The Montreal Canadiens took a two games to none lead over the Toronto Maple Leafs in their Stanley Cup semi-final series last night in Montreal. The Habs shut out the Leafs 2-0 in a contest that featured more fisticuffs than goals.
Provost, Rousseau Took Care of Scoring
Claude Provost and Bobby Rousseau scored the Montreal goals, backing up the shutout goaltending of Gump Worsley. Terry Sawchuk started for the second straight game for Toronto and rewarded coach Punch Imlach's faith in him with a fine outing. He couldn't be faulted on either of Montreal's markers.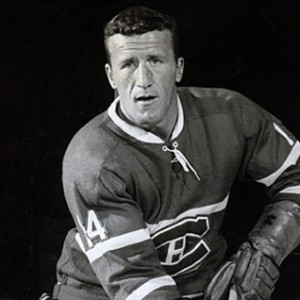 Provost scored the game-winning tally at 9:30 of the final period after two periods of scoreless but exciting hockey. The veteran right-winger faked a pass to Gilles Tremblay and beat Sawchuk with a shot that went in off the post. Leafs' Frank Mahovlich was in the penalty box at the time.
Rousseau's insurance goal was the result of a two-on-one break with Ralph Backstrom. Backstrom fired a hard shot on which Sawchuk made a fine stop. Rousseau was uncovered just long enough to put the rebound past the Toronto netminder.
Skirmishes All Night
The rough game was punctuated by numerous skirmishes, wresting matches and outright fist fighting. The animosity started early in this one and carried on throughout the night. The first incident took place at 3:55 of the opening frame when Montreal's Claude Larose took a vicious two-handed slash at Eddie Shack. Fortunately for both, it was a swing and a miss, but the tone for the game had been set.
Three and a half minutes later, Bob Pulford sent Terry Harper head first into the boards, but wasn't penalized. The Montreal fans went into an infuriated frenzy, and that seemed to intimidate referee Bill Friday. Seconds later, he sent Bob Baun off for a rather innocuous interference call, prompting a vehement protest from Pulford. Pulford was awarded a 10-minute misconduct for his trouble.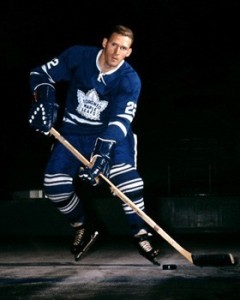 The biggest brawl of the night took place just less than two minutes after that call. The combatants were Tim Horton, Orland Kurtenbach, Larry Hillman  and Marcel Pronovost of Toronto, against Henri Richard, Dick Duff, Ted Harris, J.C. Tremblay and Provost of the Habs.
The incident started after a brief skirmish along the boards near the Toronto bench between Baun and Richard. The players were separated but at the ensuing faceoff, Richard did something to anger Baun, who charged the Montreal centre right through referee Friday. Big Ted Harris came to Richard's aid and started firing punches at Baun. Players from both sides jumped into the fray. Tim Horton charged across the ice surface and plowed into the group, tackling Harris.
Players paired off but little real damage was done. Friday handed out a bunch of two-minute sentences and hoped that might defuse any further pugilism. It didn't.
Before the end of the first, Hillman and Jean Beliveau tangled, and both were sent off with minors for high-sticking. Hillman had tried to goad Beliveau into a fight, but he wouldn't take the bait.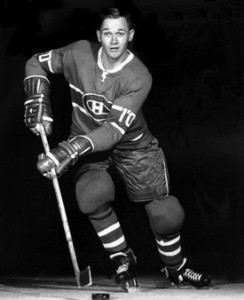 The teams stuck to hockey in the second period, but a rough brand of shinny it was. Kent Douglas of Toronto and Harris were both hitting everything that moved. The only incident that even resembled a set-to was a small tussle between Horton and Beliveau late in the period that saw both players banished for roughing minors.
The final 20 minutes saw both goals and further fisticuffs. This time it was Eddie Shack and Claude Larose in the main event, each receiving fighting majors. Bob Pulford and John Ferguson were also engaged in the dance at the same time and were sent off for roughing.
The rough play continued right until the final minute when Hillman nailed Richard with a solid bodycheck. This may have been the most costly play of the game and the series for Montreal. Richard suffered a knee injury and will not play in game three. Depending on an examination Monday, he may be gone for a significant stretch of time.
Clancy Coached Leafs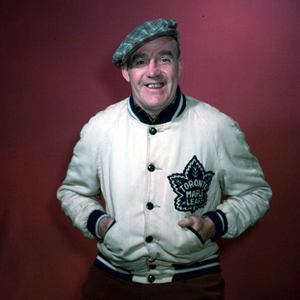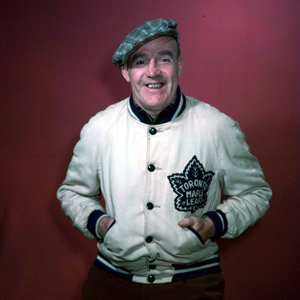 King Clancy handled the coaching duties for the Leafs. Punch Imlach came down with that same virulent strain of the flu that affected Johnny Bower and Red Kelly. Imlach wasn't far away, but was unable to function well enough to handle the Leafs' bench. He spent most of the night sleeping in a nearby first aid room.
Montreal coach Toe Blake was livid at the rough house tactics employed by the Leafs:
"I'm sick and tired of Imlach and Clancy saying they're going to 'get' this player or that player. If anything happens to Rousseau or Tremblay in this series and they do it illegally, I'll do something about it."
Blake produced a column by the Glob and Mail's Dick Beddoes in which Imlach was quotes as saying, "Belt that Rousseau a couple of times and he caves in. I like Big Jean but we've got to take care of him too." Blake said that if Richard's name had been mentioned in the quote, he would be officially protesting to NHL president Clarence Campbell right now.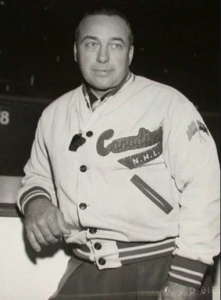 Blake also accused the Leafs of putting an extra man on the ice during fights, despite the fact that the Canadiens outnumbered Toronto five men to four during the first-period brouhaha:
"They must really be afraid of us. If they're not, why do they always put an extra man on the ice when there is a fight? It has happened three times in two games and once they had two extra men out there.
"What's the matter with the referee and the league officials? The rule calls for a misconduct and $25 fine for anyone leaving the bench to take part in an altercation on the ice.
"What a yellow way for a team that is supposed to be so doggone tough to fight. We don't care how they want to play it, we'll beat them."
Blake went on to criticize Friday for not calling a major penalty on Hillman for the hit on Richard.
King Clancy, who also was under the weather, was incensed at Blake's remarks.
"What's Blake crying about? The referee didn't hurt them. The Big M was serving the cheapest kind of penalty when they scored their winning goal.
"I've been in the NHL for 40 years and I've never sent a player on the ice with instructions to deliberately 'get' opponent.
"I'm sick and tired of Blake's continual crying at playoff time. He and Sam Pollock make a ritual of trying to influence people with off-color propaganda during a playoff series. And, I'm going to make a point of telling Blake that before the game Tuesday night."
Kitchener Still In It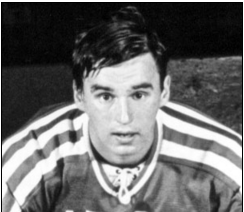 The Kitchener Rangers staved off elimination in their Ontario Hockey Association Junior A final series with a 5-2 win over the Oshawa Generals last night in Kitchener. Oshawa now leads the series three games to one.
Rangers coach Wally Kullman pulled out all the stops to try to win this one. He began the game by switching goalies, starting John Voss over Gary Kurt, the hero of Kitchener's series win over the Toronto Marlboros.
Jim Krulicki and Bob Jones each scored a pair of goals for the Rangers. Tom Smola added the other. Danny O'Shea and Wayne Cashman scored for the Generals.
Voss did a good job in goal for the Rangers, but wasn't particularly tested by Oshawa. Considering he hadn't played a game in seven weeks, it was likely a good thing the Generals came up a little flat in this one.
Nashville EHL Champs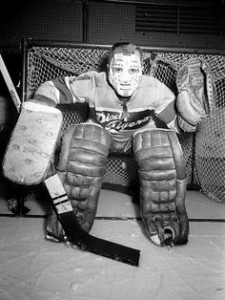 The Nashville Dixie Flyers rode the brilliant netminding of Marv Edwards to the Eastern Hockey League championship with a 4-1 win over the Long Island Ducks last night in Nashville. The Flyers won the series in four straight games.
Nashville did not lose a game in the Eastern League playoffs. They knocked out Knoxville in three straight before disposing of Charlotte in four games. During the 11 playoff games, Edwards surrendered only 13 goals.
Eastern Hockey League president Tom Lockhart presented the Walker Cup to the Flyers in a ceremony at game's end, congratulating Flyers' coach John MacLellan. He remarked that Nashville's 11 consecutive playoff wins was a record that may never be beaten.
Nashville's fans were a raucous bunch, hooting and hollering at every play. They constantly waved a large Confederate flag and even had a dead duck on display throughout the game.
Wayne Clairmont, Joe Zorica, George Standing and Leo Olivier scored the Nashville goals. Norm Ryder had the Long Island marker.
Long Island coach John Muckler summed up the Nashville performance:
"The defense was the key. It was tremendous. I don't want to say anything about the offence, why take anything away from them? But they won the championship with that great defense."
Retired police detective, involved in hockey at all levels for over 50 years. Member of Society for International Hockey Research and presently a video analyst for the leader in advanced hockey analytics (we work exclusively for 2 NHL clubs, and provide advice on an ad hoc basis to many other clients). Currently the Assistant General Manager for the Pelham Pirates of the Greater Ontario Junior Hockey League. Previously owned the Faceoff computer hockey simulation and also provided all player ratings for the EA Sports series of NHL computer games from the late 90's into the mid 2000's.