The Chicago Black Hawks, once again led by scoring machine Bobby Hull, won their seventh straight game in one of three played in the National Hockey League last night.  The Hawks edged the Boston Bruins 3-2 in Boston, visiting Montreal did the same to New York Rangers while Toronto dropped a 3-1 decision in Detroit to the Red Wings.
Hull "only" scored once last night, but it was his 28th goal of the season in his 28th game.  He is now 18 games ahead of the pace he set to score 50 in the 1961-62 season.  He has amassed 44 points and leads second-place team mate Stan Mikita by 10.
Hull's goal last night came in the first period and gave Chicago a 1-0 lead.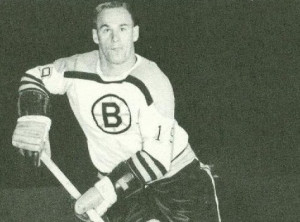 Boston fought back to tie early in the second on Reggie Fleming's eighth of the season.  Fleming's transition from nothing but a ruffian to a productive and useful forward is one of the league's better stories this season.  Eight goals would normally be more than one could expect out of Reg for an entire season, so that total well before the half-way mark is really quite remarkable.
The Black Hawks reclaimed the lead with less than two minutes to play in the middle stanza on rookie Dennis Hull's second goal in as many games.  The never-say-die Bruins refused to give up and once again knotted the score early in the final frame on a goal by Johnny Bucyk.  That set the stage for Chicago's winning goal, potted by Phil Esposito, his 12th of the campaign.  Young Esposito just misses Calder Trophy eligibility by a couple of games as he compiles a great season in his first full campaign.  Nonethless, his emergence as a top scorer has helped turn the Hawks into a powerhouse.
The game marked a return to the Chicago goal for veteran netminder Glenn Hall.  An exhausted Hall had asked for a bit of time off two weeks ago.  The Hawks granted the request and were pleasantly surprised by the undefeated fill-in job performed by Denis DeJordy.
Hodge hot for Habs
After a less than stellar performance in a 6-3 loss to Chicago Saturday evening, Montreal goalkeeper Charlie Hodge renewed coach Toe Blake's faith in him last night as he was the key man in the Canadiens' 3-2 win over the Rangers.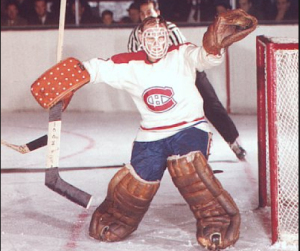 Hodge made 30 saves in the game, many of the difficult variety.  Montreal outshot the Rangers 32-30, but it seemed the New York's good scoring chances were much more plentiful.  His best work came in an eight-minute stretch of the third period when the Rangers stormed the Montreal goal.  Four great saves on what appeared to be sure goals preserved the Montreal victory.
Ralph Backstrom, Dave Balon and Bobby Rousseau connected for the Habs.  Rod Gilbert and Don Marshall replied for the Rangers.  Montreal had a first-period goal called back by referee Vern Buffey.  He ruled that forward Claude Provost's stick was above his shoulders when he deflected a Jean Beliveau shot past Jacques Plante in the Ranger net.
Costly loss for Leafs
Comeback Kid Ted Lindsay led the Red Wings to their home-ice win over Toronto.  Lindsay fired a pair of goals. and with those tallies he becomes the third-highest goal scorer in NHL history with 372.
Lindsay's first on the night early in the second period from youngsters Bruce MacGregor and Eddie Joyal put Detroit out in front 1-0, but only briefly as Andy Bathgate evened things up about six minutes later.
That's how things remained until the latter stages of the third.  The same threesome that accounted for the first Wings' goal combined once again with Lindsay netting his second at 17:22.  A minute and 19 seconds later, Gordie Howe converted a Floyd Smith pass for his seventh to add some insurance, making the final score 3-1 Detroit.
The loss for Toronto may prove to be a far more costly setback than just two points in the standings.  Two prominent Leafs suffered injuries that may keep them out of the lineup for significant periods.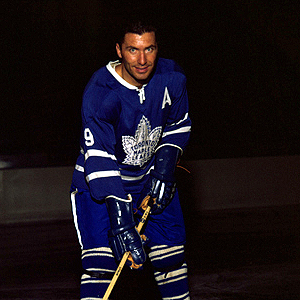 The worst of the two looks to be a broken left thumb sustained by Bathgate.  The digit was injured as a result of a strange play as Bathgate attempted to get by Detroit defenceman Al Langlois. Bathgate described it this way:
"It was a strange accident.  I thought I had Al Langlois beaten.  The next thing I knew, my thumb got wedged between two of the glass guards near the Wing blueline, and I heard a snap and felt a sharp pain and I knew the thumb was broken."
Langlois added, "I took Andy into the boards.  He'd been steered there by Gordie (Howe) and the next thing I heard a loud crack.  I thought he'd broken his stick."
Toronto's other injury is no less important.  Bobby Baun, one of the Leafs' best defenders of late, left at the end of the second period with a charley horse.
Imlach wasn't sure how long the team would be without Baun.
"We won't know how long Bobby will be out until about Wednesday.  There is a slim chance he may play against Chicago Friday because Baun has a remarkable ability to throw off injuries that would sideline other players.   If he can't play we'll bring up a defenceman from Rochester.  But our extra forward will fill in for Bathgate for the next few games at least."
Canada better, but Russ still prevails
The Russian national team scored their third straight win over Canada on their Canadian tour last night in Winnipeg.  The Canadians, bolstered by the additions of goalie Ken Broderick and forward Gary Dineen, put forth a much better effort than the previous two games, but were still no match for the Soviets.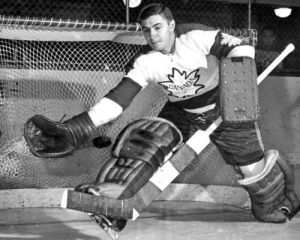 Canada actually took an early lead in this one.  Reg Abbott scored just past the eight-minute mark of the opening period on a shot that Russian goaltender Viktor Konovalenko got a good piece of but was unable to keep from getting all the way into the net.
After that, it was a case of the opportunistic Russians taking advantage of several individual mistakes by Canadians and turning them into goals.
Vyacheslav Starshinov fired a pair of markers for the visitors. Viktor Jakushev and Anatoli Firsov had the others.
The goaltending was strong at both ends.  Broderick, a University of British Columbia student, was playing only his third game for our nationals.  He made 23 saves and was chiefly responsible for keeping the score respectable.  Konovalenko was seriously tested for the first time in the series and made 21 saves in a tidy performance.
OHA: Lacroix leads Petes, Hamilton bounces back
The OHA's leading scorer, Andre Lacroix of the Peterborough Petes, added to his totals yesterday as he led his club to a 6-5 win over the Toronto Marlboros before over 7600 fans at Maple Leaf Gardens.
Lacroix scored three goals and added two assists as Toronto simply had no answer for the slick-passing, hard-shooting, smallish centre.  Lacroix's linemates took care of the rest of the Peterborough scoring, with right-winger Danny Grant netting two goals and left winger Leo Thiffault adding a single.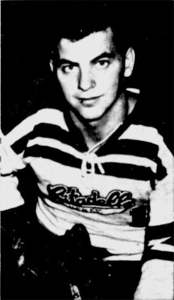 Brit Selby collected three goals for Toronto, with Jerry Meehan and Mike Corrigan getting the others.
Petes goalie Chuck Goddard had a big hand in the win despite giving up five goals.  He made 40 saves, many after the midway mark of the final frame as Toronto battled to try and tie things up.
A different Red Wing team
The Hamilton Red Wings, embarrassed by a 9-1 drubbing at the hands of the Oshawa Generals on Saturday, rebounded last night at home to down the Generals 5-2.  Real Lemieux connect for two goals for Hamilton, with singles being added by Gerry Abel, Pete Mahovlich and Freddie Speck.  Bill Little and Ron Buchanan had the Oshawa goals.
Falls, St. Kitts tie one on
St. Catharines Black Hawks came back three times from one-goal deficits to manage a 3-3 tie with the Niagara Falls Flyers last night in the Garden City.  Niagara Falls scorers were Andre Lajeunesse, Gilles Marotte and Rosaire Paiement.  Hawks marksmen were Ken Laidlaw with a pair, and Doug Shelton with a singleton.
Retired police detective, involved in hockey at all levels for over 50 years. Member of Society for International Hockey Research and presently a video analyst for the leader in advanced hockey analytics (we work exclusively for 2 NHL clubs, and provide advice on an ad hoc basis to many other clients). Currently the Assistant General Manager for the Pelham Pirates of the Greater Ontario Junior Hockey League. Previously owned the Faceoff computer hockey simulation and also provided all player ratings for the EA Sports series of NHL computer games from the late 90's into the mid 2000's.