With a dark night throughout the hockey world last night, we thought we'd provide the next in our series of player profiles.  This time, we go off the board a bit to have a look at a sixteen-year-old junior defenceman who is being touted as hockey's next great superstar.
A quiet kid
Bobby Orr is a quiet, unassuming young man, whose personality belies the immense talent and physical ability that he possesses.  At sixteen years old and with four years of junior hockey eligibility remaining, he is already considered one of, if not the best defenceman in junior hockey's best league.  The Boston Bruins, who own his rights, are eagerly awaiting him to reach maturity to bring his blossoming star power to a team that has so long been bereft of such an attraction.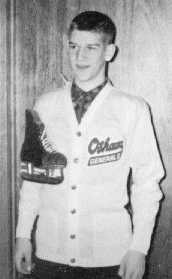 Orr plays for the Oshawa Generals of the OHA Junior A Series, and has been doing so for two years already.  Last season he set the record for goals by a junior defenceman with 29, and added 43 assists for an incredible 72 points in only 56 games.  No matter what level you are talking about, those are numbers that speak volumes about the kid's ability and potential.
Bruins got him at 12
Bobby became property of the Bruins at age 12 when he was spotted by Boston  bird dog Wren Blair.  Blair was in Parry Sound, Bobby's home town, to look at players on a visiting team when his attention was drawn to this precocious youngster who literally dominated every game he played in.  Blair informed Bruins' general manager Lynn Patrick of his discovery.  The Bruins took the step that many NHL teams have when they spot a diamond in the rough, they began to sponsor the Parry Sound minor hockey team on which Orr played.  This placed Orr on a sponsorship list, which at the time made all boys on the sponsored teams property of the NHL club shelling out the money.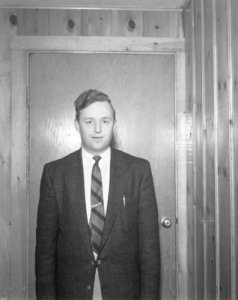 When Bobby turned 14, Blair convinced him to try junior hockey to see if he was up to that level of competition.  Bobby agreed to play four games with Oshawa  to see how it would go.  Those four games proved to everyone watching that Bobby was ready for that level of competition, and before he had even completed his fifteenth year, he was now a regular in Junior A hockey.
This season, Orr has started fast again, and is on a pace to eclipse the record he set a year ago. He leads all OHA defencemen in virtually every statistical category and is playing 35 to 40 minutes a game.  He is showing a knack for scoring important goals, and at one point early in the season, score the game-tying or winning goal in three straight games.
A young Doug Harvey?
Blair raves about the potential of the young star.  He says that Orr is farther along at 16 than Doug Harvey was as a junior, and is on a par with Bobby Hull when he left the junior ranks.  He compared Bobby's style somewhat to that of Harvey, but yet, he is so much more offensively talented.  He has a howitzer of a shot, and an uncanny talent for being wherever the puck is going to end up.  He is a tireless, strong skater with a wide stride who is difficult to knock off his feet. He is the complete package.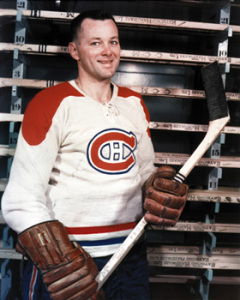 March 20, 1966 is a day to which the Bruins are looking forward.  On that date, Robert Orr will observe his 18th birthday, likely with a huge cake and an even bigger professional hockey contract.  There is light at the end of the tunnel, Boston fans.
Mikita leads points parade
Stan Mikita is the NHL's leading scorer thus far in the 64-65 season, with a total of 12 points.  Mikita has scored three goals and added nine assists, to lead second place Kent Douglas of Toronto by four.  Douglas has a goal and seven assists.  Bobby Hull has five goals to top that department, but is still looking for his first helper of the year.
Charlie Hodge of the Montreal Canadiens leads the Vezina Trophy race with a 1.80 goals against average, just ahead of rookie Roger Crozier, who is at an even 2.00 for Detroit.  Toronto's Johnny Bower has a similar 2.00 average, but he is sharing duties with Terry Sawchuk and has played only four games.
Detroit is the most penalized team in the league by far, with a total of 102 minutes.  That total is greatly augmented by the return to NHL wars of Terrible Ted Lindsay.
Concern for Lindsay
Some insiders around the NHL are quietly expressing concern over the comeback attempt by Lindsay.  More than one observer has remarked that the certain Hall of Famer has looked unsteady at times and has been hit more forcefully than had been the case during his earlier playing days.  Some are worried that Lindsay is leaving himself open for serious injury, and there have been suggestions that the NHL should have quietly intervened to discourage Ted's comeback.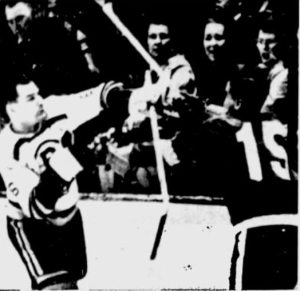 For his part, Lindsay has been no shrinking violet since his return.  He had engaged the league's tough guys in battle, and has stood his ground against all comers.  One can't say the comeback has been an artistic success thus far, but aside from being a tad slower than we remember him, he has not looked terribly out of place.
Leafs turn to Sawchuk
Punch Imlach, coach and general manager of the Toronto Maple Leafs, said yesterday that he will start veteran Terry Sawchuk in goal in upcoming games against the Chicago Black Hawks.  The Leafs are heading into a stretch of four games in six nights, and Imlach wants to spread the workload between Terry and Johnny Bower.   Bower has been nursing a sore shoulder but Imlach said that has had no bearing on his decision.
Lemaire to Aces
Jacques Lemaire, an 18-year-old centre with the Montreal Junior Canadiens of the OHA Jr. A series, has been sent to the Quebec Aces of the American Hockey League.  The Canadiens say that Lemaire's promotion is a temporary measure to aid the Aces, whose lineup has been decimated by injury.  They have assured Junior Canadiens' coach Scotty Bowman that Lemaire will be returned to junior hockey before his eligibility runs out.  Lemaire has scored three times for Montreal this season.
Retired police detective, involved in hockey at all levels for over 50 years. Member of Society for International Hockey Research and presently a video analyst for the leader in advanced hockey analytics (we work exclusively for 2 NHL clubs, and provide advice on an ad hoc basis to many other clients). Currently the Assistant General Manager for the Pelham Pirates of the Greater Ontario Junior Hockey League. Previously owned the Faceoff computer hockey simulation and also provided all player ratings for the EA Sports series of NHL computer games from the late 90's into the mid 2000's.