Murray Balfour, best known as the right-winger on the famed Chicago Black Hawks' "Million Dollar Line", passed away yesterday in a Regina, Saskatchewan hospital.  He had suffered from lung cancer since part-way through this past season.  He had been recuperating at home since undergoing surgery in Harrisburg, PA to correct a respiratory problem.  He entered the hospital in Regina on Saturday.  He was 28.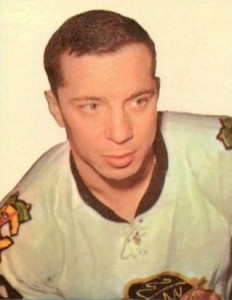 Known for his toughness
Balfour was an aggressive, no-nonsense forward who was relentless on the forecheck.  He was known more for his toughness than for his scoring ability, although he did reach the 20-goal plateau with Chicago in their Stanley Cup winning season of 1960-61.  He was a clutch performer in the playoffs, scoring 9 goals.  Two of those were overtime game-winners.  In the 1961 playoff, he outscored both of his Million Dollar Line-mates, Bobby Hull and Bill (Red) Hay.
Born in Regina on August 24, 1936, he was a product of that city's minor hockey system.  At age 17, he played two games for the Regina Caps senior team in the Allan Cup playoffs after spending most of his first junior season with the Regina Pats.  He played four seasons with the Pats, where he established his playoff scoring reputation.  In the 1955-56 Memorial Cup playoffs, he scored 16 goals in 19 playoff games to lead all junior scorers in Canada.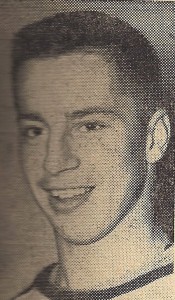 Started with Montreal
With the Regina Pats  sponsored by the Montreal Canadiens, Murray was property of the Habs.  In 1956-67 he was brought east to play for the Hull-Ottawa Junior Canadiens of the Quebec Hockey League. He was shuffled around by the Canadiens, also seeing time with the Hull-Ottawa Canadiens of the Senior A Eastern Ontario Hockey League, and the Hull-Ottawa Canadiens of the OHA Junior A League.  He impressed the Montreal brass so much that he was called up to the big club for a pair of games.  He didn't score, but he was tagged with one minor penalty.
Murray's first pro season was with the Montreal Royals of the QHL and once again he earned a brief call-up to the Canadiens.  In three games, he scored his first NHL goal, and added an assist.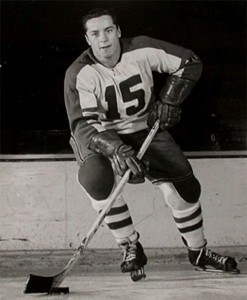 Sold to Chicago in 1959
The next season was spent with the Habs' top farm club, the Rochester Americans of the American Hockey League.  He scored 14 goals for the Amerks, and led the AHL in penalty minutes with 181.  His combination of tenacity, truculence and fearlessness caught the eye of the Chicago Black Hawks, who purchased his contract from the Canadiens on June 9, 1959.
Balfour made the Chicago club that fall and was almost immediately installed as the right-winger on the line with Hull and Hay.  As a rookie, he potted 18 goals, and his belligerent nature provided some protection and space for his more skilled linemates.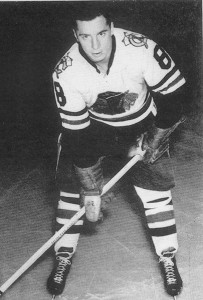 1960-61 season his best
Balfour reached the zenith of his career in 1960-61.  The Million Dollar Line was flying, and he had his best scoring season with 21 goals and 27 assists.  The Hawks won the Stanley Cup, a victory due in no small part to Balfour's five goals and five assists.  It was the first time he had played a full schedule with no injuries since his junior days.  However, during those playoffs, Balfour suffered a badly broken arm which would not heal properly over the summer.  That injury marked the beginning of a gradual decline in his career.
The 1961-62 season saw Balfour miss significant time due to the injured arm.  It failed to mend properly, and had to be re-set.  He did get into 49 games and scored a credible 15 goals.  However his rough-and-tumble style and the injuries it brought on began to take their toll.  By 1963-64 his scoring touch left him, and he was so slowed by his various ailments, he managed to appear in only 41 games.  Even at that time, he did not appear to be himself, except for one wild game in Toronto.
Famous 1963 brawl in Toronto
On December 7, 1963 at Maple Leaf Gardens, Balfour was involved in one of the more famous bench-clearing brawls in NHL history .  The melee was ignited when Reg Fleming of Chicago speared Eddie Shack of Toronto, and was sent to the penalty box.  Several Toronto players attempted to get at Fleming while he was in the box, but the linesman blocked access, keeping Fleming in the box until referee Frank Udvari decided to throw Fleming out of the game.  When Fleming left the box to head across the ice to the Chicago dressing room, he was confronted by Bob Baun of the Leafs and all players on the ice joined in the fight.  Both benches emptied and at times there were as many as eight separate skirmishes in progress.
Balfour was one of the players who came off the bench.  For some reason, he and Carl Brewer of Toronto began an altercation that made a grand tour of the ice surface amidst the discarded sticks and gloves.  Brewer was no match for the pugilistically-experienced Balfour, and he ended up at the bottom of a pile in the gate to the Toronto bench.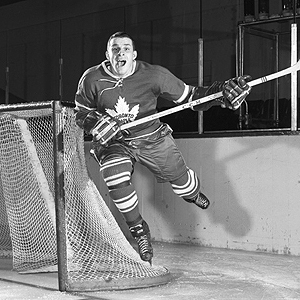 In the accompanying video, towards the end of the segment, Balfour can be seen on top of Brewer as other players and spectators become involved.  What was interesting about this particular incident is that one of those spectators who became involved was Toronto Argonaut football star Dick Shatto.  Shatto can be seen entering the fray, he said later, to help fellow Torontonian Brewer.
Traded to Boston
On June 9, 1964. five years to the day that he had been sold to Chicago by Montreal, the Black Hawks traded Balfour to the Boston Bruins.  The Bruins, looking for more muscle on the forward line, figured Balfour to be a perfect fit for their underachieving club.  They sent defenceman Matt Ravlich and veteran winger Jerry Toppazzini to the Hawks for Balfour and minor-leaguer Mike Draper.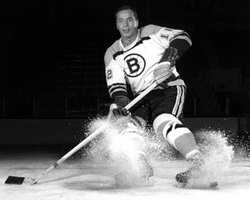 Murray never did seem to get untracked in Boston, and many felt fatigue was an issue.  After only 15 games with the Bruins in which he registered just two assists, he was sent to Hershey of the American Hockey League to work himself back into shape.  At this point, the Bruins thought that conditioning might be the problem and coach Milt Schmidt was definitely counting on his return.
With Hershey, Balfour regained his scoring touch, counting 10 goals in 31 games, but he sensed that something was not right.  He underwent tests in a Hershey hospital which revealed a lesion on his lung.  In early February he underwent surgery for removal of a tumour and did not play again.
Murray Gordon Louis Balfour's funeral will be held Wednesday in Regina.  His former Million Dollar Line mates Bobby Hull and Bill Hay will be pall bearers.  Another former NHL team-mate, Bob Turner, will also be a pall bearer.
Retired police detective, involved in hockey at all levels for over 50 years. Member of Society for International Hockey Research and presently a video analyst for the leader in advanced hockey analytics (we work exclusively for 2 NHL clubs, and provide advice on an ad hoc basis to many other clients). Currently the Assistant General Manager for the Pelham Pirates of the Greater Ontario Junior Hockey League. Previously owned the Faceoff computer hockey simulation and also provided all player ratings for the EA Sports series of NHL computer games from the late 90's into the mid 2000's.