George Hayes, the National Hockey League linesman who was suspended for refusing to take an eye test, finds himself unemployed today as a result of a decision by NHL president Clarence Campbell.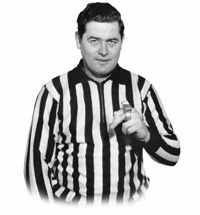 In a brief press release, the league issued this statement: "The NHL has exercised its option to terminate the contract with George Hayes, effective February 14."
A league spokesman said that Hayes had been given a period of grace to reconsider his decision to refuse to take a league-mandated eye test, but he did not do so.
Hayes found out through the news media
Hayes was reached at his Woodstock, Ontario home and commented that he expected the dismissal and that he had no regrets about taking a stand against the order.
"I don't feel any different today. I wouldn't back down then and I'm not backing down now.  It's too bad people don't know what officials in the league must go through.  It's time officials stood on their feet.
" I didn't expect that I would get the news second-hand.  I thought it would come direct from NHL headquarters.  But that's the way they fired referees Jack Melenbacher and Gaye Stewart – they read about it."
Campbell: I sent him a registered letter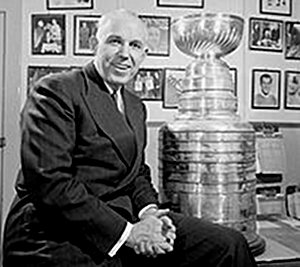 Campbell said he notified Hayes of his dismissal:
"I'm not in the hand of sending messages secondhand.  I sent Hayes the notice of his dismissal by special registered mail on Tuesday.  I'm amazed to hear he hasn't received the message long before now.
"I delayed the firing as long as possible in hopes he would reconsider his decision not to take the eye test ordered by the league.  When he refused to budge from his no-eye-test stand, I sent him word that the NHL was exercising its option to terminate his contract as of February 14.
"I'm sorry it had to be this way.  Hayes was the second man I hired when I took over as president of the league.  We delayed Hayes' dismissal two and a half years hoping he would change his mind about the eye test."
Linesmen kept out of pension plan
Hayes took a shot at the NHL for keeping the linesmen out of the pension plan until just three years ago.
"The referees have been in about 16 years, and I, despite 19 years of service in the league only managed to get in the fund three years back.  I blame Clarence Campbell."
Campbell had a response to that comment as well.
"The players kept the linesmen out of the fund until three years ago.  I tried to get them in on several occasions."
Timing of dismissal curious
The timing of Hayes' dismissal seems a bit curious.  He had just, in a television interview, corroborated a story by fired NHL referee Dalton McArthur, who claimed he had been given instructions to give preferential treatment to the New York Rangers in a 1962 NHL game.
McArthur had said that NHL referee-in-chief Carl Voss had instructed him to call only "good" penalties against the Rangers in a crucial game versus the Boston Bruins.  Voss denied adding the words "against Rangers."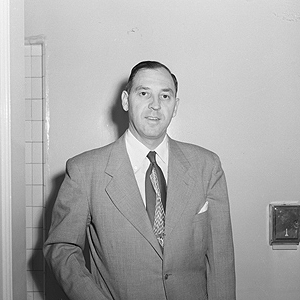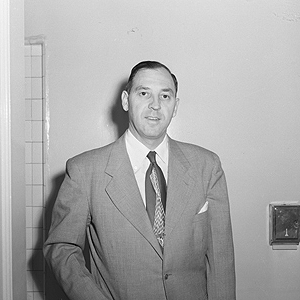 Hayes was present in the referees room that night and said "Everything Dalt said was true.  The only thing was he didn't go far enough.  After Voss gave him the orders, I told him we should call Campbell at once but he said we might both lose our jobs.  I said 'to hell with that' but we didn't call Campbell.
"That wasn't the only time we were told to go easy one way.  When Montreal had those powerhouses in the mid-1950's, both Campbell and Voss told referees not to call too much against the opposition."
Officials need a union
Hayes believes that NHL officials need a union.
"If any group of men in the world needed a union, it's the NHL's officials.  Management relations are lousy.  But as long as the guys themselves do nothing and are scared for their jobs, they'll never get anything.
"They've got no freedom of speech or anything else.
"Vern Buffey was fined for going on television in Toronto last year and speaking the truth, that the ice wasn't fit for play (after a rodeo at Maple Leaf Gardens).
"Detroit Red Wing coach Sid Abel and Buffey had called Campbell before the game and told him, but he said the show must go on.  Campbell was 380 miles alway and didn't even know if there was ice in the building.  Buffey told the truth on TV and it cost him $100.
"I haven't been in the NHL office for three years.  And I never answer the phone personally  till after 5 o'clock when I know it's closed.  One time a guy followed me all over Montreal to see where I was drinking.  Next night Campbell told me everywhere I'd been.  Sure I like a few beers, but it's never affected my work on the ice in all the years I've been an official."
Dalton McArthur's gaff
McArthur himself had been previously let go by the NHL .  He is notable for a rather infamous incorrect call he made in a 1959 game between Chicago and Boston.
During the game, Chicago defenceman Al Arbour threw his stick and knocked the puck away from a Boston player.  McArthur immediately whistled the play and (quite correctly) awarded a penalty shot to the Bruins.
McArthur, now involved in what is one of hockey's rarest instances, had to determine which of the Bruins would take the shot, and that's where he got into trouble.  He decided to consult the rule book for the correct interpretation.
The rule book stated that the coach of the non-offending team would determine who would get the free chance. Poor Dalton took this to mean that since the Bruins were on the attack, they were the "offending" team, therefore the "non-offending" team was Chicago!
McArthur approached Chicago coach Rudy Pilous and asked him to choose a Boston player to take the shot.  Pilous, always a great poker player, managed to keep a straight face and asked for a minute to make a decision.
The incredulous Chicago players clamoured to have Pilous select the Boston goalkeeper, but Pilous didn't want to tip off McArthur that something wasn't quite Kosher here.  So he selected little-used forward Larry Leach as the Bruin least likely to succeed.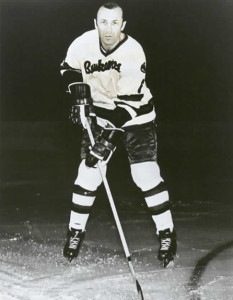 Despite the vehement protests from the Boston bench, Leach took position, swept in on the Chicago goal, and his weak shot was easily turned aside by Hawks' goalie Glenn Hall.  And Larry Leach and Dalton McArthur became inextricably linked in hockey lore forever.
Bruins call up Norris
The Boston Bruins, worried that the flu may be spreading through their team, have called up goaltender Jack Norris to replace number one man Ed Johnston.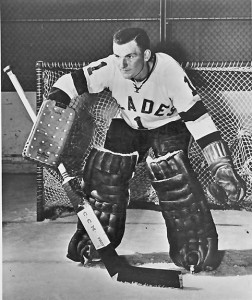 Forward Reggie Fleming came down with a bad case yesterday, and last night Johnston had a temperature of 102, so a rush call to Norris was made.  Norris plays for the Los Angeles Blades of the Western Hockey league.
Norris, 22,  is expected to play tonight in Toronto, whether Johnston is in shape to go or not.  With most teams going to a two-man rotation between the pipes, the Bruins want to see if Norris is ready for NHL-calibre competition.  He has a 3.43 goals-against average this season in the WHL.
Should Johnston not play, it will be the first time he has missed a game since winning the Bruins' goaltending job from Bobby Perreault in the 1962 season.