In this past offseason, when I also covered the Chicago Blackhawks for Fanball, I helped create a contest:
Co-conspirators Christopher Ralph & Jim Neveau have banged heads together to create a maelstrom of ideas for Paint It Blackhawks first ever readers contest.

In conjunction with the release and the premiere of the brand spanking new Blackhawks Stanley Cup Champion DVD, we have a copy of this highly anticipated commemorative DVD up for grabs in our tantalizing contest.
I have since moved on from Paint It Blackhawks, concentrating my efforts this season on coverage of hockey prospects and the NHL draft.
The contest winner recently received his prize – a cop of the afore mentioned DVD and a bonus – a copy of Theoren Fleury's Playing With Fire.
Without further ado, here is the well deserved winning entry from diehard lifelong Blackhawks fan – Chris Emberley of Grand Bank, Newfoundland, Canada.
1) The Chicago Stadium.
There is no doubt that the old Stadium was the most intense and loudest arena in the league. The spirit of the fans contributed to hockey as a sport and made visiting teams tremble as they stepped onto the ice. I can remember the refs having to blow their whistles several times before the players would even know there was a stoppage in play. As a fan of the Blackhawks, watching on TV, the noise added to the butterflies in my stomach as I anticipated the beginning of the game. The old air horn only added to the racket in that building 'cause fans knew that sound was only heard in response to a hometown goal. Throw in the pipe organ, and there was no better place to hear a game.
2) They showed me hard work and determination payoff in the end.
I've never seen Mikita, Hull, and the other old Champs play. I was turned onto the Hawks when Savard was the word, along with Tony-O, Larmer, Murray, Wilson and the boys were playing. Unfortunately, this was also a time when the Islanders and Oilers ruled.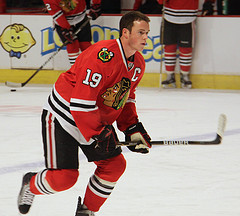 Because Hawks games were rarely televised on CBC, I had to stay up late and watch them on ITV when they faced the Oilers.  Many a morning I had to drag my butt outta bed to go to school after staying up till 3-4 in the morning to watch them play. Then I followed Amonte, Roenick and the boys, followed by some pretty sad years not too long ago. THEN, things turned around, and now with Toews, Kane, Sharp, Keith and the boys my dreams have been realized. It only proves good things come to those who wait.
3) Everyone else "bandwagoned" champions.
I was never one to jump on a bandwagon. My buddies usually picked a champ and that would be their team of choice. Not me, I loved the Blackhawks, and despite the razzing I received from my friends, I stuck with them to this day. With the lean years we experienced, you had to be a true fan to stay with the Hawks.
4) Denis Savard
When I was 9, my Dad told me I sort of played like Denis Savard. At a time when Gretzky was the "Man", this was harsh statement to a child. But one night, Savard was CBC playing theLeafs and I fell in love with his style. His magic with the puck simply amazed me. I'll never forget that night and the pride I felt. From that day on, I lived and breathed Denis Savard, and to some extent I still do today. Our attic floor is covered with stories of Savard's career through the eyes of a kid who loved him. It touches me to this day when I go up there and read them. A couple of years later when I was 10, when my Dad mentioned that I was starting to get Gretzky's style, I cried. He never said it again. Years later, my brother was born. My Mom said we could all pick a name. She picked Andrew, my Dad picked Frederick (his Dad's name), and I picked Denis. His name is Andrew Frederick Denis Emberley. I am so proud of that.
5) My Dad and I
My Dad is deceased now. But I will cherish those days sitting around the TV watching my Hawks play his Leafs. I would give him my version of a replay in my PJ's and socks on the hardwood floor every time Savard scored. He humoured me every time and never told me to sit down once. He would always boost me up to the attic each Christmas as we retrieved the decorations just to update my Savard stories. He helped me write to each and every one of the Hawks, hoping to get a response. Some did and some didn't, but the ones whose didn't received a letter again next year. He bought me my first Hawks jersey, suggesting also that I get black pants and the socks to match. When I think of the Hawks, I think of all those things. They were my childhood, they were hockey to me, and they were a bond that my Dad was only too glad to share in with me.
I will continue to support the Hawks until I die and the future looks brighter than ever, but to me, the past is just as important.

Long live the Hawks and long live hockey.
A tremendous thank you to Chris Emberley for this fantastic entry, capturing the passion and loyalty of a true hockey fan. Well done!
Chris is THW's senior draft/prospect analyst and a Managing Editor. Watch for "The Next Ones" Prospect Profile series, exclusive rankings, mock drafts, as well as the annual THW NHL Entry Draft Guide. Follow @ChrisRalphYQ on Twitter as he infiltrates, dissects and analyzes all happenings of hockey prospects and the NHL entry draft. Email: cralph[at]thehockeywriters[dot]com