As is so often the case in professional sports, an injury for one player is an opportunity for another, and Connor Hellebuyck just got a golden one from the hockey gods.
Ondrej Pavelec suffered a knee injury on Saturday, November 21 against the Arizona Coyotes when Coyotes captain Shane Doan drove the net hard.
Some felt the play was just a hockey play, and Doan apologized to Pavelec after the game while maintaining his lack of ill intent. Whether or not the play was dirty is a matter for debate, but two things are indisputable: Pavelec is going to be out at least a month, and Hellebuyck just got a glorious chance to prove he can replicate his stellar AHL numbers at the NHL level.
#NHLJets HC Paul Maurice says G Ondrej Pavelec has a significant knee sprain and won't play #NHL games in December

— Ken Wiebe (@WiebesWorld) November 23, 2015
Losing your number one goaltender for any length of time can seriously damage a team's chances, but as Ottawa's Andrew Hammond proved last season it can also be a chance for a hero to emerge. Given his pedigree and sound performances for a struggling Manitoba Moose squad in the AHL, many Jets fans have similar hopes for Hellebuyck.
Lofty Expectations
Expectations among Jets fans around Connor Hellebuyck may be high (perhaps too high) but they will soon get a chance to see whether he lives up to the hype or not. The Jets begin a short-but-challenging road trip on Wednesday November 25 in Washington, and with a back-to-back situation Friday/Saturday it's likely Hellebuyck gets at least one start on this coming road trip. If Michael Hutchinson falters (or is hurt himself) it may end up being more than that.
That Winnipeg fans should have high hopes for Hellebuyck is understandable. He has an impressive resume that, at the young age of 22, already includes an AHL all-star game appearance, a World Championship bronze medal, and the inaugural Mike Richter Award for best goaltender in NCAA hockey. His play with the Moose so far this season has been the only thing keeping the struggling squad of youngsters in many games, and with a .927 save percentage he's likely destined for another appearance at the AHL all-star game.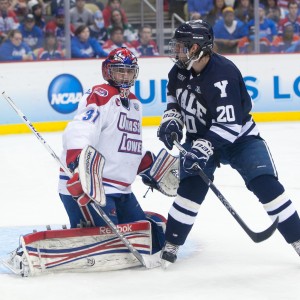 Jets fans may also be hoping for a saviour in goal, given the team's struggles in that department. At the start of the year, the Jets 1-A/1-B system in goal appeared to be working, but it has since come off the rails, and before his injury Pavelec wasn't exactly inspiring confidence with his play. Michael Hutchinson, who did an excellent job pushing Pavelec for the starter's job last year, has also slipped. The Jets need a goalie they can rely on, and this year they've been missing the kind of netminder who can keep them in those must-win games.
While his AHL and college numbers would indicate Hellebuyck could be that netminder for the Jets one day, Jets fans must temper their expectations, difficult though this may be. After all, Hellebuyck has never played an NHL regular season game. The Jets are going to take it slow with their young goalie, even though he and Eric Comrie are seen in many circles as the future of the Jets between the pipes.
That said, there's no denying the anticipation surrounding Hellebuyck's NHL debut is high both among Jets fans and among prospect aficionados. Some have even speculated that this might be the beginning of the end of Ondrej Pavelec's tenure in the Winnipeg crease.
Will Ondrej Pavelec be Wally Pipped in Winnipeg by this highly rated goalie prospect? https://t.co/Kq3tLDAnTC pic.twitter.com/PEXC3Ylpav

— SI NHL (@SI_NHL) November 24, 2015
The Beginning of an Era?
Perhaps it's hypocritical to print a heading such as that after having said not moments ago that Jets fans should temper their expectations regarding Hellebuyck, but the expectations around him, both inside and outside the organization, are undeniably high. Hellebuyck has done nothing to lower them with his play either, and the sense for some time has been that the former UMass-Lowell goalie is the Jets number one goaltender of the future. Perhaps that future will begin this week.
The Jets are often very patient with their prospects, determined not to repeat the mistakes made by the Atlanta Thrashers for which they are, in many ways, still paying. There will be no rushing Hellebuyck, no gift-wrapping anything for him if he hasn't earned it, and for him to stay with the big club beyond Pavelec's injury would require spectacular play on his part. Even that might no do it, given his ability to clear waivers.
Yet Hellebuyck has surpassed expectations at every level since his NCAA days, and he has given every indication of being a future number one goalie. The Jets have been searching for that number one goalie since coming to Winnipeg, as Pavelec and Hutchinson have been brilliant at times but frustratingly inconsistent. This is a chance for Connor Hellebuyck to show the organization just how right they were when they chose to draft him 130th overall in 2012. It may be a limited window in which to prove himself, but it's a window nonetheless.
That's all Hellebuyck has ever needed.
A long time hockey fan and player from Winnipeg, Manitoba. Play-by-play man with the SJHL's Estevan Bruins. Graduate of Red River College's Creative Communications program with a major in journalism. Former PxP man for the University of Manitoba Bisons. Lover of all things Jets and Avs related and always looking for a good hockey debate.