A mere twenty games into the Ray Shero/John Hynes era with the New Jersey Devils the club has turned a few heads with their unexpected strong start. Shero has made some savvy moves so far in adding key contributors like Kyle Palmieri, Lee Stempniak and David Schlemko on the cheap, as well as perhaps finding a hidden gem in Sergey Kalinin (who played in the KHL last season); a player whose confidence is growing game-by-game. And rookie head coach Hynes has gotten the team to buy into his system, as is evident in their 11-8-1 record as November winds down.
No one outside the organization believed the team would even sniff at a playoff spot this season, and the longer they linger around that spot, the more confident the team itself and its management will become. Shero may even look to make a deal or two at the trade deadline as a buyer instead of a seller, with some of the limited assets that he has in the pipeline. Having said that we thought it would be a nice time to check in on the progression of the Devils' prospects so far this season across North America in college, Junior hockey and the minor leagues.
Not included in this list are Reid Boucher and Stefan Matteau, who both started the season in New Jersey. Boucher was sent down to the AHL, seeing action in only three games, after the second week of the season and Matteau (who can't be sent down without having to go through waivers) has only seen action in eight games (pointless) with only two of them coming in November.
All stats listed are as of November 25.
GOALIE:
Ken Appleby (Adirondack, ECHL): 10 games — 8-2-0, 1 shutout, 1.90 GAA, .933 save %
Appleby earned a contract after a strong showing in camp on an amateur tryout; after a 38-win season in Oshawa, he has continued that trend in the ECHL (tied for third in wins).
Mackenzie Blackwood (Barrie, OHL): 21 games — 15-6-0, 2 shutouts, 2.34 GAA, .931 save %, 2 assists
MacBlack is following up his last stellar season, with another strong season for the Colts; he likely won't turn pro for a few more years.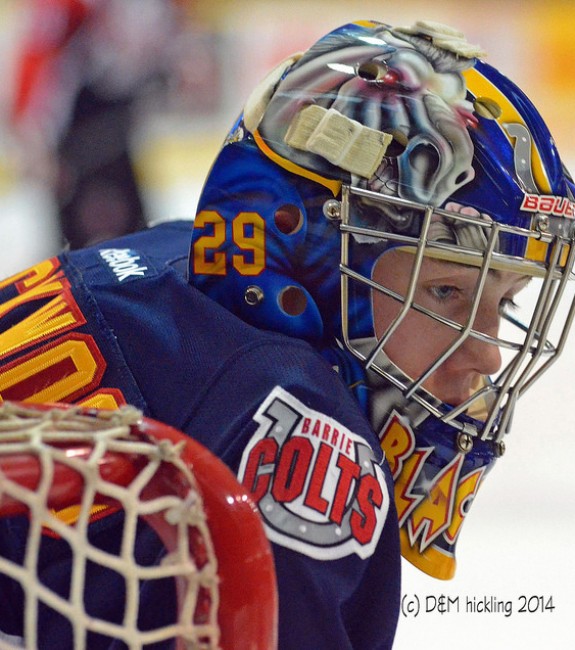 DEFENSE:
Joshua Jacobs (Sarnia, OHL): 22 games — 11 points (1g-10a), PPG, 14 PiMs
After one season at Michigan State (nine points), Jacobs is adjusting well in his first OHL season and teammates with another future Devil.
Steven Santini (Boston College, NCAA): 12 games — 6 points (1g-5a), GWG, 20 PiMs
Perhaps the best prospect on defense that the Devs have had in years (can you say future captain?), the thumper already has 25 blocked shots this season.
Steve Santini was in the first group today- defenseman. pic.twitter.com/EHjS712ix7

— Rich Chere (@Ledger_NJDevils) July 14, 2015
Vojtech Mozik (Albany, AHL): 13 games — 7 points (1g-6a), 12 PiMs
Still adapting to the North American game after hiring his skills in Czech Republic, the Devs are hoping Mozik is the defensive version of Kalinin.
Ryan Rehill (Kamloops, WHL): 20 games — 11 points (1g-10a), PPG, 50 PiMs
Rehill had twenty points in each of the last two seasons with the Blazers and is set to surpass that mark this season barring injury.
Colton White (Sault Ste. Marie, OHL): 22 games — 9 points (1g-8a), PPG, 5 PiMs
In his third season with the Greyhounds, White continues to evolve into a solid prospect.
Seth Helgeson (Albany, AHL): 16 games — 5 points (0g-5a), 29 PiMs
A defensive d-man is a dying breed, but Helgeson continues to push for NHL playing time and is likely a call-up if New Jersey has blue line injuries.
[BLOG] Seth Helgeson earns respect, and a letter → https://t.co/ULfBULDwfo pic.twitter.com/3lJFJ0Pzsr

— Albany Devils (@AlbanyDevils) October 27, 2015
FORWARD:
Pavel Zacha (Sarnia, OHL): 17 games — 20 points (12g-8a), 4 PPG, SHG, 30 PiMs
The Devils 2015 first rounder was just named OHL player of the week on the strength of his five-point game (3g-2a); currently leads the Sting in scoring.
NEWS: Zacha (@Pavel_Zacha) named OHL @PioneerEnergy Player of the Week!

Details here: https://t.co/HzkatZB7Ml pic.twitter.com/DQCUXEFuIz

— Sarnia Sting (@StingHockey) November 23, 2015
John Quenneville (Brandon, WHL): 18 games — 21 points (9g-12a), 3 PPG, SHG, 15 PiMs
Kid Q is off to another nice start this season and at the very least could make the big club out of next summer's training camp.
Joseph Blandisi (Albany, AHL): 15 games — 14 points (6g-8a), 4 PPG, 31 PiMs
A great find for the Devils, he should be able to crack the NHL roster by next season.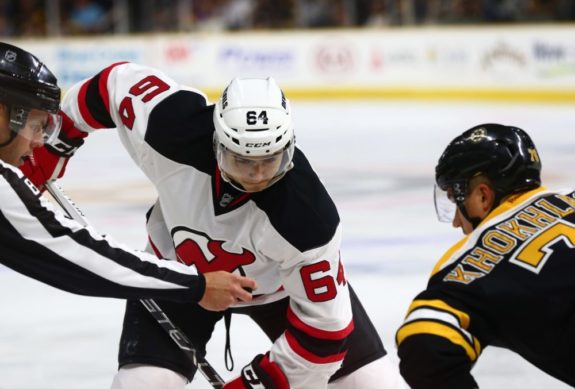 Connor Chatham (Flint, OHL): 21 games — 15 points (4g-11a), PPG, 26 PiMs
After two seasons with Plymouth, Chatham is fourth on the Firebirds in scoring thus far.
Blake Coleman (Albany, AHL): 12 games — 5 points (2g-3a), 14 PiMs
A solid college player making the transition to the pro game, providing grit and some net front presence.
JD Dudek (Boston College, NCAA): 11 games — 1 point (0g-1a), 6 PiMs
Off to a slow start in his freshman campaign with the Eagles.
Alexander Kerfoot (Harvard, NCAA): 6 games — 8 points (2g-6a), 6 PiMs
Has been a playmaker for his 2+ seasons with the Crimson; off to a nice start in his junior season.
Ryan Kujawinski (Albany, AHL): 12 games — 2 points (2g-0a), 2 PiMs
In his first season of pro hockey he hasn't lit it up yet, only lighting the lamp twice.
In his first pro game, Matt Lorito netted the game-winning goal in the #ADevils 4-3 victory → http://t.co/wvDigUpRZn pic.twitter.com/jOLdzLAfZT

— Albany Devils (@AlbanyDevils) March 22, 2015
Matt Lorito (Albany, AHL): 15 games — 16 points (4g-12a), 2 PPG, 4 PiMs
A nice find for the Devils, Lorito has 28 points in 26 career AHL games with Albany and currently leads the team in scoring.
Blake Pietila (Albany, AHL): 16 games — 7 points (4g-3a), PPG, 0 PiMs
After four years of college puck, Pietila has had a nice start to his pro career.
Blake Speers (Sault Ste. Marie, OHL): 22 games — 19 points (5g-14a), 2 PPG, 16 PiMs
Devils' 3rd round pick this past June was named captain of the Greyhounds on November 20; currently leads his team in scoring.
Congratulations to @Bspeers18 who was named Hounds' Captain this morning; https://t.co/0GMxtWOaHj

— Soo Greyhounds (@OHLHoundPower) November 20, 2015
Miles Wood (Boston College, NCAA): 12 games — 16 points (6g-10a), 2 PPG, GWG, 28 PiMs
Wood is BC's third leading scorer in his freshman season.
We'll check in on these lads again in a few months.
Dan Rice can be reached via Twitter: @DRdiabloTHW or via Email: drdiablo321@yahoo.com. 
Dan Rice is in his 9th year of reporting for THW & has covered NJ Devils home games for 15+ years at various websites. He began his journey working for legendary broadcaster/writer Stan Fischler from 2002-04 & completed an internship at the ECHL; he also has been writing features for the NWHL (nwhl.zone) website since 2016.