Unless you're a fan of the Anaheim Ducks, or you closely follow NHL up and comers, you may not have heard the name Luca Sbisa. The Italian born Swiss is a defenseman for the Ducks, who stands at 6'2" and weighs in at 207lbs. Sbisa is a strong stay at home defenseman for Anaheim and if the need calls for it, isn't afraid to drop the gloves to defend his teammates and himself.
Luca Sbisa played in the Swiss National League A and was then drafted in 2007 in the Canadian Hockey League import draft, where he was placed with the Lethbridge Hurricanes of the WHL. Sbisa was also a part of the XXI Olympics for Switzerland and in the 2008 draft he was drafted 19th overall by the Philadelphia Flyers.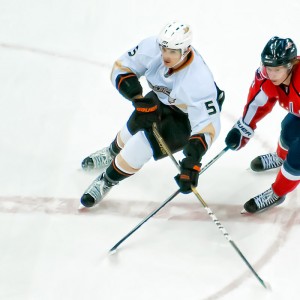 Sbisa played 39 games with the Flyers where he tallied a total of 7 points, and he also appeared in one playoff game.  The next move for Luca Sbisa came in 2009 when he was traded to Anaheim along with Joffrey Lupul. That trade sent the big time Duck and NHL veteran Chris Pronger to Philly along with Ryan Dingle.
Luca Sbisa spent most of the 09/10 season in the minors where he continued to develop as an athlete. This season proved to give Sbisa a bigger shot at hanging with the big club. On October 16th, 2010 he was sent back down to the AHL, but he didn't stay there for long. The 21-year-old defenseman was recalled on November 10th, 2010 and hasn't looked back.
Coaches recognize the great potential in Sbisa. He may not be the type of player who puts up the big numbers but his skating ability surpasses many around him. Combine that with his ability to move the puck with ease and you have the makings of a great hockey player. Anaheim's management believes that with time and experience Luca Sbisa can develop into a top defenseman, thus signing him to a 4 year $8.7 million dollar contract in March of this year.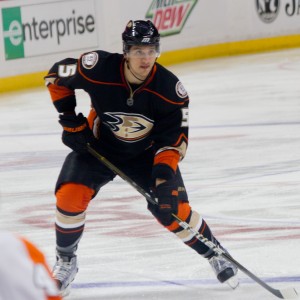 Anaheim being in a major playoff push forces players to step up, face challenges, and learn how to win games. Sbisa is doing just that. Being a part of a team with defensive veterans such as Lubomir Visnovsky and Toni Lydman allows young players to learn the ways of the game. Being able to read the ice, read your opponents, battle through games, and learning how to make a playoff push all comes over time with experience. Luca Sbisa is in the right place at the right time to learn these skills and develop himself as a hockey player.
Towed to the rink since she was 7yrs old and has been skating in hockey skates and loving the sport ever since. Began playing the sport under the guidance of Daryl Evans while working for the Los Angeles Kings. Currently the in-arena host for the ECHL's Ontario Reign.